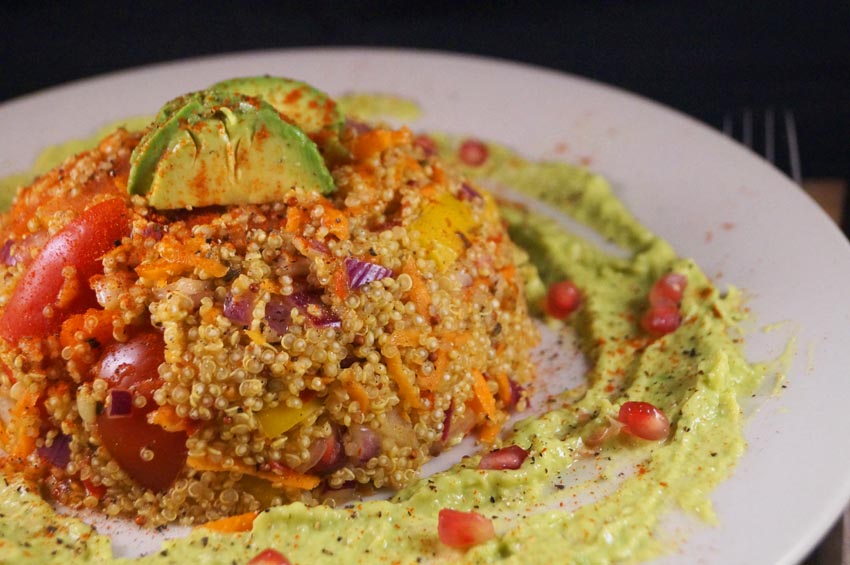 I go months, months, without seeing a ripe avocado and now I'm surrounded by them, I just can't get enough. I'm trying to get guacamole into pretty much everything just now as we're big fans, so tonight I'm going to do another big pot of chilli and the best part, a big ol' side of guacamole and salsa, can't beat it!
So when it came to the buddha bowl I made on Thursday, it seemed only right to include avocado (2 ways!) slice it up and use in the actual buddha bowl and then I blitzed the rest with onion, garlic and lemon to drizzle around the edges, just perfect. Wasn't entirely confident the pomegranate seeds were going to compliment the avocado, but I was worrying needlessly, it was lush! The other thing I added was mustard, now that was a real treat, gives the quinoa a deliciously rich flavour which is fabulous.
The whole plate looks like a massive party of colours, a little abstract perhaps, but as a whole the Superfood Buddha Bowl is a delight and is quick and healthy for the whole family if you want a nice fast meal. I used my own favourite veggies, but you can mix it up however you like, you could always saute up some sliced mushrooms and add them through, perhaps some steamed broccoli or spinach for a nice splash of green, up to you, just don't forget the avocado (and if you don't like avocado, well, just swap it out for some hummus instead!!).
Superfood Buddha Bowl with Avocado Cream Dressing (Vegan & Gluten Free)
MyInspiration Feel The Difference Range
Serves 2 – Ready in 30 minutes
For the Buddha Bowl
1 ¼ cups Quinoa (or use Bulgur wheat if you prefer although not GF)

2 ½ cups vegan stock

½ tbsp red chilli flakes

½ tbsp dried basil

1 tsp whole grain mustard

1 large carrot grated

1 red onion finely chopped

1 red pepper (capsicum) chopped

1 yellow pepper (capsicum) chopped

8 cherry tomatoes quartered

Seeds from half a pomegranate

1/2 avocado chopped
For the Dressing
½ avocado

1 shallot finely chopped

1 clove garlic finely chopped

Juice from ½ a lemon
Method
In a large pan over a medium heat bring the stock to the boil and add in the quinoa, chilli flakes, basil and mustard, stir, reduce heat to low and simmer for 20 minutes until the liquid has been absorbed, stir every now and again.

Once the quinoa is ready mix through all the remaining ingredients apart from the chopped avocado and stir together.

For the dressing, I just used my stick blender and blitzed the avocado, garlic and onion until almost smooth then mixed through the lemon juice to thin out a little.
To serve, pile the Buddha bowl onto a plate, top with the sliced avocado and spread the avocado puree around the sides, on top if you've no room and finish with a tiny sprinkling of black pepper and paprika!!