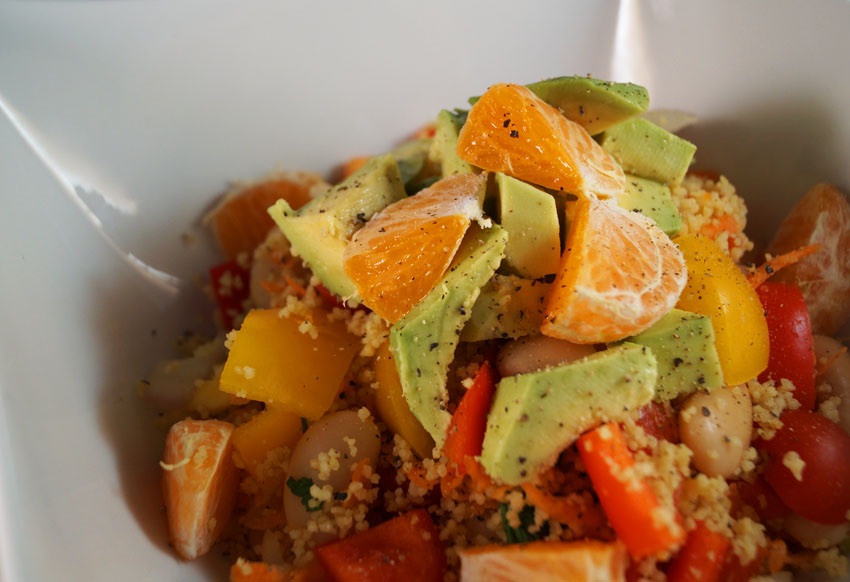 Back into the swing of things again, restocked the cupboards and cooking some fabulously healthy meals again. I wanted to try something a little different with my buddha style bowl this week and opted to add in some fruit and mint for a little change. I wasn't sure at first if I had gone a bit mental with the ingredient list and that when it came to eating it the flavours would just clash, but thankfully all turned out well and incredibly tasty with a real freshness to it that I loved.
We have, for our sins, signed up for this month's Legion Run. I am not going to lie, I am looking forward to it, but I am a little teeny tiny bit scared too. It's a 5km run (that bit's fine) then there are at least 15 obstacles we need to get through, ranging from swinging tyres, wading through ice filled tanks of water, jumping fire, crawling through tunnels to the big ones I'm nervous about, mainly the giant half pipe I need to run up and get over and the giant vertical wall, eek! I just hope I can keep up! I think you can see a pattern of me and walls, we don't get on. I'm more than certain I am just going to run up to these obstacles and slam my face right into them, I am, to put it mildly, a clumsy lass. At school camp I ran straight into the big thick ropes of the climbing frame and friction burned the whole left side of my face (just in time for the school photos!). Oh heck, it'll be fun!
Got quite a few recipes I need to put on, so just sorting them out now, and will have them all on as soon as possible, baked some more of the oreo muffins the other day, I think I'll be making them frequently as Martin loves them, although I'm now missing out the Soy cream part and using canned coconut milk instead. Have a great day everyone!
Veggie Delight Power Bowl (vegan with gluten free option)
MyInspiration Feel The Difference Range
Serves 2 – Ready in 30 minutes
1 cup Coucous (for GF use 1 cup quinoa and 2 cups stock and cook according to instructions)
1 cup vegan stock
1 red onion sliced
1 yellow pepper chopped
1 red pepper chopped
1 can white beans (approx 1 ½ cups beans)
1 large carrot, peeled and grated
8 cherry tomatoes chopped in half
1 tsp cumin
1 tsp chilli
1 avocado sliced
1 mandarin orange peeled and segments chopped in half
2 tbsp fresh chopped mint
Black pepper to season
Method
Prepare the Cous Cous by adding 1 cup of boiling stock to 1 cup of cous cous, stir together, cover and leave for 15 – 20 minutes. When ready fluff with a fork to separate the grain. (If you are making Gluten free version and using quinoa, remember it's 1 cup quinoa and 2 cups stock, simmer over a low heat for 20 minutes until the liquid has been absorbed).
While you're waiting on the cous cous, collect all the veggies in a large mixing bowl, so chop the peppers (capsicums), thinly slice the red onion, peel and grate your carrot, chop the cherry tomatoes in half, chop your fresh mint, throw in the white beans, cumin and chilli, then pour in the cooked cous cous and mix this all together and serve in a nice big bowl. Finally peel and slice the avocado, peel the mandarin and chop a few segments in half. (this should top your dish). Add a good pinch of black pepper to season.
You can serve this with some hummus or tahini on the side along with chilli sauce etc.