We've been looking at ways in which to get more omega-3 in our diet and the ground flax seed has been a great addition to my recipes.  Took me a while to realise that it was linseed in this country, so I'm super pleased with getting my hands on some.
When the weekend comes, we do like to splurge a little on pancakes and now that I have the flax, I thought I'd try some new mixtures to get some great breakfast treats.  These pancakes are really filling as well and will keep you going until lunch time with no snack attacks hitting at eleven!
Not only will I be using this in my pancakes but I'm going to start using this in all my baking as well and see how I get on.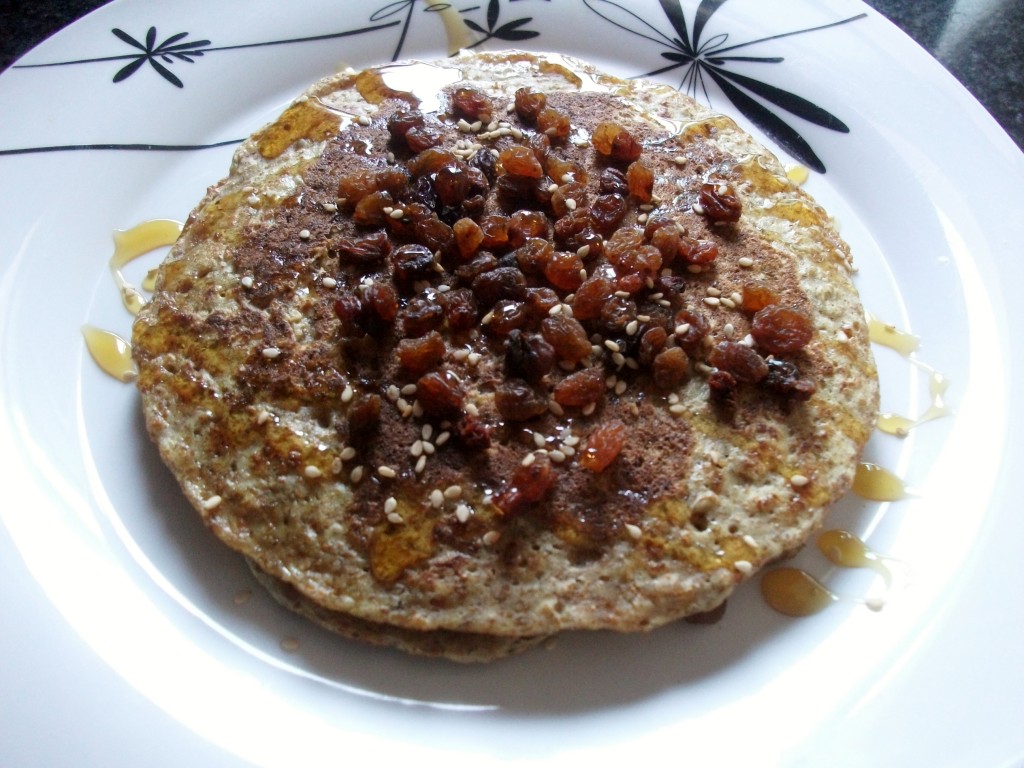 Whole-wheat and Oat Pancakes
(Makes 4 pancakes)
Ingredients
1 cup Whole-wheat flour
½ cup oats
½ tsp Baking Soda
2 tbsp ground Flax Seeds (mixed with 2 tbsp Almond (any non dairy milk)
1 cup of almond milk (milk of choice)
1 cup of water
1 tsp vanilla
To Garnish
2 tbsp sultanas
1 tsp sesame seeds
Maple Syrup to drizzle
Method
1. First mix  the ground flax seeds and milk in a bowl and set aside for 5 minutes
2. Mix the flour, oats & baking soda in a large bowl
3. Mix the rest of the almond milk with the flax seed mix and add in the vanilla (stir)
4. Add wet ingredients to the dry and whisk until smooth, add the water until you get a consistency you like (I like my batter quite thick so it makes quire fluffy pancakes – I tend to add in about ½ – ¾  cup of water .
5. Heat your non stick frying pan (I use vegan margarine to grease the pan the first time.
6. Using  a ladel, spoon about a cup full of mixture into the centre of the pan – it should naturally just spread out into a nice pancake shape, but use a spatula quickly to shape to your requirements.
7. Cook for approx. 2 minutes on each side over a medium heat
8. Serve along with your favourite garnish
Each pancake is 170 calories