This is the recipe from the other day and I'll hold my hands up now and say we guzzled that cake down quick smart, it's one of those cakes that's just too darn tasty for it's own good! The strawberry and almond combination was delicious and is ideal for the spring, accompanied with a lovely cup of your favourite tea. This is not a light and fluffy cake, it's more like a bakewell tart, slightly denser.
Today was a giggle at the gym, I've just started back to Sh'Bam (dance style aerobic class) and lo and behold, we had to do the Gangnam Style track, now apart from seeing it on YouTube, I haven't actually ever seen anyone do the dance, but today… well today we were all doing it.. I had tears in my eyes from laughing so much, I don't think I'll be giving it a go in public, I looked like I was having a seizure of some kind! But it's good fun when you're in the comfort of your gym and gym buddies!
Now, must decide what we're having for dinner tonight and tomorrow, as going to do a shop!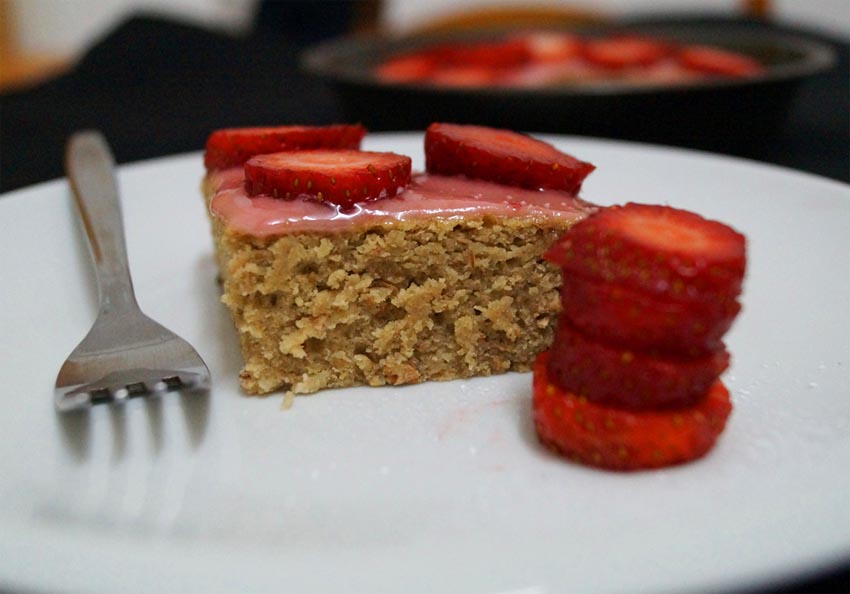 Strawberry & Almond Cake (Vegan & Gluten Free)
MyInspiration Feel The Difference Range
Serves 8 (or if like me you loved a slab of it 4 slices)
1 cup buckwheat flour

1/3 cup almonds (blitzed in a food processor until a flour)

8 dates

1 cup non dairy milk (I used almond milk)

1.5 tbsp maple syrup

1.5 teaspoons Baking powder

1.5 teaspoons Almond Extract
For the topping
3/4 cup icing sugar

2 strawberries pulsed in food processor

5 strawberries sliced for decoration
Method
Preheat oven to 180 degrees celcius (356 degrees fahrenheit) and lightly oil a round cake tin (I used a 9″ round tin)

Pop the dates with 2 tbsp of the milk into the microwave and cook for 30 seconds (careful it doesn't froth over) then add the maple syrup and almond extract and pulse with a hand/stick blender until smooth then mix in the remaining milk.

In a mixing bowl, combine the buckwheat flour, almonds and baking powder then add the wet ingredients to the dry and stir together before pouring into your cake tin and popping in the oven for about 25 minutes, until cooked through, remove from heat and allow to cool completely.

To make the icing, combine the icing sugar with the pulsed strawberries and mix together, it it's too wet, add more icing sugar until a thick paste is formed. Smooth this over the top of your cake and arrange the sliced strawberries on top. *** Important, your cake needs to be cooled completely before adding the icing, otherwise it'll just dissolve and fall off!