There is nothing more satisfying than feasting on a meal that took you half an hour to whip up and it tastes fantastic. Luckily everyone in the house just now loves spicy food and I had just a little wasabi left to use up and thought I'd use it in my sauce for this quick and easy dish. I ran out of Soba noodles so used some wheat noodles instead (I really would have preferred soba to be honest but it was a bank holiday yesterday and the shop I would have got it from was closed… I really should plan more carefully!) So Gluten Free Peeps, use the soba noodles.
I'm doing my count down now, just 6 more days until I see my little sis and am formally introduced to my little nephew, it's going to be a long journey but I've got my mp3 filled with my favourite tunes and will take a couple of books so hopefully all the bus journeys will fly by… hope they've got air conditioning too, it's toastie now! So be prepared, it's very more than likely that there will be a lot of nephew photos sometime next week appearing on this blog!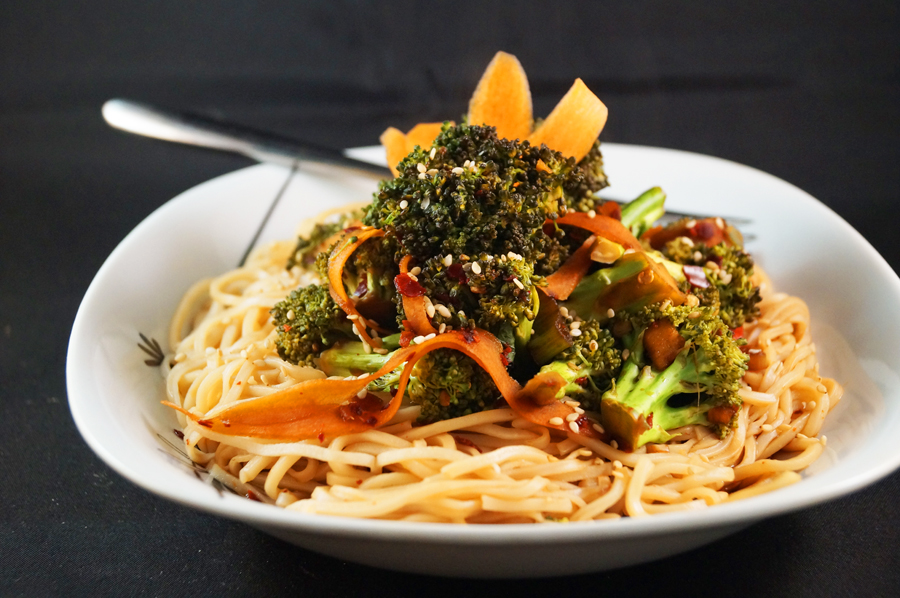 Stir Fried Broccoli with Wasabi, Ginger & Soy Marinade served with Noodles and Sesame Seeds (Vegan with Gluten Free Option)
MyInspiration Feel The Difference Range
Serves 3 – 4 – ready in half an hour
Large head of broccoli cut into florets (about 9 – 10 cups worth)
2 carrots peeled into long strips
2 spring onions chopped
2 inch cube of fresh ginger finely sliced
4 cloves garlic finely sliced
1 tbsp wasabi
3/4 cup low sodium soy sauce
2 tbsp crushed chili flakes
1 tbsp white wine vinegar
1 tbsp sesame seeds to garnish
300g Noodles (use your favourite and cook per pack instructions)
Method
1. Prepare your noodles as per package instructions
2. In a large deep sauce pan, pour a kettle of hot water over your broccoli florets and give it a quick stir, leave for 3 minutes then drain in a large colander, to the same pan, add 2 tbsp of water and heat over a medium to high heat, then add in the broccoli, ginger, garlic and chili flakes and stir to coat everything.
3. In a cup add the soy sauce, white wine vinegar and the wasabi and whisk together, add this to your broccoli, throw in the carrots and spring onions and keep stirring making sure that all the broccoli is coated in the soy sauce mixture and let this cook for 8 – 10 minutes until your broccoli becomes al dente, remove from heat.
4. To serve, take 4 tbsp of the broccoli liquid and pour over the cooked noodles and stir to combine, spoon the noodles in a bowl, add the broccoli mixture on top and drizzle over more sauce from the pan, sprinkle with sesame seeds and some more chopped spring onions and serve!