I got around to using one of my packs of Silken Tofu the other day and what better way to use it than in a delicious cheesecake! I was originally just going to do a plain lemon cheesecake, but for some reason I got the tune of St Clements in my head (oranges and lemons are the bells of St Clements…) and suggestible as I am, I threw a cheeky orange in there as well, the zest gives it a lovely colour as well, which is always nice. This recipe will serve 4 quite nicely, but as you can see from the 2nd pic, we were super greedy and halved it!!! well it was my first ever cheesecake…..
Next time I do this I'm going to give it a go with a slightly different base, pack in some dates and walnuts and less oats and flour, not for any particular reason other than I'd like to give it a go. I've also bought some passion fruit so that other pack of tofu in the fridge is going to be used in my passion fruit cheesecake, so should be making that either tomorrow or Sunday.
I've just ordered The Yoga Bible from play, a friend of mine at the gym this morning was showing me her book and it looked great and quite informative as well and it's also one of the books that our instructor has, so I thought I'd get a copy so that I can practice while I'm away during the summer. I've already been practicing the lotus head stand, I can get into the pose now but can't hold it for very long, but it's only my first time trying it, so I think it will become a lot easier to balance with practice.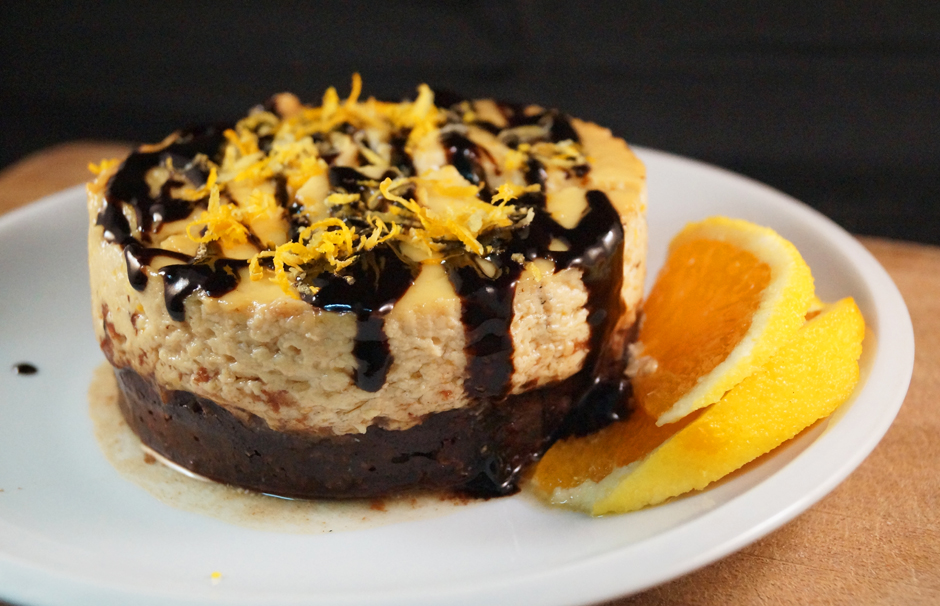 St Clements Cheesecake with a Dark Chocolate Amaretto Drizzle (Vegan & Gluten Free)
MyInspiration Feel The Difference Range
Serves 4 – Ready in an hour
For the base
1/2 cup oats
1/2 cup buckwheat flour
2 tbsp cocoa powder
3 tbsp non dairy milk (I used almond)
2 tbsp maple syrup
For the filling
The zest and juice of 2 lemons
The zest and juice of 1 orange
300g firm silken tofu (I used clearspring organic tofu)
1/2 cup icing sugar
1 tsp vanilla extract
Drizzle
30g vegan dark chocolate
2 tsp amaretto (or almond extract if you don't have any or want to make it child friendly)
1/2 tbsp almond milk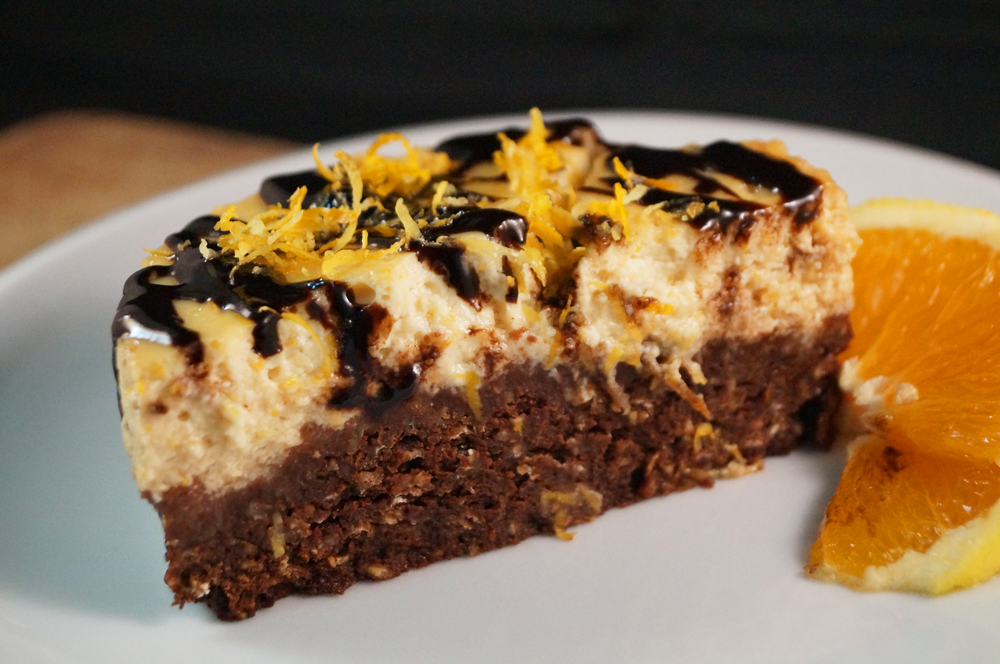 Method
1. Preheat oven to 180 degrees celcius (356 degrees Fahrenheit) and prepare a 5″ springform cake tin (I don't actually have one of these, what I have is a 5″ presentation ring which I popped onto a lined baking tray and it worked perfectly)
2. To make the base, just mix together all the ingredients in a bowl and then press into the bottom of your cake tin, make sure that it is tightly compacted down and there are no gaps around the sides. Bake in the oven for 10 minutes then remove, again press the base down to make sure that no gaps have appeared around the edges..
3. While the base is in the oven you can prepare the filling – Add the tofu, vanilla, icing sugar, 3/4 of the lemon and orange zest, all the lemon and orange juice into a food processor (or use a stick blender like me) and pulse until the mixture is beautifully smooth, there will be some bits of zest in there, but don't worry about that. Give it a quick taste to make sure you like it, you can add more vanilla here if you like.
4. Pour the filling on top of your part baked base and pop back in the oven for 40 – 45 minutes, until the topping firms up, (to check, very carefully press the top to see if it's of a slightly springy texture) you should also see little cracks here and there on the top when it's ready. Cool for 10 minutes.
5. While it's cooling you can make the drizzle –  Using a bain marie, melt the chocolate and add the amaretto and almond milk and stir together.
6. To serve, carefully remove the cheesecake from the springform tin, or lift the presentation ring off, using a teaspoon flick over the chocolate drizzle and then sprinkle over the last quarter of lemon & orange zest.