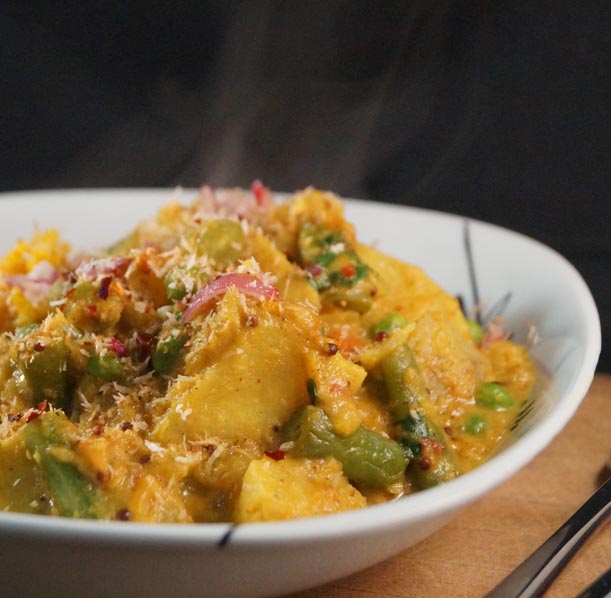 Another day, another curry, it should be ZERO surprise to you by now that I eat a lot of curries and spicy food, I can't help it, I'm addicted to spice! This was going to be a sweet potato and cashew curry but I realised when I served it that I'd forgotten to put the cashews in, I'm so scatty sometimes! No matter, I'd been flinging other bits and bobs in the curry as I went along, peas, green beans, toyed with the idea of spinach but then decided I had plenty of green colour in there and to save the spinach for my lasagne tonight.
Hubby was speechless when he was eating it, he loved it, the variety of flavours coming from the curry and the coconut sambal, oh it was a tastebud sensation, every mouthful was a delight. I was incredibly pleased with the result (can you tell?). Giving the sweet potato time to really soften was key to this dish as it thickened the sauce up quite considerably and soaked in all the fabulous spices. I served mine with basmati but you could just as easily serve with some flat breads, it's up to you.
I had a great yoga class this morning, I feel totally energised, loose and limber, just amazing. Got a few pointers for some of the moves I'm practicing at home, tips on how to ease my way into some of the more challenging poses, well challenging for me at least, probably easy to most! Trying to get into the Wheel pose, but just can't seem to straighten out my arms to lift my head off the floor, it's coming, I'm practicing, I just need to be more confident and also build up more strength in my arms and shoulders, I'll get there, I just need to work at it!
Sri Lankan Sweet Potato & Pea Curry served with Saffron and Turmeric basmati rice and topped with coconut sambal (vegan & gluten free)
MyInspiration Feel The Difference Range
Serves 2 – Ready in 40 minutes
For the curry
2 medium sized sweet potatoes peeled and chopped into bite size chunks
10 green beans chopped into chunks
½ cup frozen peas
1 small white onion, roughly chopped
1" cube of fresh ginger, peeled and roughly chopped
3 garlic cloves finely chopped
1 ½ tsp curry powder
1 tsp turmeric
½ tsp fenugreek seeds
1 tsp cumin
1 tsp paprika
½ tbsp black mustard seeds
2 tsps curry powder
1 tsp garam masala
1 large tomato chopped
1 ½ cups canned coconut milk
2 tsp chili flakes
Juice of half a lime
handful fresh coriander
For the rice
1 cup wholegrain basmati rice
3 cups water
Large pinch of saffron
1 tsp turmeric
For the Sambal
2 tbsp shredded coconut
½ tsp chili flakes
½ small red onion finely sliced
Juice of half a lime
Method
Get the rice started as wholegrain basmati takes longer to cook – Add the rice to a pan of boiling water, add in the saffron and turmeric, stir through, reduce the heat to low, cover and cook for 30 minutes then drain and pop back in the saucepan and keep the lid on to retain the heat.
For the curry – add the onion, garlic, ginger, turmeric and curry powder to a food processor, or use a stick blender like me, and pulse until smooth.
Add 2 tbsp water to a deep saucepan over a medium heat and add fenugreek seeds, cumin, paprika, curry powder, mustard seeds & garam masala and cook for a minute to release the flavours, now add in the paste from step 2 and stir together. Throw in the chopped potatoes and make sure they are all coated in the beautiful spices, then pour in the coconut milk, lime juice, green beans and chili flakes and mix this all together.
Bring to the boil and let it bubble away for 6 minutes stirring occasionally, then turn the heat down slightly, add in the frozen peas and let this simmer away for 15 – 20 minutes. The potatoes should become lovely and soft and break up a little when you stir the sauce, before serving, stir through some fresh coriander.
About 5 minutes before the curry is ready, make the sambal. Heat a small non stick sauté pan over a medium heat, add in the coconut, red onion, chili and lime juices and let this toast for a few minutes until the coconut starts to brown slightly, remove from the heat.
To assemble I spooned the basmati rice into a nice big bowl and ladled the sweet potato curry on the side and sprinkled over a heaped tablespoon of the coconut sambal, you can add more if you have some left over!