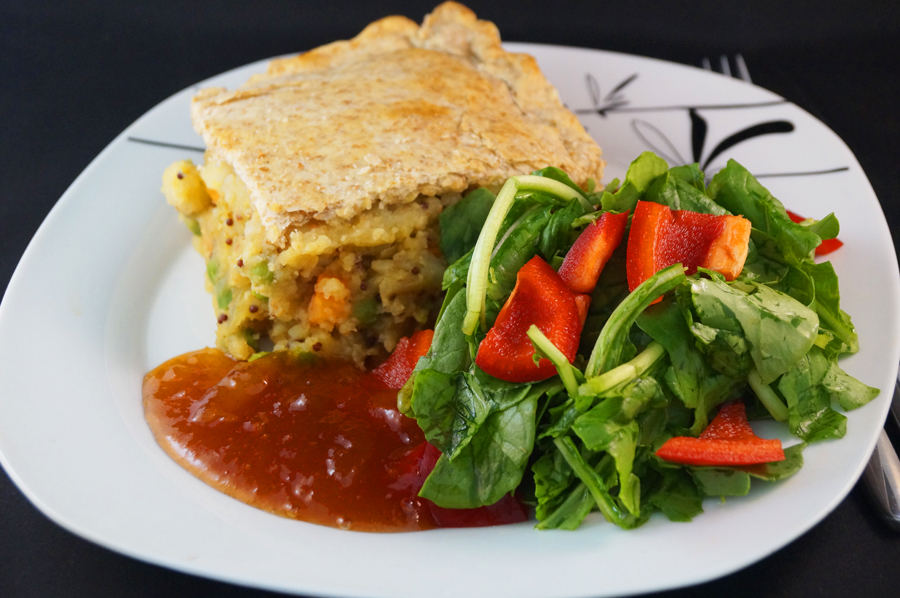 I made this samosa bake when we had our guest over as a quick lunch, it's crazy tasty and is quite substantial as well, I was pretty stuffed afterwards! It fed us for 2 days and like most curries it was even more delicious on the second day!
So I am back from my visit to my sisters, I had a great time and met my little nephew and me being the bumbling aunty that I am managed to smack the poor little guy's head on the car door when they met me from the airport…. how's that for an introduction. Although he got his own back later when he hurled a toy at me, affectionately of course!
No cooking for me today as it's my birthday, so going out for dinner tonight which I am looking forward to, although I'm still a little tired after all my travelling yesterday, I was on the go from 3am and got home just after 3pm, my body seems to be permanently in the shape of an airplane seat at the moment!
Spicy Samosa Bake with Fresh Salad and Mango Chutney (Vegan & Gluten Free Option)
MyInspiration Feel The Difference Range
Serves 4 – ready in under an hour
For the Pastry
1 cups wholewheat pastry (or use your favourite gluten free flour)
1.5 tbsp sunflower oil
3 – 5 tbsp water
For the Filling
4 medium white potatoes (peeled, chopped, boiled in hot water for 12 – 15, drained and mashed)
4 cloves garlic finely chopped
2 carrots, peeled and chopped
1 cup of frozen peas
1 large white onion finely chopped
1 cup vegan stock
1 tbsp cumin
1 tsp Turmeric
3/4 tbsp Hot Madras Curry Powder
2 tbsp black mustard seeds
1 tbsp red chili flakes
Black pepper to season
Method
Prepare the pastry by combining the flour and oil and water and mixing until a dough starts to form, knead for a minute and roll into a ball, cover and leave for later.
Preheat oven to 180 degrees celcius
Prepare the filling by heating 2 tbsp water in a large saute pan, cook the onion, carrots and garlic for 4 minutes before adding in all the spices. Give it a good stir to ensure everything is coated, then add the vegan stock and frozen peas, keep the heat on medium/low and cook for 10 minutes.
Remove the pan from the heat and then fold through the mashed potatoes and transfer the mixture to a 7″ square deep baking tin, then roll out your pastry into a square shape and gently lay it over the top of your filling, pinch the sides all the way around to seal, brush with a little non dairy milk and pop in the oven for 20 – 25 minutes until the pastry is golden.
Serve with a side salad, I just used rocket and red peppers and a 1.5 tbsp serving of mango chutney (I'm sorry I didn't make my own, but will try in future)