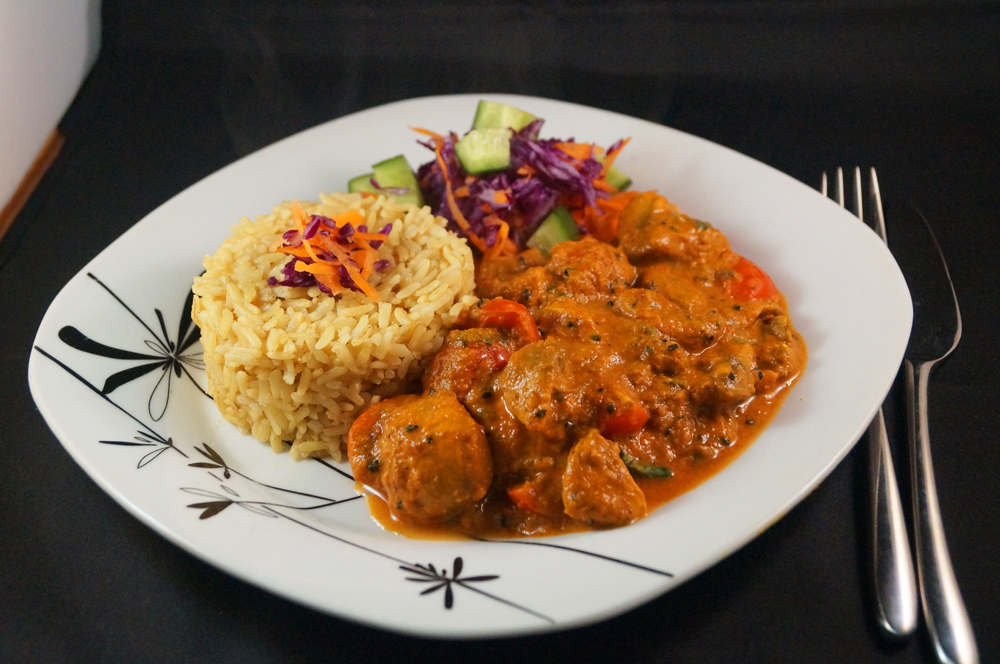 I don't know what came over me today but I had this notion for a Tikka dish, I wasn't sure how I was going to create the right consistency and then I thought about the pot of tahini we have in the fridge and I thought it was worth a try… people… it's delish, it really delivers that creamy sauce texture and holds well to the mushrooms. Martin even had seconds (I did slightly over cater just a teeny bit).
This dish is really easy to make and you could just make a big pot of it and keep some for the next day if you wanted.
My Matcha Chocolate Chip Cookies are finished, so I'm going to have to make something else tomorrow, I got some fantastic looking cherries today so I'm thinking of some cherry muffins with almonds… oh heck I'm hungry again now!
Spicy Mushroom Tikka served with Brown Rice, Shredded Red Cabbage & Carrot (Vegan & Gluten Free)
MyInspiration Feel The Difference Range
Serves 2 – ready in around 30 minutes
For the Mushroom Tikka
3 tbsp tahini
4 cloves garlic sliced
2″ cube of fresh ginger chopped
1/2 white onion chopped
1 tbsp red chili flakes
1.5 tbsp turmeric
2 tbsp Garam Masala powder
1/2 tbsp cumin
1.5 tbsp black cumin seeds
Pinch of cinnamon
2 cups passatta
10 button mushrooms sliced
Handful of Fresh Coriander (Cilantro)
8 Cherry tomatoes quartered
For the Salad
1/2 small red cabbage
1 carrot
(Both grated and mixed together)
1 cucumber chopped
For the Rice
1 cup brown rice
2 cups vegan stock
Method
1. First off, prepare your rice. Add 1 cup of brown rice to a pan that holds 2 cups of vegan stock, stir together, bring to the boil, reduce heat to low, cover and let cook for 20 minutes
2. For the Tikka, add the ginger, garlic, onion, chili flakes and tahini to a food processor (or use a stick blender) and blitz until smooth, then add in the remaining spices and stir through.
3. Heat 2 tbsp of water in a deep sauce pan over a high heat then add in the tikka mixture from above, let this cook for 3 minutes to release the flavours then add in the sliced mushrooms and stir until well coated. Next add the passata and then reduce the heat to low, cover and let this cook for 15 – 20 minutes, 5 minutes before serving mix through the quartered cherry tomatoes and the fresh coriander and you are done.