It's crazy how quickly the weather changes! Last week I was running about in cut offs and vest tops and this week I've got jeans, sleeves and searching desperately for a chunky cardigan…. and it's dark (not pitch black, but grey!) so I'm feeling like it's almost hibernation time and have slipped into winter cooking mode, real hearty and warming food that chases the cold away!
I think I'm going to be making a lot of lentil loafs these next few weeks, trying out some different variations and spices, it's a really versatile recipe that you can add pretty much any of your favourite veggies to or if you prefer a plain chilli sauce, BBQ sauce, or plain old passata with herbs, it's completely up to you!
This will serve 4, although we had it for dinner and then kept half for lunch the next day, just keep it wrapped up refrigerated and it will be fine to use the next day.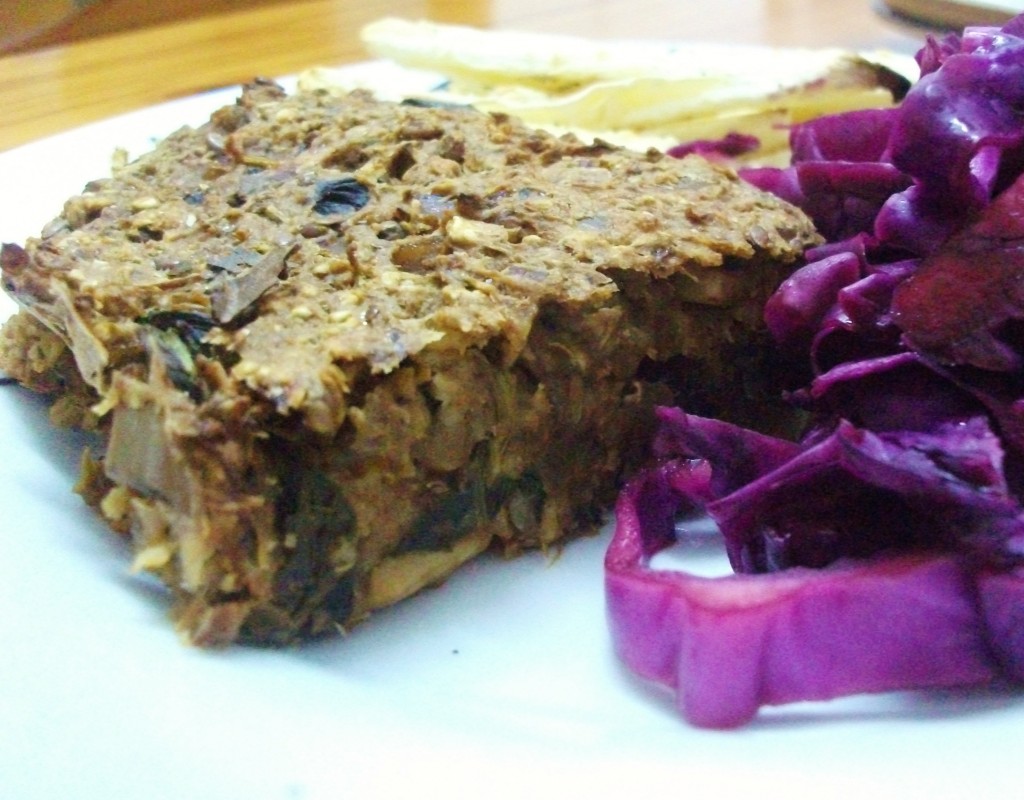 Spicy Lentil Loaf
Serves 4
Ingredients
2.5 cups cooked red lentils
1 cup oats
1.5 cups mushrooms chopped
½ cup wholewheat flour
2 Tablespoons ground flax seeds mixed with 6 tablespoons of boiling water
½ Tablespoon olive oil
1 onion finely chopped
2 cloves garlic finely chopped
2 cups fresh chopped spinach
1/2 tablespoon basil
1 Tablespoon thyme
1 teaspoon tabasco sauce
4 tablespoons sweet chilli sauce
Black pepper, to taste
Method
1. Preheat the oven to 200 degrees celcius.
2. Heat oil in deep pan over a medium heat then add onion and garlic and cook for 5 minutes then add in the chopped mushrooms and cook another 4 minutes, until tender. Add in thyme, basil and spinach and cook until spinach is wilted, about 2 minutes. Add in sweet chilli sauce and stir through, then season with black pepper remove from heat and allow to cool slightly.
3. In a food processor (or use a hand blender like me) blitz 2 cups of the cooked red lentils (reserve the other half cup) and also half a cup of the oats (reserve the other half cup) until smooth.  Spoon the mixture into the onion/mushroom mixture and add in remaining lentils and oats, plus the flax mixture and wholewheat flour, stir well to combine it all together
4. Line a square loaf pan 8" x 8" with greaseproof paper, letting the sides overspill so you can grab this once the loaf is cooked to remove from the pan with ease. Tip the mixture into pan, smoothing it out evenly, making sure the sides are filled and it's compacted down.
5. Pop in the oven for 40 minutes. Then allow to cool in the pan for 5 minutes before pulling the  loaf out of pan.
I Served my loaf with roasted parsnips and some balsamic infused red cabbage (for the cabbage I just took my dry frying pan, added 2 tablespoons of water, shredded half a red cabbage, add it to the pan and stir fry for 5 minutes, then add 2 tablespoons of balsamic vinegar and cook for a further 3 minutes).
For leftovers the next day, we had it with a mixed salad and some tahini (very tasty!).