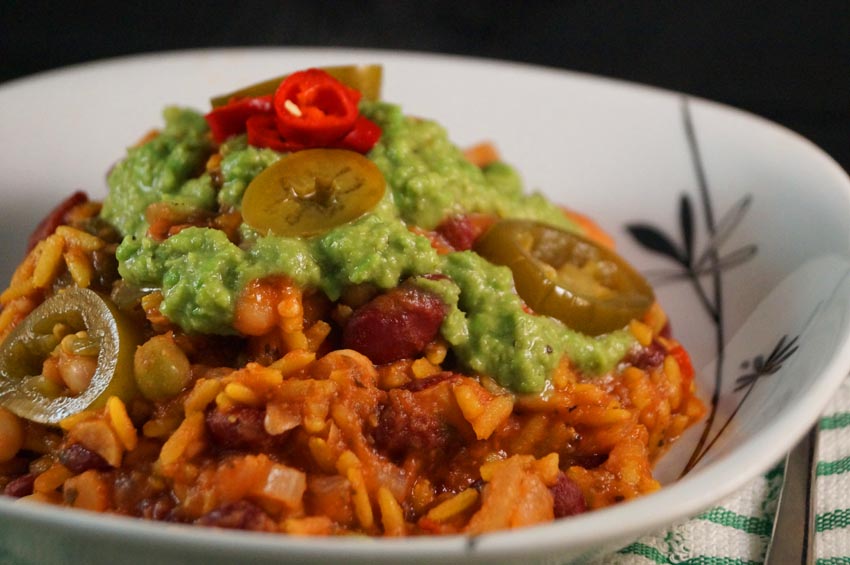 I'm a poor avocado planner. I decide on the same day that I need one and go searching for a ripe one only to find they're all solid as a rock! So, today I went out and bought a couple of hard avocados and I am going to keep them in the house until they are ready and then they are going to be transformed into guacamole, oh yes my friend, beautiful guacamole!
The lack of avocado meant that I needed something to add a splash of colour to my chilli bean risotto and I still had some frozen peas and fancied experimenting a bit with some flavours. I wasn't entirely sure when I was putting it together that it would be edible, but thankfully, worked out just fine and it gave the dish a little je ne sais quoi!
I'm knackered today, I've just been to do a big shop for the local food bank, there was an article telling everyone that the charity had to close their doors the other week as they had ran out of food, there were hundreds of people left with no food and children to feed and water, so a call to action is most definitely required. I went absolutely mad with the buy one get one free offers on beans and pulses, pasta and rice, oats, nuts, canned tomatoes, canned fruits it's utterly amazing how much you can get for your money. I'm just sorry I haven't done this earlier, we shouldn't wait until people are being turned away to make donations if we can! It is very much the case that every little helps…
Chilli Bean Risotto with a Pea & Coconut Puree (Vegan & Gluten Free)
MyInspiration Feel The Difference Range
Serves 2 – Ready in 30 minutes
1 onion finely chopped
2 garlic cloves finely chopped
1 large hot red chili finely chopped
1 can white beans (about 2 ½ cups full) drained and rinsed
1 can kidney beans (about 2 ½ cups full) drained and rinsed
1.5 cups passatta (pureed tomatoes)
1 tbsp Tomato paste
1.5 tbsp Maple Syrup (yes you read right)
1 tsp cumin
½ tsp paprika
½ tsp dried chili flakes ( I likes it spicy!)
1 tsp dried oregano
1 tsp dried basil
¼ cup frozen peas
Juice of half a lime
½ cup brown rice
1 cup vegan stock
1 tsp turmeric
Pea & Coconut Puree
½ cup frozen peas
1 tbsp canned coconut milk
1 tbsp balsamic vinegar
Black pepper to season
Method
Start by cooking the rice – In a small sauce pan add ½ cup rice to 1 cup of vegan stock and 1 tsp turmeric, stir, bring to the boil then reduce heat to low, cover and cook for 12 minutes, stirring occasionally to avoid any stickage.
In a deep sauce pan add 2 tbsp water over a medium heat and sauté the onion, garlic and chili for 2 minutes to soften before adding in the maple syrup, cumin, oregano, basil, paprika and chilli flakes, mix this all together.
Now add in the white beans, kidney beans, passatta, tomato paste and the lime juice and stir together, turn the heat down to medium and let this simmer away for 15 minutes stirring occasionally. Once the rice is cooked I poured this in with the chili and mixed it all together.
To make the pea puree, I popped the frozen peas into a bowl of hot water and left for a few minutes, drained them, then using a hand blender, I pureed them along with the coconut milk, balsamic vinegar, black pepper and 1 tbsp water until lovely and smooth.
To serve, spoon the chilli risotto into a bowl, add a few jalapenos (you know you want to!) and drizzle the pea puree on top and you are good to go.
If the pea puree isn't your thing and you can get your paws on some avocado, then just make a quick guacamole to pop on the top!