I'm a huge fan of polenta and it's been a while since we've had it, so last night I got out my new ice cream scoop and went to work on some polenta and spinach dumplings. It's so very sad how excited I get at something as basic as buying an ice cream scoop, but the idea of level cupcakes, cookies that are the same size and now the delights of cute looking dumplings, well, I simply don't know how I've managed to function without one before now!
We were supposed to have the leftover dumplings with lunch today but someone forgot, I'm not naming names here (Martin!), they are still in the Tupperware box in the fridge so they should be ok to use tomorrow for lunch. They are super scrummy, there's just something about polenta that I love, they just absorb great flavour and you can do such a lot with it, dumplings, polenta mash, use it in cakes, cookies, burgers, see, you can use it in everything! Plus according to the Livestrong page, it's a decent source of protein, vitamin A and vitamin C, so get it on your plate!
Tonight I'm thinking that I might attempt aubergine bacon (or eggplant bacon) I've seen it used in a few recipes and it looks simple enough to do, so I'm really intrigued as to what it will taste like, so here's hoping it turns out right and I shall share the recipe once it's up to scratch! Fingers crossed everyone!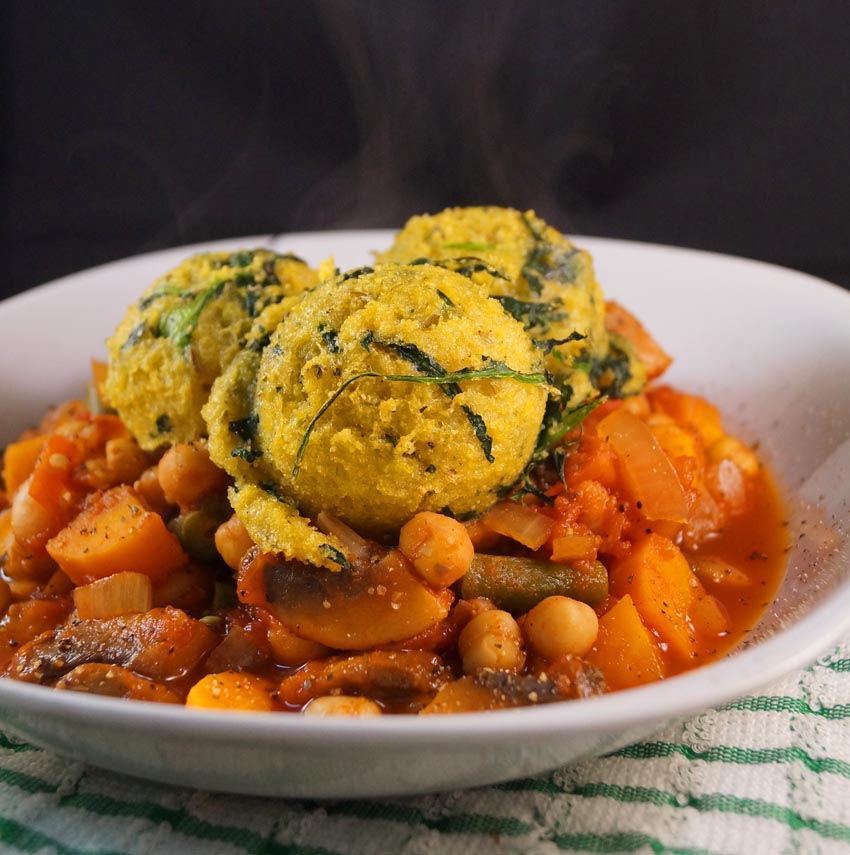 Spicy Chickpea & Mushroom Stew with Spinach Polenta Dumplings (vegan & gluten free)
MyInspiration Feel The Difference Range
Serves 2 – Ready in under 40 minutes
For the Stew
1 onion finely chopped

2 cloves garlic finely chopped

1 red Chili finely chopped

1 can chickpeas (2 cups) rinsed and drained

8 button mushrooms chopped

1 can chopped tomatoes (2 cups)

2 tbsp tomato paste

½ cup water

1 tsp Paprika

1 tsp cumin

½ tbsp Apple cider vinegar

1 large Carrot chopped

8 green beans chopped

Black pepper to season
For the Polenta Dumplings (this makes 12 dumplings)
1 cup packed wilted Spinach

1 cup Polenta

2 cups vegan Stock

½ tbsp dried thyme

Black pepper to season
Method
Preheat oven to 180 degrees celcius (356 degrees Fahrenheit) and line a large baking tray with parchment.

Make the dumplings – I had a bunch of fresh spinach (about 2 packed cups full) I rinsed the leaves shredded them with a sharp knife and then popped it in a colander and poured a few cups of boiling water over the top to start the wilting process. In a sauce pan add your 2 cups vegan stock, the dried thyme and the shredded spinach and bring to the boil before stirring through the cup of polenta, turn the heat down to low and stir constantly until the mixture starts to thicken up, cook for about 2 minutes, then turn off the heat.

Using your ice cream scoop (about 1.5 tbsp worth) scoop the mixture into 12 dumplings which you should pop right onto the lined baking tray. Set aside for later.

For the stew – add 2 tbsp water to a deep sauce pan over a medium heat and add the onion, garlic and chili and cook for 2 minutes before adding in the paprika, cumin, chopped green beans, carrots, mushrooms and chickpeas and give this all a good stir so that everything is combined. Now add in the chopped tomatoes, tomato paste, apple cider vinegar and half cup of water, sprinkle over some black pepper, stir it all together, turn the heat down to low, cover and cook for 15 – 20 minutes, stirring occasionally.

While the stew is simmering away, pop the polenta dumplings into the oven for 12 minutes and once ready, spoon the stew into a nice big bowl and top the dish with 3 dumplings and another sprinkling of black pepper and serve.
You can pop any extra dumplings in a Tupperware box and store in the fridge to use for lunch or with another dish.