It's amazing how much fun you can have when it comes to veggie burgers, there seems to be no end to the variety, from lentil burgers, sweet potato and of course blackbean. Add in your trusty spice rack and you can create a multitude of taste sensations.
The chunky chips are one of Martin's favourite side dishes and they go with pretty much everything, I always par-boil the potatoes just to make sure they come out lovely and fluffy on the inside.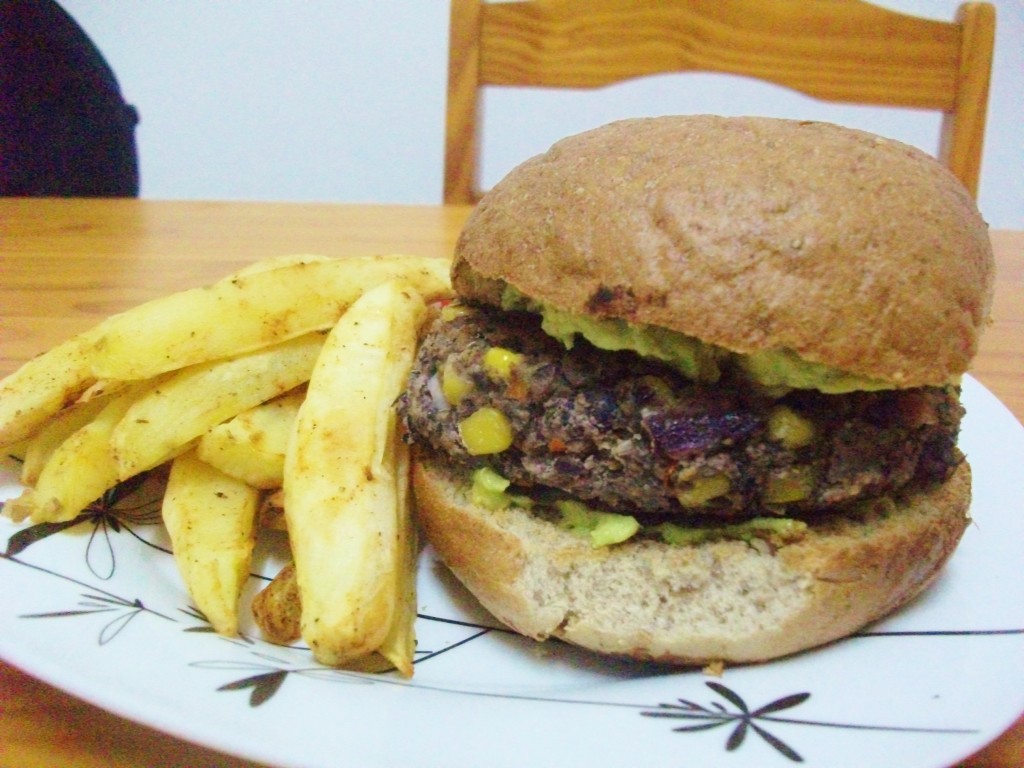 Spicy Blackbean Burgers with an Avocado Spread and Chunky Chips (vegan & gluten free)
MyInspiration Feel The Difference Range
Serves 2
For the Burgers
1 cup of dried black beans (left to soak for 7 hours then cooked for 30 minutes) or us a can of black beans and make sure you drain and rinse them
1/4 red onion, diced
2 green chillis
2 teaspoons of tabasco sauce
2 garlic cloves chopped
1 tablespoon cumin
3/4 cup sweetcorn
1 small tomato diced
1 tablespoon flax seeds (mixed with 1 tablespoon water)
1/2 cup bread crumbs (make sure GF)
½ tablespoon olive oil
2 Burger buns – toasted
For the Avocado spread
1 avocado
1 clove garlic finely diced
Pinch of black pepper
For the chunky chips
4 medium potatos
2 teaspoons paprika
1 teaspoon black pepper
Method
1. Preheat the oven to 200 degrees celcius
2. Peel and chop your potatoes into your preferred chips thickness and pop in a pan of boiling water for 10 minutes, drain and transfer to a baking tray, sprinkle the paprika and black pepper over the chips, give it a shake and pop in the oven for half an hour
3. Place ¾ of the black beans, in a food processor, add the red onion, chilli, garlic, cumin and tabasco sauce and blitz until smooth
4. Transfer the mixture to a large bowl and add the remaining black beans, flaxseed, sweet corn, tomato and breadcrumbs and mix together. The mixture should be quite a wet consistency.
5. Make 4 burgers from the mixture, place each pattie onto a lined baking tray and place in the oven for 10 minutes, then flip them over and cook on the other side.
6. While you are waiting on the burgers, give the chips a shake to make sure they aren't sticking and make the avocado spread, but scooping out the avocado flesh and mashing it together with the chopped garlic and black pepper, mash down until smooth.
7. To finish the burgers off, heat the oil in a frying pan and quickly fry off the burgers for a minute each side (this is an optional step, you could just serve straight from the oven if you wanted) quickly pop the burger buns in the oven for a few minutes to toast slightly.
To serve, smother the toasted buns with the avocado spread and top with a blackbean burger, serve along with the other burger on the side and the chunky chips.