I can't believe it's going to be October tomorrow, where did the year fly to!!! This means I need to start thinking about pumpkin pies, pecan pies, Christmas goodies… I want to try lots of new things this year. I'm excited just at the prospect of lots of kitchen time and some winter warmer recipes.  oooh Soups, I can start making soups again!
So, to today's Spicy Bean Bake, this was silly easy to make and it's so scrummy. Great for the kids dinner too as the nacho topping gives it a little bit of fun (I think so anyway!) I have mentioned for Gluten Free Peeps to use Quinoa instead of bulgur wheat, it'll be just as fabulous. Don't forget that you could always pop in a few jalapenos to really heat things up, but I shall leave that up to you, I served this with jalapenos on the side so if people want them they can have them.
Just got the next 2 Jo Nesbo books on my list, they arrived last week, along with a copy of Pride and Prejudice, I'm so suggestible, seen it on TV last month and decided I just had to read it. It's a classic that I think I may have already read, but I don't mind reading it again just to refresh my memory!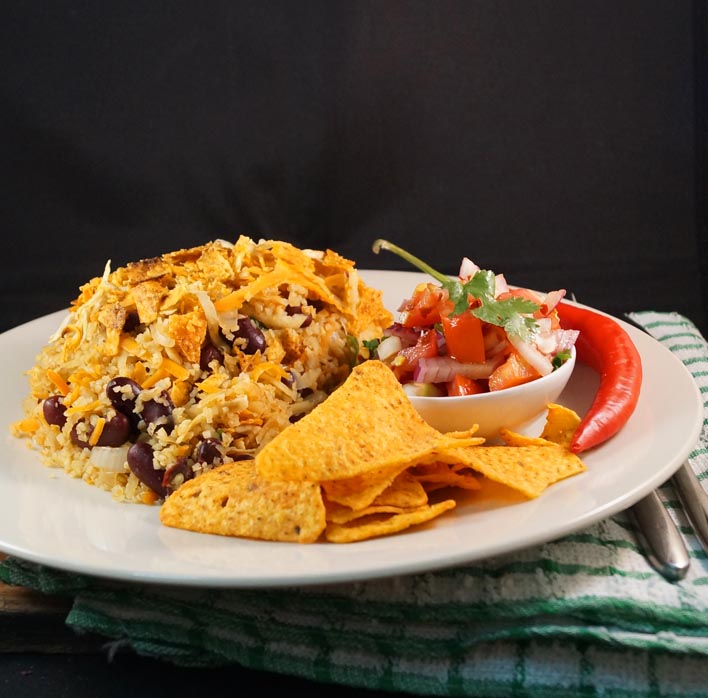 Spicy Bean Bake topped with Nacho Crumbs served with Red Onion Salsa (vegan & gluten free option)
MyInspiration Feel The Difference Range
Serves 3 – 4 people Ready in 40 minutes
1 large sweet potato peeled and grated

1 large carrot peeled and grated

1 can kidney beans drained and rinsed (about 2.5 cups worth)

1 cup bulgur wheat (for GF use quinoa)

2 cups vegan stock

1 onion finely chopped

2 cloves garlic finely chopped

1 hot green chili finely chopped

½ tsp paprika

½ tsp chili powder

1 tsp cumin
1/4 cup crushed tortilla chips (Make sure vegan)
Method
Preheat oven to 180 degrees celcius (356 degrees Fahrenheit)

In a sauce pan, add 1 cup of bulgur wheat to 2 cups of vegan stock, bring to the boil then reduce heat to low and cook for 7 minutes, stirring occasionally. Turn off the heat and cover for later.

In a sauté pan add 2 tbsp water over a medium heat and add the garlic, onion and green chili and cook for 2 minutes before adding in the paprika, chili powder and cumin. Stir this all together so the onion soaks up the spices. Now add in the grated sweet potato, ¾ of the grated carrot and stir this through before adding the kidney beans and cooked bulgur wheat and mix this all together, turn off the heat.

Transfer your mixture to a deep casserole dish, really pack it down and sprinkle over the crushed tortilla chips and the remaining ¼ of grated carrot and pop in the oven to bake for 25 minutes until piping hot, serve with the salsa.
For the salsa, I just finely chopped 2 tomatoes and 1 red onion, added a squeeze of fresh lime, 1 tsp of red chili flakes and some fresh coriander (cilantro) and mixed it all together.