It feels like this should be a mild curry, it looks innocent enough, but it's a cheeky dish and it packs a spicy punch so don't let it fool you. The coconut milk gives this recipe a beautiful creamy richness that feels decadent and honestly I could eat it all again right now if I had a plateful!
It's so hard to come up with names for dishes sometimes, as I've named it Aubergine but it could be Eggplant, or Brinjal, so many names, but I'm going with what I know and sticking with Aubergine. Whatever you call it, make sure you roast it first, get it lovely and soft in the oven so that when you pop it in the sauce it's like a sponge that soaks up all those delicious flavours.
Of course another bonus of this dish is I have half a can of coconut milk left over and now I just HAVE to make a cake today, I simply have to, there's nothing else for it! Got some bananas, I think, unless Martin's eaten them already, so perhaps they may feature in my cake this afternoon.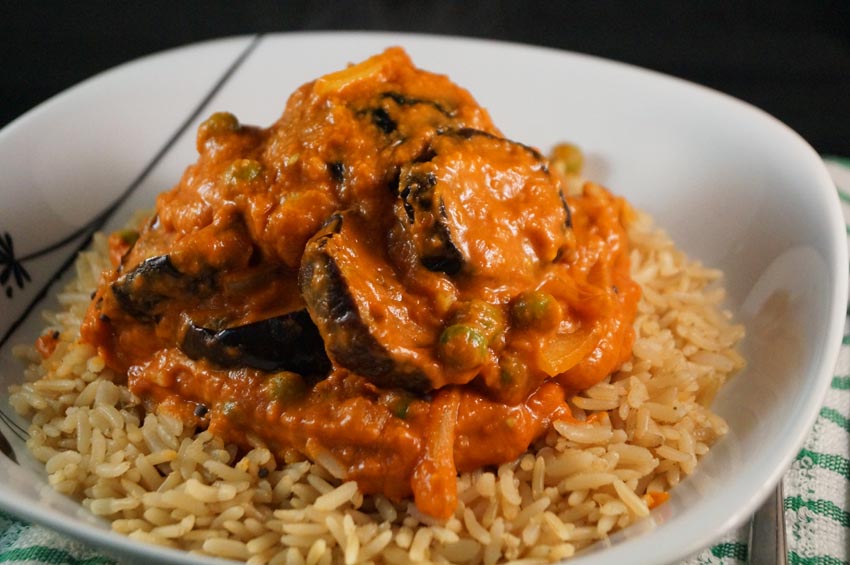 Spicy Aubergine & Pea Curry with Basmati Rice (vegan & gluten free)
MyInspiration Feel The Difference Range
Serves 2 – Ready in 45 minutes
For the curry
2 large Aubergines (eggplants) washed and chopped into circular chunks about 1cm thick

1 onion finely chopped

1 garlic clove finely chopped

2 hot green chili finely chopped

1/2″ cube of ginger finely chopped

1 cup canned coconut milk

1 & 1/4 cups passatta (pureed tomatoes)

1/2 cup frozen peas

2 tbsp tomato paste

1 tsp tamarind paste

1/2 tsp cumin

1/2 tsp chili powder

1 tsp turmeric

1/2 tsp ground coriander
For the rice
1 cup brown basmati rice

2 cups vegan stock
Method
Preheat oven to 200 degrees celcius (392 degrees fahrenheit) and line a large baking tray with parchment, place your slices of aubergine on the baking tray so that they are not overlapping and pop in the oven to roast for 30 minutes turning them over half way through.

Put your rice on to cook – add 1 cup of brown basmati rice to a sauce pan and cover with 2 cups of hot vegan stock, bring to the boil, then turn the heat right down to low, cover and cook for 15 – 20 minutes stirring occasionally.

For the sauce – Add the garlic, green chili and half of the chopped onion to a food processor along with the 2 tbsp of tomato puree and pulse until a nice smooth paste forms.

Add 2 tbsp of water to a medium sized deep sauce pan over a medium heat, then add the paste from the food processor and add in the turmeric, chili powder, ground coriander, remaining chopped onion and tamarind and stir this all together. Now add the coconut milk and stir through before adding the passatta and peas and again giving this a good stir.

Take your roasted aubergine and add this to the sauce, combining it all together. Make sure all the aubergine is well coated and let it cook in the sauce for 10 minutes before serving with the cooked rice.