While we've been here I've seen punnets of cherries in the supermarkets that are just luscious and it got me thinking about possible muffin scenarios which would match my love of fruit with chocolate…. so this morning I got into my borrowed kitchen and went to work on these delicious muffins.
The recipe will make 6 generous muffins, but having already scoffed one down, I think it might be better to make 10 – 12 from the batter mixture as they are quite devilishly rich, but it's up to you.
Plus… I'm using my new camera – woo hoo, it takes great shots and even with poor lighting (my kitchen for example) the shots come out clear and more representative of what I've actually made, so I'm very pleased.  We opted for a Sony DSLR in the end, after reading reviews and making sure it was going to be the best option for what we needed and I'm chuffed with it.
So now that I've done the baking, I'm going to put my feet up and finish my book, I've been reading Atonement by Ian McEwan, it's a fantastic book that I'm rattling through, so will get back to it!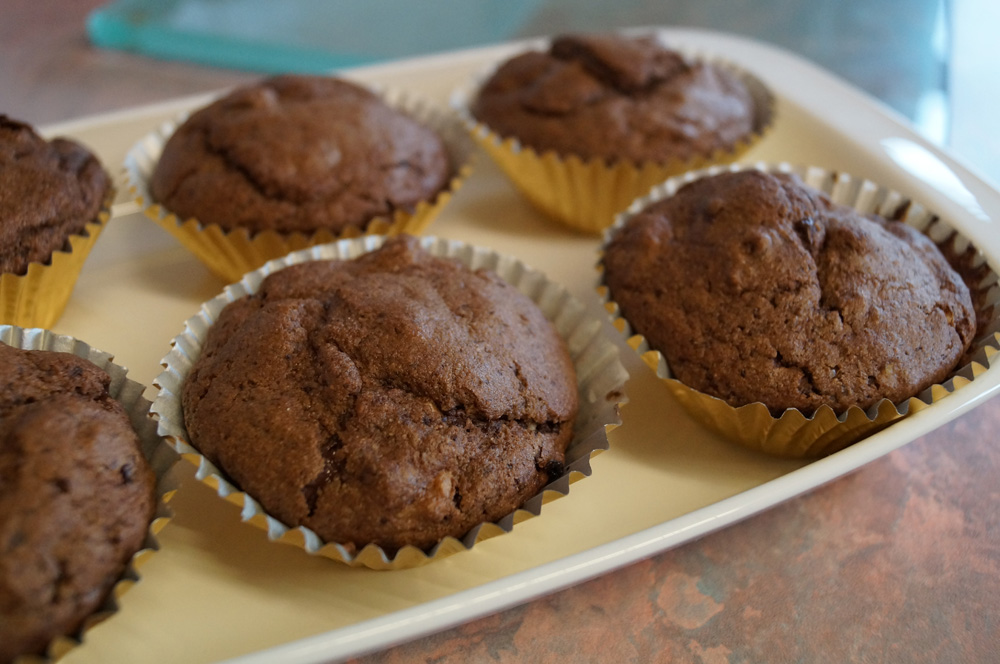 Sour Cherry, Chocolate & Walnut Muffins
MyInspiration Feel The Difference Range
Makes 6 Large Muffins – ready in under an hour
¾ cup non sweetened almond milk (or your favourite non dairy milk)
¾ teaspoon lemon juice or apple cider vinegar
3 tablespoons maple syrup
3 tbs vegan margarine
1 ½ teaspoon vanilla extract
1 cup self raising flour
3 tablespoons cocoa powder
½ teaspoon baking powder
50g dark chocolate finely chopped
½ cup of sour cherries destoned and quartered
10 walnuts halves, roughly chopped
Pinch of cinnamon
Method
1. Preheat oven to 180 degrees and line a muffin tin with paper cases
2. Add the vinegar to the milk and briskly stir and then set aside for a few minutes then add the vanilla and maple syrup and whisk together.
3. In a separate bowl, combine the flour, cocoa, cinnamon & baking powder, then add the margarine and cut it into the dry ingredients and then rub the mixture together until it resembles breadcrumbs, then add the milk and vanilla and stir the mixture until it is smooth. Add in the chopped chocolate, cherries and walnuts and fold through. (Do not overmix the batter)
4. Spoon the mixture into the muffin cases, I filled mine about ¾ of the way (they will rise when cooking) and pop in the oven for 20 – 25 minutes.
5. Remove from heat and cool.