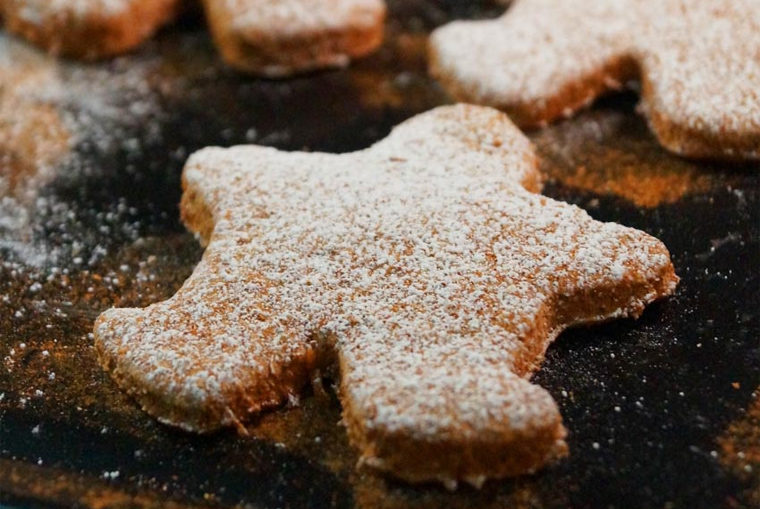 It's beginning to look a lot like Christmas! Well, with only 5 days to go I suppose it better! To help me get more in the festive spirit, I've just gone out and bought some mincemeat for my Christmas mince pies, which I'll be baking this weekend, so we can kick back on Christmas Eve with a glass (or two) of hot mulled wine, a mince pie (or three) and Scrooged on the telly (our on-off tradition it would seem!).
We think we know what we're having for Christmas dinner, although we will need to try and seek out some brussel sprouts for Martin to enjoy. This is not a side dish that I will be partaking in though as I have loathed these devil cabbages since I was a tot, yuck! I will however take a double helping of maple glazed parsnips and crispy roast potatoes which I have been perfecting these last few weeks. I've literally just finished lunch and I am hungry all over again thinking about this!
I hope you're all having a great December and that you get a chance to relax at some point over the Christmas period.
Much love – Yvie xx
Zesty Cinnamon Bread Men  (vegan with gluten free option)
MyInspiration Feel The Difference Range
Makes 12 men – ready in in 90 minutes (60 minutes freezing time)
1 ½ cups wholewheat flour (for gf use your favourite flour, something like buckwheat or a gf all purpose)
¼ tsp baking powder
¼ tsp baking soda
2 tsp cinnamon
½ tsp nutmeg
Pinch of ground cloves
Zest of one orange
1/3 cup non dairy milk (I used coconut)
2 tbsp vegan margarine melted
3 tbsp Maple Syrup
1 tbsp carob syrup (or molasses) just to give a deeper colour
Method
In a bowl combine the coconut milk, maple syrup, carob syrup and orange zest.
In a large mixing bowl combine the flour, baking powder, baking soda, cinnamon, nutmeg and ground cloves, add the wet ingredients to the dry along with the melted margarine and mix all together until a stiff dough forms, you might need to add a tbsp or 2 of flour if your mixture is too sticky.
Roll the dough into a ball, flatten slightly, wrap in cling film and pop in the freezer for an hour.
Preheat oven to 180 degrees Celsius (356 degrees Fahrenheit)
On a floured surface, roll out the dough to about 3mm thickness and using a gingerbread man cutter, cut out your cookies, I got 12 men from my dough. Use a spatula to lift from the floured surface and place on a non stick baking tray (or a lined baking tray) sieve over some cinnamon and pop in the oven for 10 – 12 minutes, then cool completely and dust with a little icing sugar.