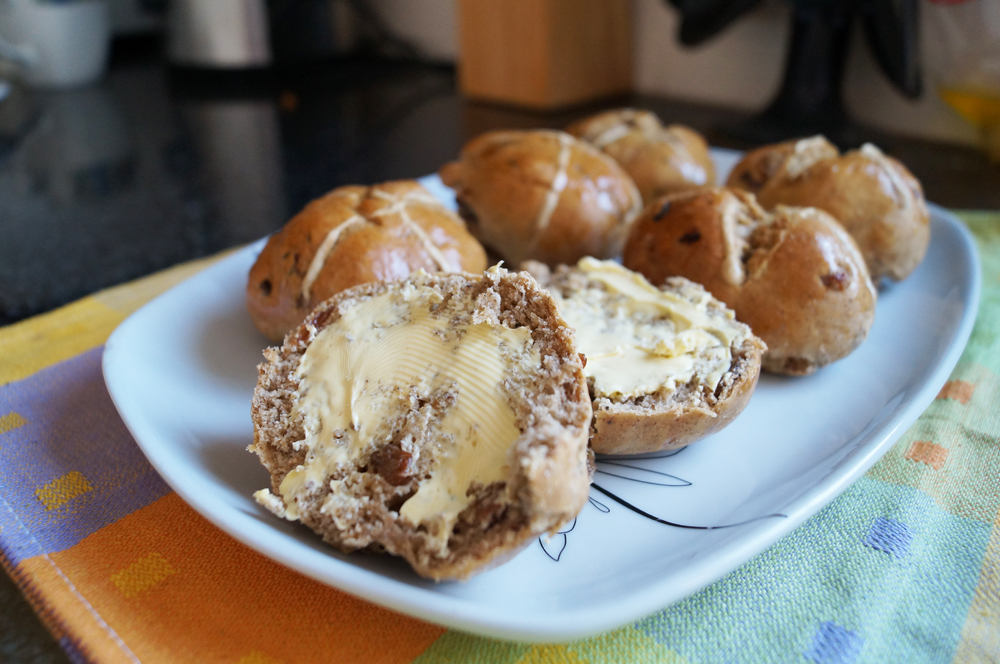 Last year I had a go at making hot cross buns and I remember that they were OK. I was still in my learning phase of vegan-izing all my baking recipes so the end result, although tasty, wasn't quite the same as what I remember them to be like. Well this year I am extremely pleased with my little batch of hot cross buns. This is my practice run as I'll be making another batch closer to Easter and I might also make some Easter Chocolates/Truffles as well.
While I was waiting on my dough rising yesterday I also made a batch of Nutty Lemon & Poppy Seed Cookies (recipe to follow). I didn't plan on it, it was when I was zesting the lemon for the hot cross buns that I felt I needed to make some lemony biscuits with the remaining lemon I had, it would have been criminal not to!
I forgot how nervous I get when making a dough with yeast, I always have my fingers crossed when I unwrap the tea towel hoping that it's actually doubled in size like it's meant to, thankfully it went well. These buns have a great spiced flavour to them as well that leads me to believe I might have been a bit stingy with the spices last year as these are on a whole new level, yummy in fact!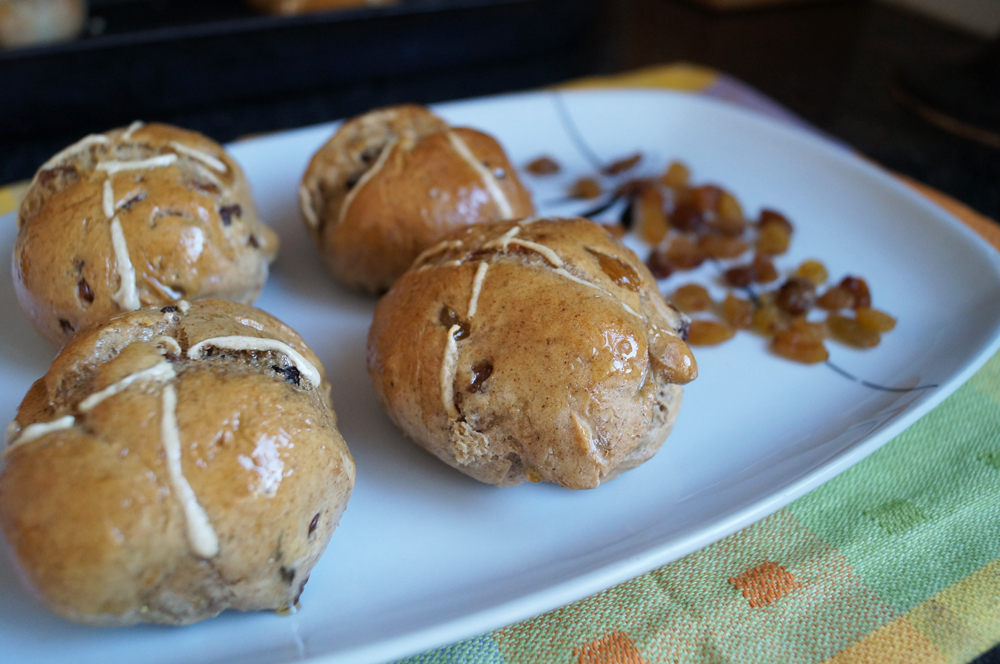 Hot Cross Buns (Vegan plus GF option given)
MyInspiration Feel The Difference Range
Yields 8 buns
For the dough
1/2 cup non dairy milk (I used Rice Dream)
1 tbsp natural brown sugar
1.5 tsp (7grams) fast action yeast
1/3 cup vegan margarine, melted
1 cup Buckwheat Flour
1 cup Wholewheat Flour (For GF Use Gluten Free All Purpose)
1/2 cup raisins
1/2 cup sultanas
1 tsp cinnamon
1/2 tsp nutmeg
1/4 tsp ground cloves
1/4 tsp all spice
Zest of half a large lemon
For the Cross
1 tbsp buckwheat flour
1 tbsp water
1 tsp vanilla essence
For the glaze
1 tbsp Maple Surup
1 tbsp warm water
Method
1. In a small cup combine the yeast with 2 tbsp tepid water and let it sit for 5 minutes to activate, then add this to a small bowl with the milk and sugar and stir through.
2. In a large mixing bowl combine the flours, lemon zest, spices and dried fruit before pouring in the melted margarine, mix this together then add the yeast/milk mixture and stir thoroughly until your dough starts to form (you may need to add a little more flour if the dough is too wet)
3. Turn the dough out onto a floured surface and gently knead for 5 minutes before rolling into a large ball and placing in a lightly oiled bowl, cover and allow to rise in a warm place for an hour. (If you have used the GF recipe do not knead the dough, simple divide into 8 balls, place on an oiled baking tray, cover and allow to rise for an hour)
4. The dough should have doubled in size, give it a punch to get rid of the air and roll it back into a ball to rise again for half an hour (GF – Miss this step)
5 Preheat the oven to 180 degrees celcius
6. The dough should have increased in size again so remove from bowl and separate into 8 small balls, flatten slightly with your palm and pop on a lightly oiled baking tray , then prepare the "cross" mixture by mixing together the buckwheat, water and vanilla and popping into a piping bag, then pipe the mixture into a cross design on each bun and then place in the oven for 20 – 25 minutes until golden and firm to the touch.
6. Remove from oven and allow to cool slightly before mixing together the maple syrup and warm water and using a pastry brush, brush over the glaze to completely cover the buns and allow to cool completely.
You can serve the buns on their own or add some jam or vegan spread (like below). Martin like his spread with vegan margarine, I like mine plain or with a little extra drizzle of maple syrup.