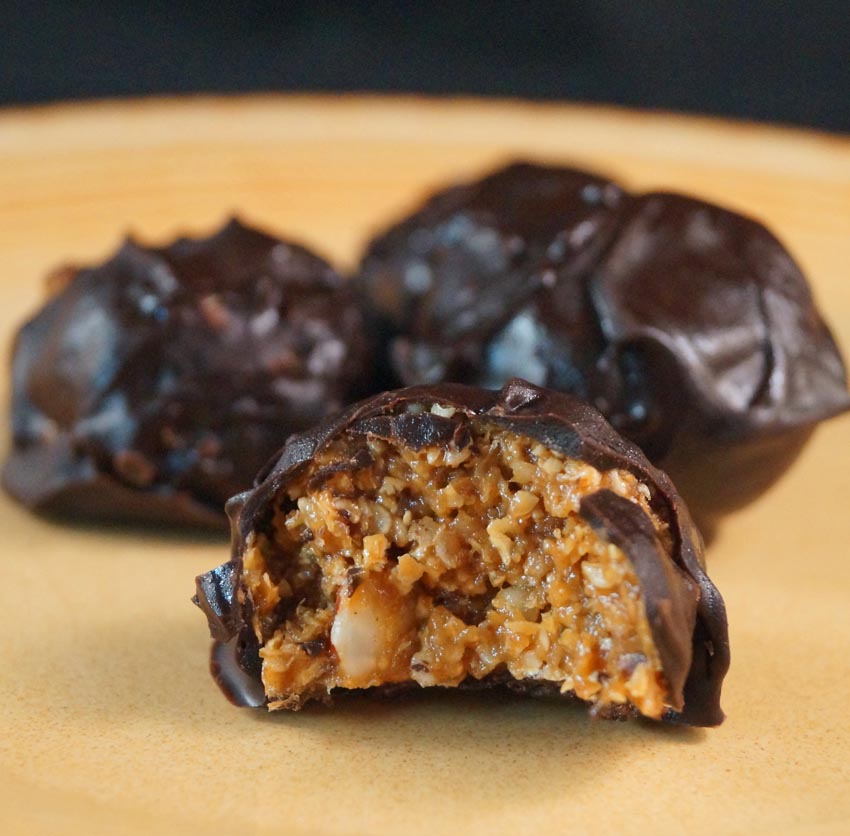 Looking for something to nibble on during the festive season, then you will be delighted with these simple to make no bake truffles. Coffee and chocolate, another of my favourite flavour combinations works so well when creating sweet treats and they go down very well with a cheeky cup of coffee on a crisp afternoon or as an after dinner surprise. Just keep them in the freezer until you want one and they'll last a long time so don't be shy in doubling or tripling the recipe and making a big batch. I only make a small batch at a time purely because I have no self control and would have them all eaten in a day!
I'll be back to posting some main meals next week, I'm currently on a little holiday which means away from the kitchen and I'm relying on my excessive baking and sweet making to update onto the site! I'm relaxing in a cheeky little wellness retreat for a few days in a quiet little village, enjoying some good books and a little down time.
I've already decided I'm going to trial run a recipe for home made Christmas pudding when I get home and perhaps a naughty brandy sauce to go with it, although I might get Martin to set the pudding a light as I quite like my eyebrows in the right place and knowing my ridiculous calamity style I'll have the whole kitchen on fire! Yes, Christmas pudding lighting is most definitely now a man task in my house.
No Bake Coffee Chocolate Truffles (vegan & gluten free)
MyInspiration Feel The Difference Range
Makes 6 truffles
5 dates chopped
2 tbsp shredded coconut
1 tbsp sesame seeds
½ tbsp instant coffee mixed with ½ tbsp water
¼ cup icing sugar
6 brazil nuts chopped
½ cup oats
¼ cup vegan chocolate chips
Method
Add all the ingredients apart from the chocolate to a food processor (or use a stick blender) and pulse until it all comes together to form a thick paste, pop this in the freezer for 30 minutes to stiffen up.
Take a heaped teaspoon of the mixture and using damp hands, roll into a ball and place on parchment paper, repeat with the remaining mixture, then pop the balls back in the freezer for 30 minutes.
Melt the chocolate chips in a bain marie and then roll the frozen balls in the chocolate, pop back on the parchment and place in the freezer to set. Just keep the in the freezer and eat when you want them!