Martin found this recipe for a samosa pie which sounds just fabulous, we love samosas and we love pie, so a big thank you to vegetariantimes for coming up with the idea, it's one of the few recipes where I really didn't have to adapt or modify the recipe. The only thing I did differently was the pastry topping, but everyone had their own pie crust preferences.
This took a bit longer than I thought it would, purely because I was fiddling about with bits and bobs, but the end result is delicious, I was chuffed and it's led me to a preparing a curry for tonight along with some home made onion bhaji, so watch this space!
I'm pleased with myself today as well as I managed to increase my weights again in Body Pump class, I thought I'd be stuck where I was forever, but I pushed through it and I feel fabulous now, which is the whole point really. I know I'm going to feel it in the morning but it's worth it!
Hope you all have a great weekend!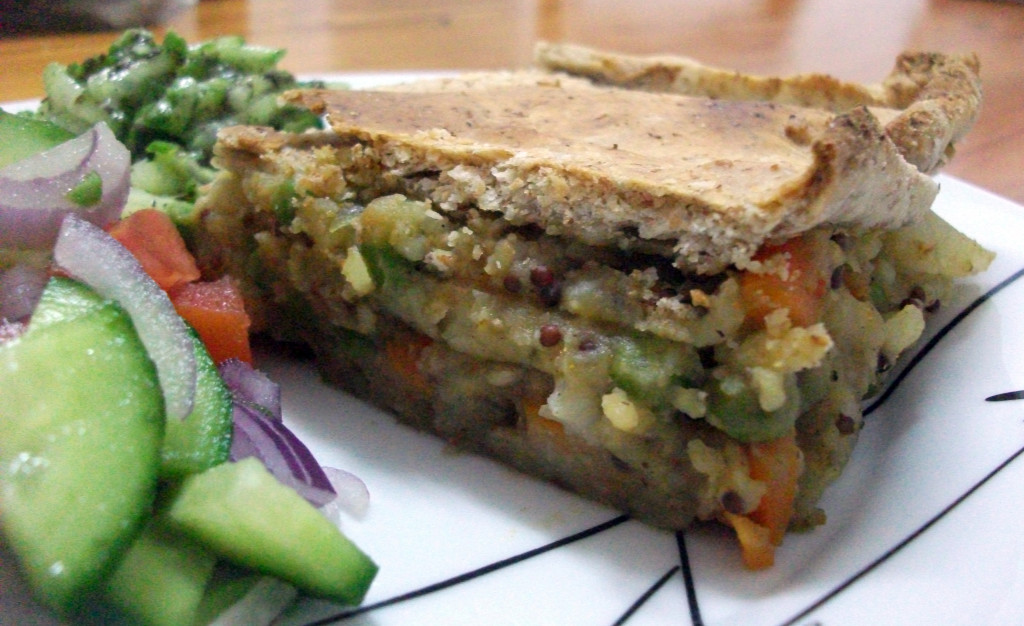 Samosa Pie served with red onion & tomato salad and a minty cucumber side
Serves 4
Pastry Topper
1 cup whole wheat flour
2 Tbs. olive oil
3 – 4 tbsp cold water
Method
1. In a bowl combine the flour with the oil and mix together until it starts to bind, then add in the water a tablespoon at a time until you can get the mixture into a stiff dough, then roll into a ball, pop back in the bowl and crack on with the filling.
Samosa Filling
4 potatoes peeled and chopped (cook in hot water for 12 minutes, drain and mash)
1 onion finely chopped
3 cloves garlic finely chopped
2 carrots peeled and diced
1 cup frozen peas
1 cup vegetable stock
Combine all the spices below in a bowl
1 ½ tbsp mustard seeds
1 ½ tsp hot curry powder
½ tsp ground ginger
1 tsp cumin
1 tsp chili flakes
Black pepper to season
Method
1. Preheat the oven to 180 degrees and have a 9" square cake tin ready.
2. Heat a frying pan over a medium heat, add 2 tbsp water and sauté the onion, carrot and garlic for 4 minutes then add in the spices you've set aside and coat the onion mixture, then add in the stock and peas and let it heat through for 5 minutes.
3. Add the onion mixture to the mashed potato and fold together then transfer to the cake tin.
4. Take your pastry dough and roll it out so that it covers the top of your cake tin, trim the edges with a sharp knife and just pinch the edges in to form a crust, them brush with a little coconut milk and pop in the oven for 25 – 30 minutes, keep an eye on the pastry to make sure it doesn't burn, you want to remove it from the heat when it turns a golden colour.
Minty Cucumber Side Salad
2 cucumbers grated
1 tbsp mint sauce
Combine both together and serve chilled.
Original pie recipe here