We bought a fabulous squash from the fruit market the other day and although I haven't done a lot of recipes with squash, I'm loving the different tastes you can create, from salads to curries and when you roast the seeds instead of tossing them in the bin, you will realise they are a taste sensation and shouldn't be wasted!
This was a really simple recipe and apart from roasting the squash and soaking my beans, it doesn't take very long to prepare and you can do it earlier in the day and pop it in the fridge ready to serve when you're ready.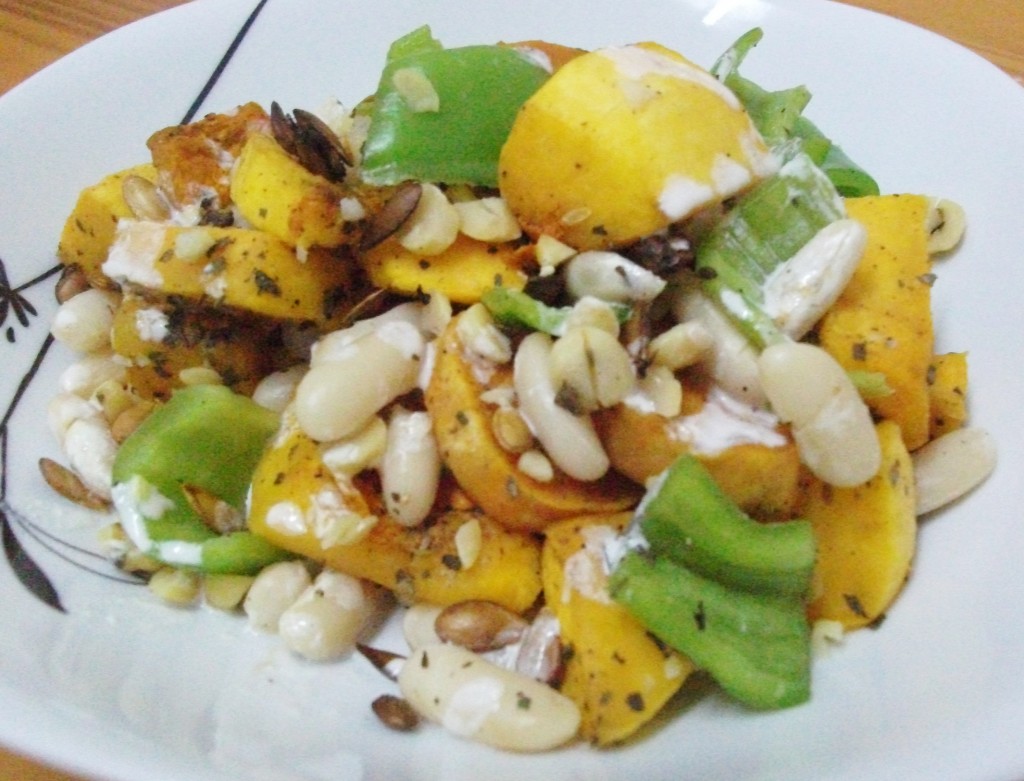 Roasted Squash and White Bean Salad with Tahini Dressing
Ingredients
1 medium sized squash (peeled and cubed)
1 can of white beans (drained) (if using dry make sure they have been soaked and cooked)
½ cup of Chickpeas (if using dry make sure they have been soaked and cooked)
1 green bell pepper (diced)
1 tbsp of dried basil
Tahini Dressing
3 tbsp tahini
1 clove garlic, minced
½ Lemon  Juiced
1 tbsp water
Instructions
1. Preheat the oven to 200 degrees celcius
2. Scoop the seeds out of the squash and pop them on a piece of baking parchment in a baking tray
3. Put the cubed pieces of squash in a lined baking tray and pop in the oven (along with the tray of seeds) and roast for 20 minutes
4.  Prepare the tahini sauce by whisking all the ingredients together, add more water if you like a thinner sauce.
5. Once the squash is ready, pop the white beans, Chickpeas and bell pepper in a large bowl, mix in the squash and the basil and gently stir it through.
6. Serve in 2 bowls and drizzle over the tahini dressing and sprinkle the toasted squash seeds on top.