I love a recipe that takes little or no prep time, you bang it in the oven, go about your business (my business being baking cookies) and then after 30 -35 minutes you have a delicious and super filling dinner to present. This is just one of those recipes.  I can't get over how easy it was to put together and even though it was a big old bowl of roasted vegetables it was so flavoursome and we were stuffed afterwards.
I do mention in the recipe that the tahini dressing was killer hot, I had a couple of red chilis that I'd been keeping for a couple of weeks and they were fiery hot. It was fabulous. I think after Martin's Vindaloo curry choice at the weekend I may have increased my tolerance for exceptionally spicy tastes (either that or I've killed off a few tastebuds). This curry he got us was cooked with about 20 of the red chilis I mentioned before, woo hoo, big jug of water at the ready! But as I say in the recipe, please do use only enough chili that suits your palette, too hot and it will ruin the dish for you!
I did get around to baking cookies yesterday and I also got another pack of silken tofu to make more chocolate pudding, it's so addictive, I've got half a pack left and was going to do a fruit style yoghurt again, but you know what, it's got CHOCOLATE pudding written all over it and it seems a shame not to indulge in this super dessert.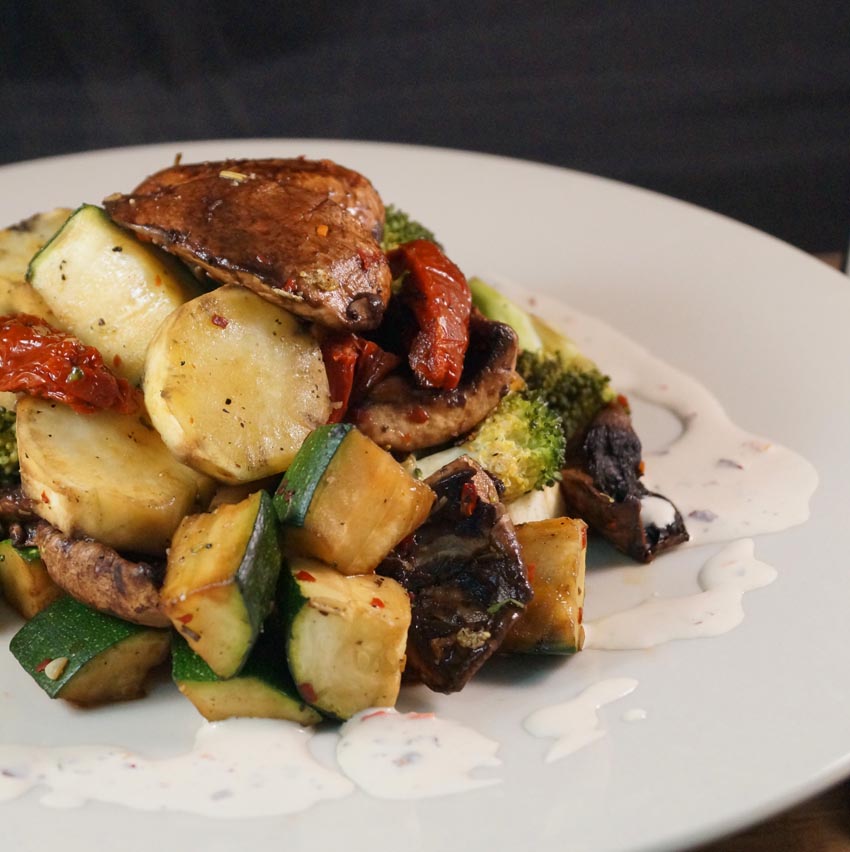 Roasted Seasoned Portobello Mushrooms & Courgettes, with Sliced Roasted Sweet Potatoes, Sun Dried Tomatoes and Broccoli and drizzled in a Chili & Chive Tahini dressing (vegan & gluten free)
MyInspiration Feel The Difference Range
Serves 2 – Ready in under 45 minutes
2 medium sweet potatoes, peeled and chopped into bite sized pieces

2 medium courgettes (zucchini) chopped into bite sized pieces

4 large portobello mushrooms chopped into large chunks

2 cups worth of broccoli florets

½ tbsp dried rosemary

½ tbsp red chili flakes

1 ½ tbsp soy sauce

6 sun dried tomatoes chopped (mine were from a jar of sun dried tomatoes, I rinsed them thoroughly to get rid if any excess oil)
For the dressing
2 – 3 tbsp tahini

1 tsp dried chives

1 hot red chilli finely sliced

2 tsp red chili flakes

1 tsp balsamic vinegar

2 tbsp water
Method
Preheat oven to 180 degrees celcius (356 degrees Fahrenheit) and prepare a couple of baking trays or one very large one if you have it!

Add a tablespoon of water to each of your baking trays and then sprinkle over the rosemary and chili flakes then pop in the chopped veg, I had my mushrooms and courgette in one tray and the sweet potato and broccoli in another, using your hands toss the vegetables until they are nicely coated in the spices, then drizzle over the soy sauce and then pop in the oven to roast for 30 – 35 minutes (turning every 10 minutes).

For the tahini dressing (which was eye wateringly hot and delicious), just add all the ingredients to a bowl and whisk until smooth. If you don't want it too hot then I would leave out the hot red chili and use just 1 tsp of red chili flakes, but taste as you go along so you get the right kind of heat.
To serve just mix all the roasted vegetable together and throw in the sun dried tomatoes and pop on a plate making sure you get a little bit of everything, you could also add in some chopped black olives if you have any, then drizzle over the tahini dressing.