The Christmas tree is now down and packed away for another year 🙁 , the house seems really bare now, I may need to get a nice big plant to take it's place, but that notion might ware off pretty quickly as I'm a pretty poor gardener!
I tried to start my own herb garden last year, my father in law (a very keen gardener) got all the little pots, seeds and soil and we germinated the seeds for things like basil, mint, rocket, thyme and I watered them and did everything I was supposed to do… I think… but niente, nada, zip, nothing. I may try again with one thing and see how I get on, I'd love to have my own tomato or chili plant, that would be great.
And on the note of tomatoes, this is a great recipe, which we saw on veggienumnum and it looked pretty tasty, so we had it last night. A really straight forward dish that would be great for entertaining friends who are not necessarily vegan, this is just too tasty for anyone not to enjoy.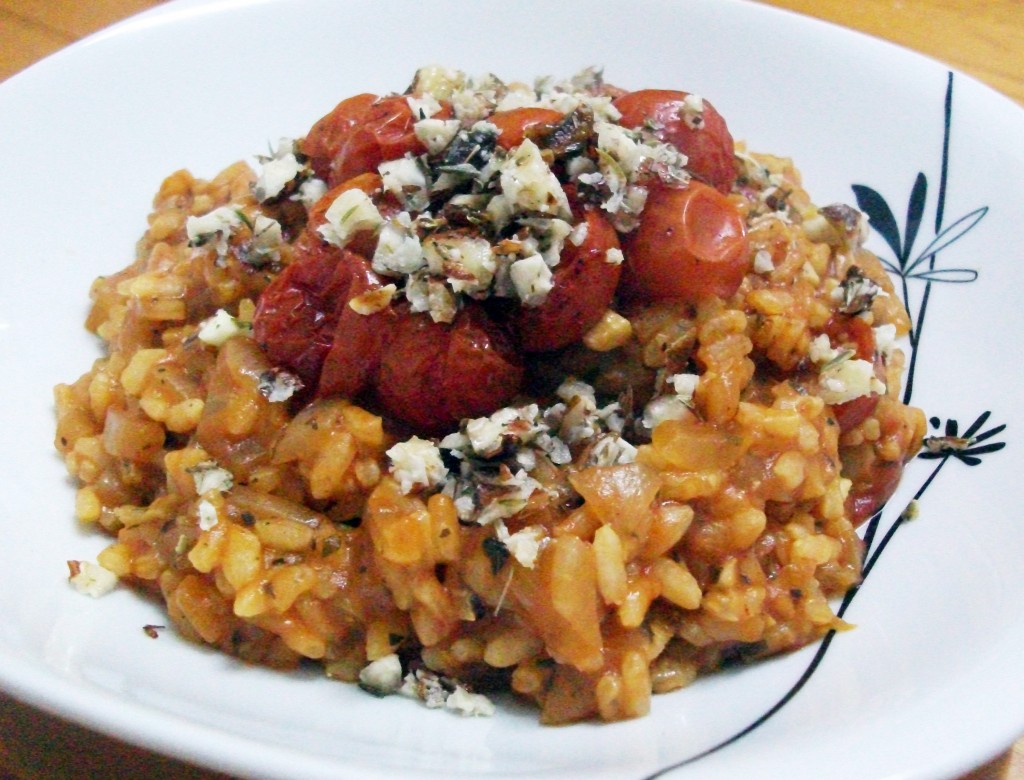 Roasted Cherry Tomato Risotto with a Hazelnut & Thyme Crumble
Serves 2
8 cashew nuts finely chopped
2.5 cups of vegetable stock
1 tbsp olive oil
2 cloves garlic finley chopped
1 large onion finely chopped
20 cherry tomatoes (some halved, some kept whole)
1 cup arborio rice (risotto rice)
1½ cups passata
1 tbsp basil
Black pepper to season
Method
1. Preheat oven to 180 degrees
2. Prepare the vegetable stock and set aside, then heat the olive oil in a deep pan (with a lid) and sauté the onion and garlic, then add in the chopped cashew nuts and stir.
3. Add in half of your cherry tomatoes, basil and a dash of black pepper and mix through, cooking for 5 minutes, then add in the rice and again stir this to coat it with the onion, garlic and herbs and cook for 3 minutes before adding in the stock and passata and giving it a good stir to mix everything together.
4. Pop the lid on the pot and transfer to the oven – you will also want to place the remaining cherry tomatoes in a small baking tray, sprinkle over a little olive oil and some black pepper and give them a shake to make sure everything is evenly coated, then pop this in the oven alongside the risotto, both should be ready in 25 minutes, make sure you give the risotto a stir every 10 minutes to stop the rice from sticking to the bottom and give the tomatoes a shake every now and again.
5. Make your crumble topping (recipe below) and once the risotto is ready remove from heat and serve in a bowl, topped with the roasted cherry tomatoes and finally spoon on the hazelnut & thyme crumble,
For the crumble topping
8 small hazelnuts
1 teaspoon dried thyme
1 teaspoon olive oil
½ teaspoon lemon juice
Method
Finely chop the hazelnuts, transfer to a bowl and add the remaining ingredients and stir to combine.
Original recipe here