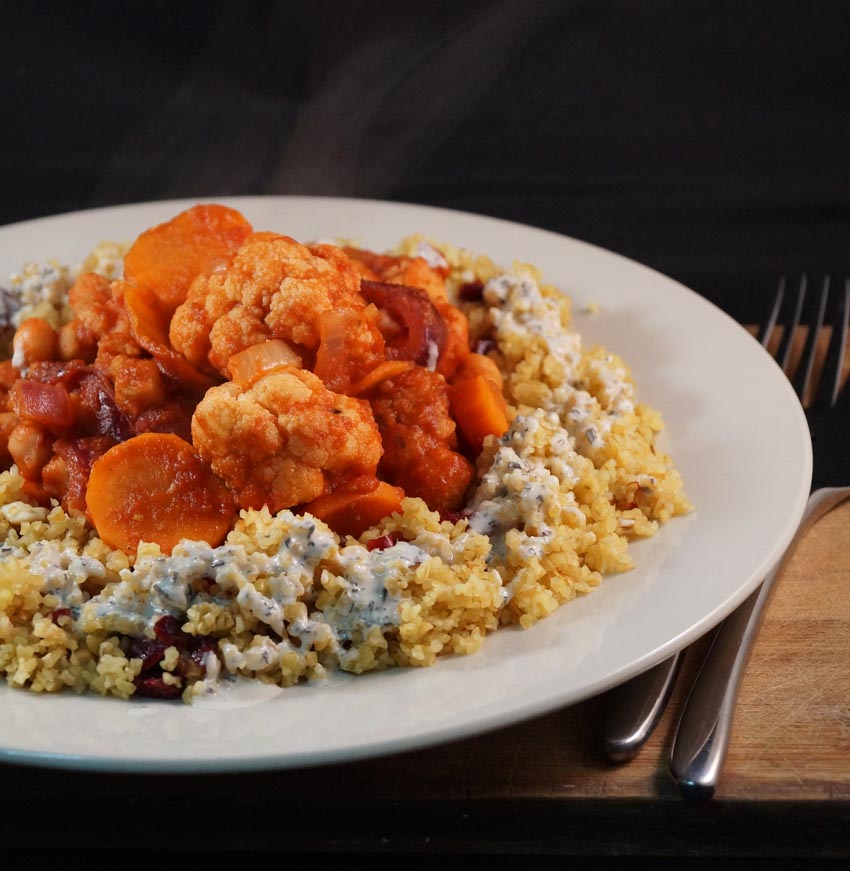 This is one of those dishes that when someone walks into the kitchen they can't help but ask what you are cooking and then try and pinch a bit of whatever is lying around! This tagine sends a tantalizingly exotic aroma through the kitchen and makes you wish it was ready immediately so you can just feast on it. The mixture of cinnamon and cumin is like catnip to me, it's beautiful!
The addition of the cashews and cranberries to the bulgur wheat is a great flavour combination, the colouring is almost festive with the cranberries looking like delicious jewels and the crunch of the cashews give it a nice blend of textures that works well with the roasted veg. You're not limited to using cauliflower remember, you could swap it for broccoli or just roast some nice mushrooms, aubergine (eggplant) or courgettes (zucchini) they will all work well with the sauce and the bulgur wheat, so buy what's fresh or even just what's cheapest if you're on a tight budget. Next time I'm going to add some spinach, typically I've been raving about spinach and I forgot to put any in!
Don't be intimidated by the ingredient list, it's mainly spices and the meal is ready in 30 – 35 minutes, no time at all really. This is one of the meals I plan on making again and again, it's so quick and easy to prepare and it's hearty and warming, great for the autumn/winter nights, and above all else you can pack this full of great healthy ingredients that really give you that feel good factor when you know you have eaten well, eaten like a king!
Roasted Cauliflower & Chickpea Tagine served with saffron spiced cashew & cranberry bulgur wheat and a minted tahini dressing (vegan with gluten free option)
MyInspiration Feel The Difference Range
Serves 2 – Ready in under 30 – 35 minutes
For the Tagine
3 cups cauliflower florets roasted with a pinch of cumin and cinnamon
1 red onion roughly chopped into crescents
2 cloves garlic finely chopped
½ large onion finely sliced
1 tbsp cumin
1 tsp cinnamon
2 tsp ground coriander
1 tsp chili flakes
Black pepper to season
1 can chickpeas rinsed and drained (about 2 cups)
2 ½ cups passatta
1 tbsp Tomato paste
1 large carrot peeled and chopped
For the Bulgur Wheat
1 cup bulgur wheat (for gluten free swap for quinoa)
2 cups vegan stock
Pinch of Saffron
Small handful of cashews chopped
Small handful of cranberries
For the dressing
2 tbsp tahini
1 tsp mint sauce
2 tbsp water
Method
Preheat oven to 180 degrees celcius (356 degrees fahrenheit) and prepare a roasting/baking tray
Separate your cauliflower into florets, bite size and pop in the baking tray along with the chopped red onion and 2 tbsp water, sprinkle over the pinch of cumin and cinnamon and roast in the oven for 25 minutes, shaking the tray every now again to avoid burning.
While the veg is roasting you can make the sauce part – Add 2 tbsp water to a deep sauce pan over a medium heat and add the garlic and onion and cook for 2 minutes before adding in the cumin, cinnamon, chili and ground coriander, stir to combine, then add in the chickpeas and chopped carrots along with the passatta, tomato paste and black pepper and again give this a good stir to make sure everything is well coated. Turn the heat down to low, cover and simmer for 15 minutes. Once the roast veg is ready, add this to the sauce pan and stir through the sauce.
To make the bulgur wheat, add 1 cup of bulgur to 2 cups of boiling stock, throw in the saffron, stir together, cook on a low heat for 5 minutes then turn off the heat, cover and let this sit for 10 – 12 minutes, then you can fluff with a fork and stir through the cranberries and chopped cashews.
For the tahini dressing, add all the ingredients to a bowl and whisk.
I served my tagine in the centre of my bulgur wheat then drizzled the tahini dressing around the edges, you can, if you like, just add the bulgur wheat to the tagine pot and stir through and serve as one, it's up to you!