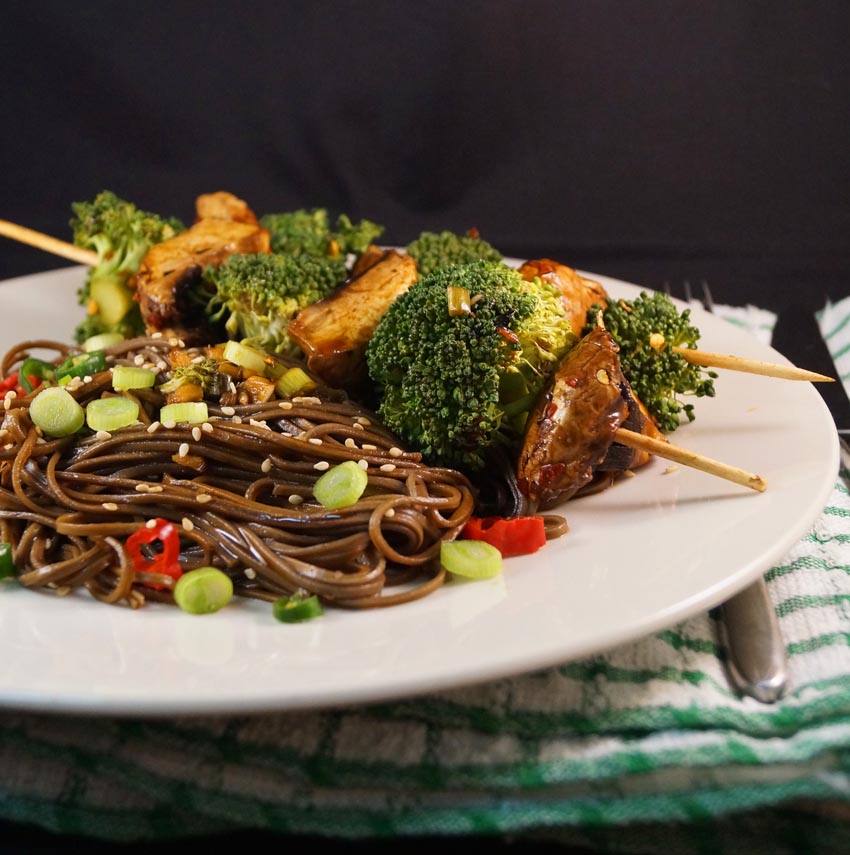 How did I go so many years without eating a Portobello mushroom? I just don't know how I did it. This was my automatic ingredient choice when it came to making kebabs for dinner, their consistency and flavour just lends itself perfectly to making this dish gorgeous! Martin threw in the inspiration for popping the broccoli on there as we haven't had any in a while and when it comes to broccoli I do love mine with a splash of soy, got the old brain cogs in motion and the spicy marinade came to mind.
This weekend is going to be so sweet! I have my avocados almost ripe and ready to use for Sunday's dinner (I'm thinking something Mexican) and I have my bananas freezing nicely for my pancakes and chocolate icecream. Oooh, I can't wait for Sunday now! I also need to remember the load of fresh figs I have in the fridge, might use them later today in a cake, or I could try to make some fig rolls (fig newtons), actually, yes, I'm going to have a go at fig rolls, that's me decided.
I'm seeing so many recipes just now using pumpkins and I can't wait until we get them in stock at our local supermarket, I've been looking at making my own pumpkin pie spice mix, so that's taken care of, now I just need pumpkin, I can't even get canned to start the ball rolling, I shall just have to be patient and keep eyeing up all the fab photos and recipes I've seen so far.
Red Hot Chilli Mushroom & Broccoli Kebabs with Spicy Soba Noodles (vegan & gluten free)
MyInspiration Feel The Difference Range
Serves 2 (6 kebabs) – ready in 40 minutes
Soak wooden skewers first for at least an hour (Don't want to set them on fire!)
Marinade:
1 red chili finely chopped
1 green chili finely chopped
2 cloves garlic finely chopped
½" inch cube of ginger finely chopped
2 tbsp Rice Wine Vinegar
¼ tsp chili powder
1 tsp chili flakes
3 tbsp Soy Sauce
1 tbsp demerara sugar
1 spring onion (scallion) chopped
½ cup vegan stock (more if you want a lot of sauce)
Rest of the dish
160g Soba Noodles
4 large Portobello Mushrooms chopped into large chunks
Medium Head of Broccoli broken into florets (you want about 12 good sized florets)
To garnish
2 tsp sesame seeds
1 spring onion (scallion) chopped
Method
Whisk all the marinade ingredients in a large mixing bowl and then toss through the chopped mushrooms and broccoli in stages, make sure everything is nicely coated, drain off the marinade into a small sauce pan and keep for later.
Now thread the mushroom chunks and broccoli florets onto the skewers (Important:
You want to make sure that your broccoli is pierced through the stalk as when I started turning mine on the grill, some of my broccoli pieces fell off….) pop them on a plate and set aside.
Preheat the grill to about 160 degrees celcius, then pop the skewers onto the oven shelf, turning them every 3 minutes, for 12 – 15 minutes, you still want a bit of crunch to the broccoli.
Now you can sort out the sauce, just heat the left over marinade in the saucepan over a medium heat. If you want more sauce, just add another ½ cup of vegan stock.
Make the Soba noodles – Follow your packet instructions, I added them to a pan of boiling water, turned the heat down to low and let them simmer for 3 – 4 minutes, drained and then popped back in the pan, I then poured over the marinade sauce and tossed everything together.
To serve, I spooned some noodles onto the plate, sprinkled over some sesame seeds and spring onions and served the kebabs at the side and ate right away!
Just a quick warning – this is spicy hot, I had a little tingle in the jaw, loved it. If you don't want this to be as spicy then leave out the chili powder and one of the fresh chillis.