It's absolutely chucking it down outside and I can only stare in disappointment at my sopping wet bath towels hanging on the washing line… really should have brought them in last night!
But bad weather is remedied quite easily with a little stint in the kitchen making some fabulous treats, it is the festive season after all and if we can't indulge a little at this time of year then I say Boooooo!
When it comes to sweet stuff there's a load of combination flavours that I just adore and chocolate & orange is just one of them, so I thought I'd make some truffles today for the in-laws to enjoy with their afternoon hot beverages! These sweets are quick and easy to prepare, great for the kids to get involved as well, although there may be a fight for who gets to lick the spoon at the end!
They seem to have gone down well in this house!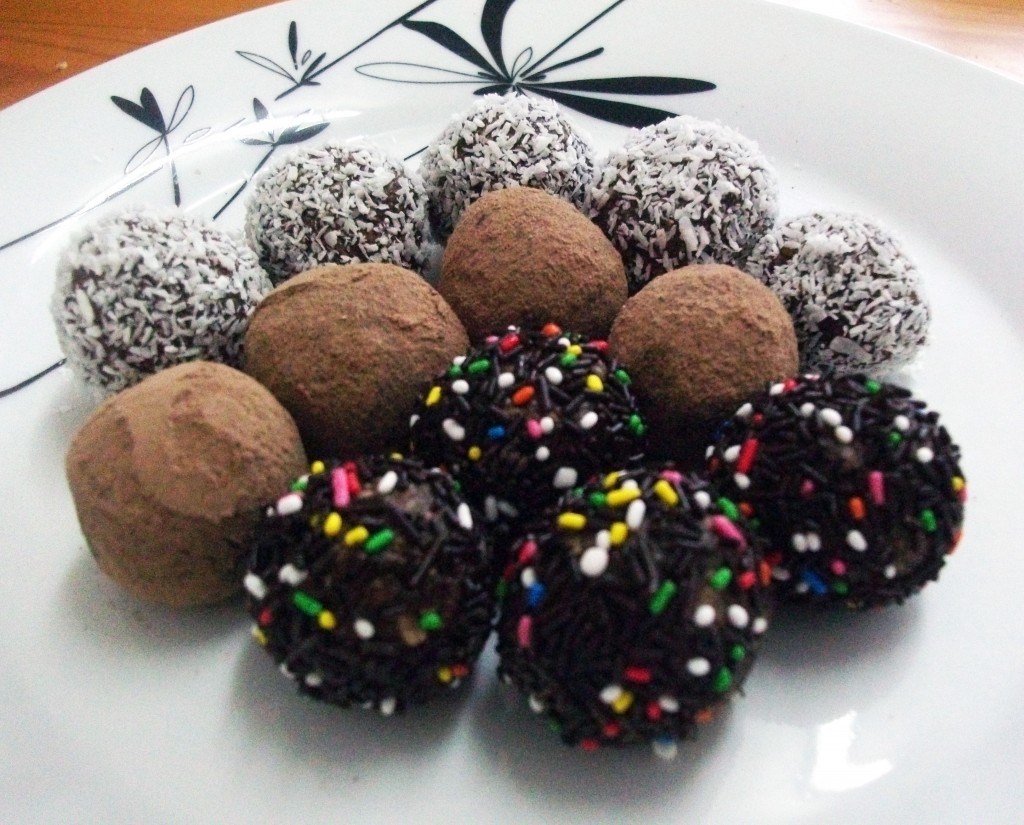 Chocolate Orange Truffles (Vegan & Gluten Free)
MyInspiration Feel The Difference Range
Makes 12 truffles
½ cup raw sunflower seeds

½ cup oats (make sure GF)

½ cup raisins

5 dates

½ cup unsweetened shredded coconut

1 tsp cinnamon

2 tsp maple syrup

2 Tbsp. cocoa powder

Zest & juice 1 orange

½ tsp vanilla
Method
Using a food processor or hand blender, blitz the sunflower seeds, dates, oats and raisins until coarsely ground up and beginning to clump together then add in remaining ingredients and stir thoroughly together, it should start to bind quite nicely.

Form the mixture into balls about the size of a ping pong ball and using your hands (moisten them first) roll each ball in a coating of your choice until well covered. (I did 4 in cocoa powder, 4 in coconut and 4 in vegan vermicelli – you can also have ground almonds, sesame seeds or crushed walnuts)

Pop them in the freezer for half an hour to an hour before serving, if they can wait that long!
Next time I'm going to try a plain old fashioned mint chocolate medley that I think will lend itself well to this recipe (just swap the orange zest and juice for a tablespoon of almond/oat milk and add 1 tsp of peppermint oil/extract).