I love how easy raw desserts are, you can be as adventurous as you like and when you taste it along the way, you know that's how it's still going to taste when you serve it up. There's been a few times I've baked pies and once it's cooked I've thought, maybe I should have used a little more maple, or perhaps should have used more cinnamon…. but with raw desserts, what you see, is what you get and wow, is this Kiwi and Coconut Tart a great choice for something fresh, tasty and a little tart…(do you see what I did there…)
I just popped this in the freezer and when I was getting ready to serve, I took them out, made the chocolate drizzle and by that time they are just the right consistency to get stuck into. These are seriously yummy!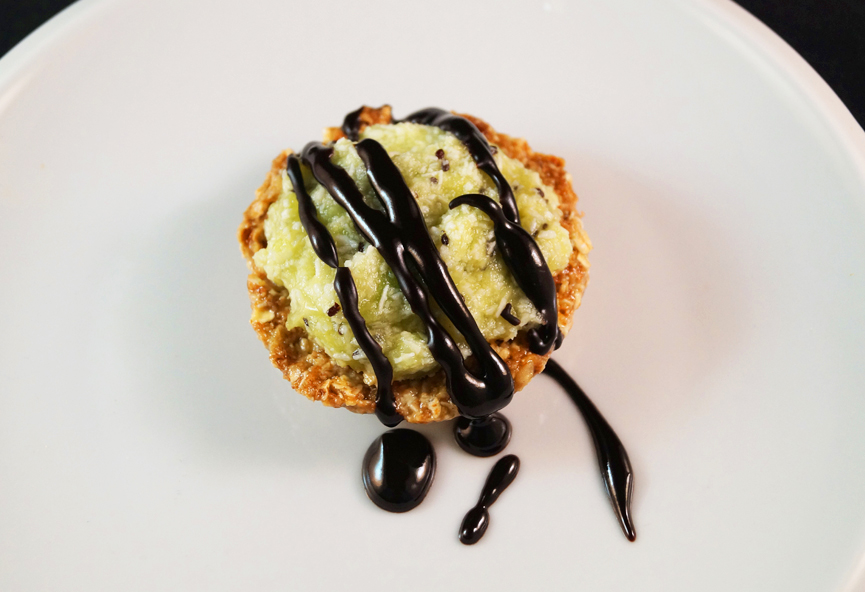 Raw Kiwi & Coconut Tarts with Dark Chocolate Almond Drizzle (Vegan & Gluten Free)
MyInspiration Feel The Difference Range
Makes 6 individual pies – ready in 30 – 40 minutes (includes freezing time)
For the tart cases
15 dates (soaked in warm water for 5 minutes then drained)
1/4 cup sultanas
1/2 cup oats (plus an extra 2 tbsp)
1/4 cup almonds
8 walnut halves
2 tbsp Maple Syrup
For the filling
2 large kiwis peeled and chopped
2 tbsp shredded coconut
For the Drizzle
20g vegan dark chocolate
1 tbsp Almond milk
Method
1. To make the base, pop the ingredients (but hold back the 2 tbsp oats) into a food processor and pulse until it starts to bind together, mix in the remaining 2 tbsp oats and stir together until it's well combined (If you think you're mixture is too sticky add a little more oats until you're happy). Now using your hands split the mixture into 6 balls and press into your tart cases (I used my Christmas mince pie foil cases) making sure there is a nice dent in the center for the filling to go into. Pop these in the freezer while you make your filling.
2. For the Filling, add the kiwi to a food processor and pulse 4 or 5 times until it breaks down slightly (you don't want a puree) then mix through the coconut and spoon the filling into your ready made tart cases and pop back in the freezer while you make your drizzle.
3. For the drizzle, melt your chocolate in a bain marie, mix through the almond milk and allow to cool slightly so it thickens, then using a tea spoon drizzle over each of your tarts.
**I kept 2 of my tarts in the freezer over night and used them the next day, I just didn't add the chocolate drizzle until I was ready to serve!