Apologies there aren't any new main course recipes at the minute, I am making some of my tried and tested recipes for my inlaws, so tonight I made my white bean cannelloni, which went down a treat, I skipped the chili though as they aren't keen on spicy foods, but it was just as tasty, I added a splash of balsamic instead to give it a nice sharpness.
So whilst I'm revisiting main dishes, I'm still creating my sweet treats and these Chocolate caramel date bars are yum, yum, yummy. You just keep them in the freezer and slice off a bar when you want one, so easy, so very, very delicious.
I had a kitchen incident, sliced my finger on the rim of a can of tomatoes…. I always seem to cut myself at the top of my finger where it's harder to get a plaster on and typing is a bit tricky with a big plaster folded over the top of my finger.
We're off out for dinner tomorrow night to a great little restaurant that's opened, I was there for lunch yesterday and was delighted with their vegan option, I had an Olympus Salad that was packed with avocado, walnuts, raisins, lettuce, mushrooms and a Commandaria & balsamic dressing that was to die for, beautiful and I followed that with some home made strawberry and kiwi sorbet, so I'm looking forward to going back tomorrow night, they're in a great location so we'll get some stunning sun set shots, I think the in-laws will love it.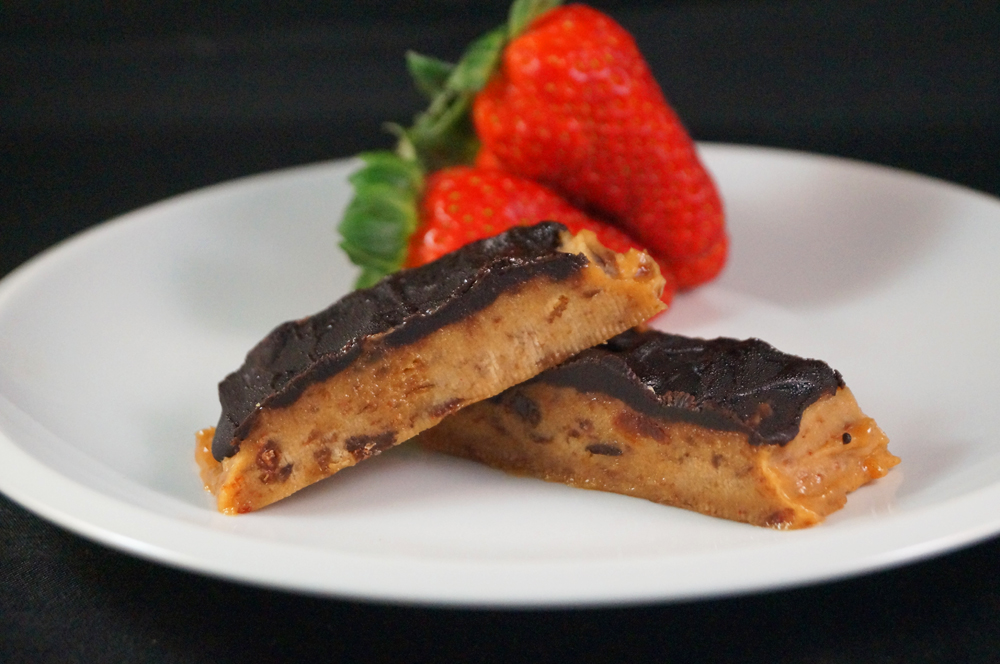 Raw Chocolate Caramel Date Bars (Vegan & Gluten Free)
MyInspiration Feel The Difference Range
Makes approx 10 bars (approx 5cm long by 1.5cm wide)
4 tbsp peanut butter
3 tbsp maple syrup
12 dates (that have been soaked in hot water for 5 minutes and drained)
1/2 cup raisins
1/2 cup vegan icing sugar
1.5 tsp vanilla extract
To coat
100g vegan dark chocolate
1.5 tbsp dairy free milk (I used almond)
Method
1. Add the soaked dates, raisins and vanilla extract to a food processor (or use a stick blender) and pulse until it smooths out, but don't puree it, you want it a bit chunky.
2. In a mixing bowl cream together the peanut butter and icing sugar, then add in the maple syrup and the date and raisin mixture and fold together, then transfer to a rectangular freezer proof dish that's lined with parchment paper, compress it down and smooth it out until it's about 1.5cm thick, then pop in the freezer for 15 minutes while you prepare the chocolate coating.
3. Melt the chocolate in a bain marie, add the almond milk and whisk together, then leave it to sit for 7 – 10 minutes until it starts to cool and thicken up, then spread the chocolate over the date mixture until it's fully coated and pop it back in the freezer to set, then just slice off your bars when you want it.