Wednesday has gone straight back to being pasta day and I threw this little medley together from my fridge contents, completely forgot that I'd ran out of sun-dried tomatoes, so ended up using capers which was delicious, the sweetness of the cherry tomatoes along with the tang of the capers and balsamic was fabulous.
On a completely separate note, I've been reading Bossy Pants by Tina Fey and it's hilarious. I think it might be even funnier because when I'm reading it, it's Tina's voice I hear which makes it all the more amusing. I'm half way through it since yesterday morning so think I might finish it by the weekend! I just finished John Grisham's The Litigators, borrowed this from the in-laws while I was over and although it started a little slow, I could not put it down 3/4 of the way through, so was up till the wee small hours the other night, engrossed! I love when that happens.
So to the super easy, super quick & super cheap might I add, Wednesday pasta.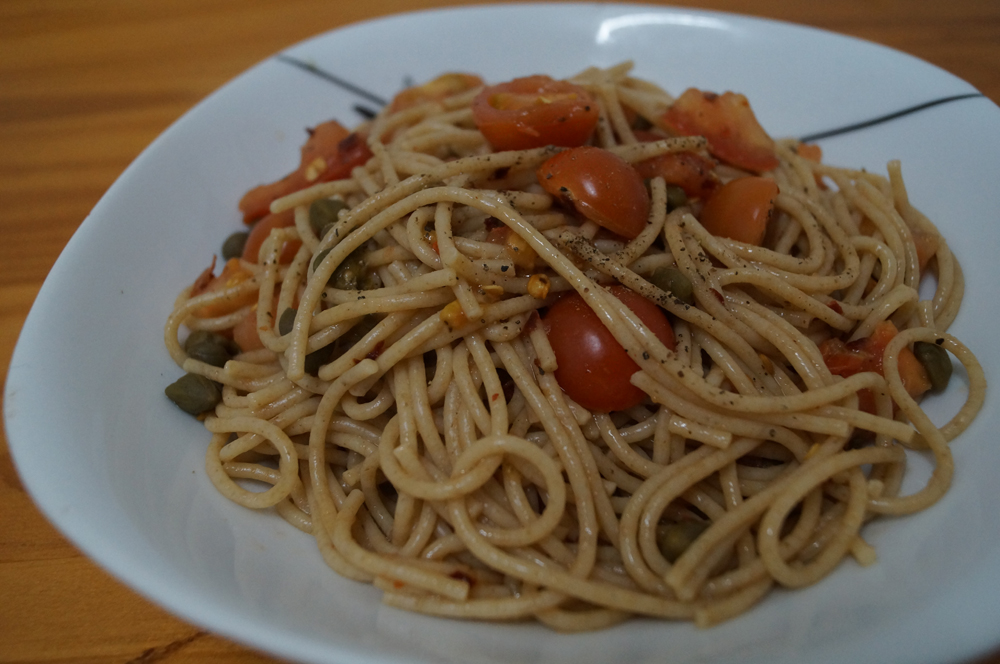 Cherry Tomato & Caper Spaghetti
MyInspiration Feel The Difference Range
Ready in 20 minutes, serves 2.
250g wholewheat spaghetti
1 large tomato diced
8 – 10 cherry tomatoes halved
1 ½ tbsp capers
1 tsp chili flakes
½ tbsp balsamic vinegar
1 tsp lemon juice
Black pepper to season
Method
1. Cook pasta according to instructions (I add my pasta to a pan of boiling water and allow to cook on medium heat for 12 – 15 minutes)
2. Heat a pan over a low heat and add the chopped tomato, cherry tomatoes, capers, balsamic and lemon juice and allow to cook down for 5 minutes, sprinkle with black pepper and chili flakes and again stir through.
3. Drain pasta and add to the tomato mixture and mix everything together, serve in a bowl with a final twist of black pepper and serve.
You can also slice up some sun dried tomatoes or some fabulous black olives, but I was working with what I had in and it was lovely.
(Wasn't going to bother taking a pic as thought it was too basic, but when I tasted it, ran back through to the kitchen to get a photo and share as it was mighty tasty!)