I had a recipe in mind for dinner last night which needed a bunch of fresh mint and I always find that I tend to use a little of my herbs and then not need them again for a while, which is why I tend to favour dried herbs, but in this instance, the mint was just too beautiful looking & smelling that I had to go fresh. So here I was with a BIG bunch of mint and wanting to do something nice for a treat (well it is the weekend after all!) and everyone knows that mint chocolate is a combination made in paradise!
I raided my cupboards and got out all my favourite raw bar ingredients, you can't go wrong with dates, oats, raisins etc and just went for it. I had in my head that I would coat the bars in some melted dark chocolate, but it really doesn't need it.. but keep in mind that the option is there, super decadent!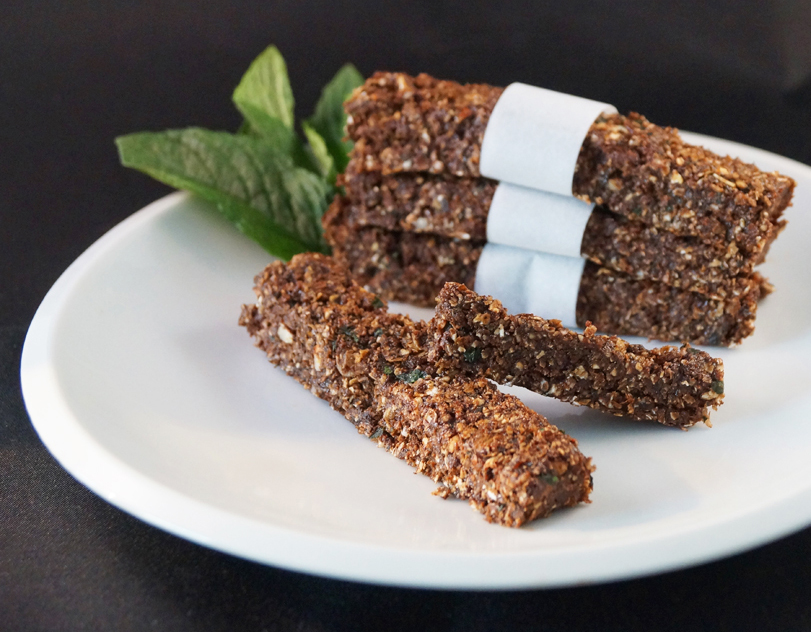 Quick & Easy Raw Mint Chocolate Oat Bars (Vegan & Gluten Free)
MyInspiration Feel The Difference Range
Makes 6 Bars – ready in 30 minutes (including 20 minutes in freezer)
8 Medjool dates
1 tbsp unsweetened shredded coconut
6 tbsp oats (make sure GF)
1.5 tbsp cocoa (or cacao) powder
2 tbsp raisins
12 almonds
2 tbsp fresh mint
1/2 tsp vanilla extract
1 tbsp maple syrup
Method
1. oh so easy, pop everything in your food processor (or use stick blender) and pulse until it starts to bind together, spoon into a suitable freezer proof dish, I had a small rectangular ramekin dish, press it down until it's about 1.5cm thick, make sure it's well compacted so it doesn't fall apart when you come to cut it, then pop in the freezer for 15 – 20 minutes, slice into 6 bars and if you want that extra yumminess, coat in some melted chocolate.