Woo hoo, back in my kitchen and cooking up a storm…. well in the form of a quick, easy and might I add delicious pasta dish following our victorious afternoon of football and us winning a match! Howay the mighty Toon (Newcastle United for the uninitiated!)
I've already started my baking again and made a batch of cinnamon and orange cookies yesterday, I'll pop the recipe on tomorrow once I've decided on which photo I want to use! I've got some ideas brewing away in my head and I've got loads of golden plums, mango and banana in the fridge just waiting for me to decide what's to be done with them.. decision, decisions!
Looking forward to getting back to the Gym next week, I feel like I've been dormant for a while, so going to parade around in some new kit I got while on holiday and hopefully get back to the same fitness level as beginning of July… should be fine. I saw on my gym class timetable that they have introduced crxworx, now that's going to be great, only downside is that it replaces one of my other favourite classes… BOOTCAMP!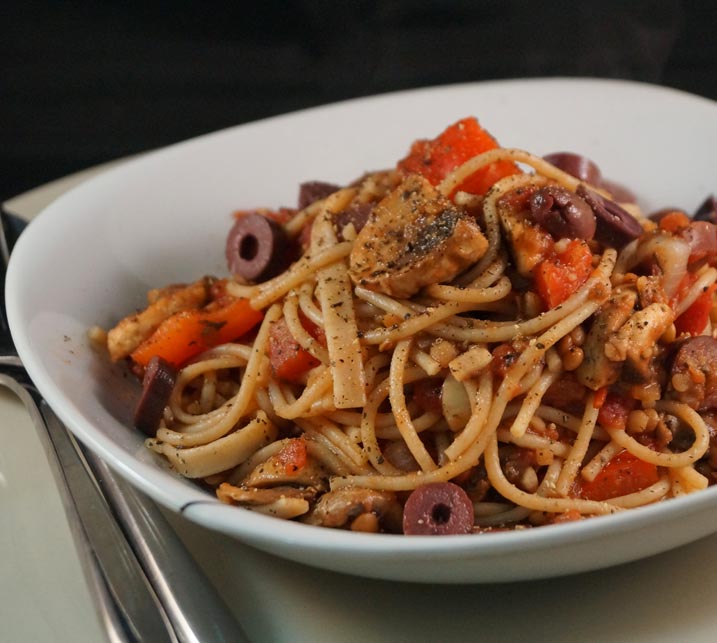 Spicy vegetable & Black Olive Pasta (vegan + gluten free option)
MyInspiration Feel The Difference Range
Serves 2 (nice big bowls)- ready on 30 minutes
170g wholewheat pasta (or for gluten free use a GF brand from your supermarket)
1 can chopped tomatoes
2 tbsp tomato paste
1 can brown lentils drained and rinsed
1 clove garlic finely chopped
1/2 onion finely chopped
1 large red pepper (capsicum) roughly chopped into large chunks
3 large button mushrooms chopped
1/2 tbsp dried basil (even better if you can get fresh!)
1/2 tbsp dried oregano
1/2 tsp black pepper
1/4 tsp hot chili powder
1/2 cup vegan stock
1/4 cup chopped black olives (plus a few more to garnish
Method
1. First things first, start cooking your pasta according to the instruction, I used wholewheat spaghetti as it's what I already had in the cupboard, added it to a pot of boiling water and cooked for about 15 minutes, drain the pasta and set aside.
2. For the sauce, heat 1/4 cup of water in a deep sauce pan over a medium heat and add the onion, garlic and red pepper and cook for 2 minutes to soften, then add in the basil, oregano, black pepper and chili and mix everything together. Now add the lentils, chopped tomatoes and tomato paste along with the vegan stock and the mushrooms, turn the heat down to low and let this simmer away for 15 minutes stirring occasionally, if you like it a bit more "saucy" add a little more vegan stock to thin it out slightly.
3. Add the cooked spaghetti into the pan with the sauce, throw in the black olives,  stir everything together so the pasta is nice and coated, then serve in a big bowl with a sprinkling of freshly ground black pepper on top and perhaps a few more black olives because we love them so much!
(Nutrition per serving approx: 470 Calories –  80g Carbs – 5g fat – 22g Protein)