While I was away on my travels Martin was left to fend for himself and when I got back I was presented with some fabulous photos of the meals he had made, including this delicious looking lentil bolognese.
So thankfully I've got some recipes to give you whilst I get back into my kitchen and start creating again!
I'm trying to get my sister to part with her full recipe for stuffed vine leaves that she made for me while I was visiting, they were sensational and her mother in-law made me a vegetable stuffed flat bread that was just heaven, so I felt quite spoiled on my holidays that they had taken the time to make vegan food for me. Best of all, all their ingredients were from their veggie gardens and they make their own flour too! I was suitably impressed!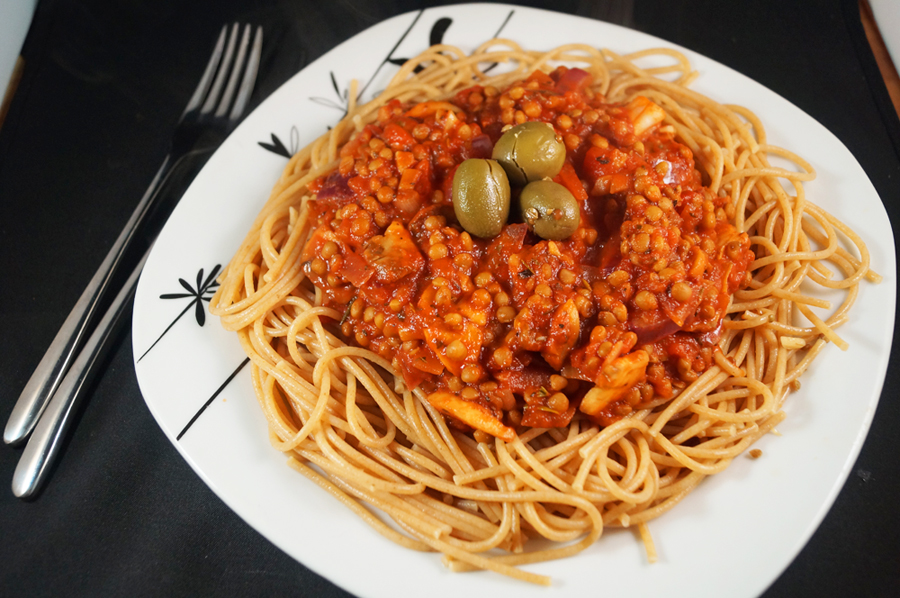 Quick and Easy Lentil Bolognese (Vegan & Gluten Free Option)
MyInspiration feel The Difference Range
Serves 2 – ready in 15 – 20 minutes
200g wholewheat spaghetti (for GF use gluten free pasta)
1 tin brown lentils, rinsed and drained
1 onion finely chopped
6 button mushrooms finely sliced
3 cloves garlic finely chopped
3 cups passatta
1/2 tbsp Basil
1/2 tbsp thyme
1/2 tbsp rosemary
1/2 tbsp oregano
Pinch of black pepper to season
8 green olives to garnish
Method
1. Cook the pasta according to instructions (add the spaghetti to a pan of boiling water and let cook for 12 – 15 minutes, drain)
2. Heat 2 tbsp water in a large saute pan, add the garlic, onion and mushrooms and cook for 4 minutes before adding everything else (apart from the olives) stir to combine and cook for 10 minutes,.
3. To serve, plate the spaghetti and spoon over the bolognese and top with your olives and a sprinkling of black pepper.