I'm really playing catch up trying to post some of the things I've been cooking in the last couple of weeks and I'd completely forgotten about these lush little lemon cookies I whipped up last week when we got home!
Probably because I only made a small batch to begin with as I was trying out my "adding seeds to everything" approach and wasn't sure how it would turn out (ie would I just burn the seeds.. which I have been known to do!) but they were scrumptious and Mr K loved them!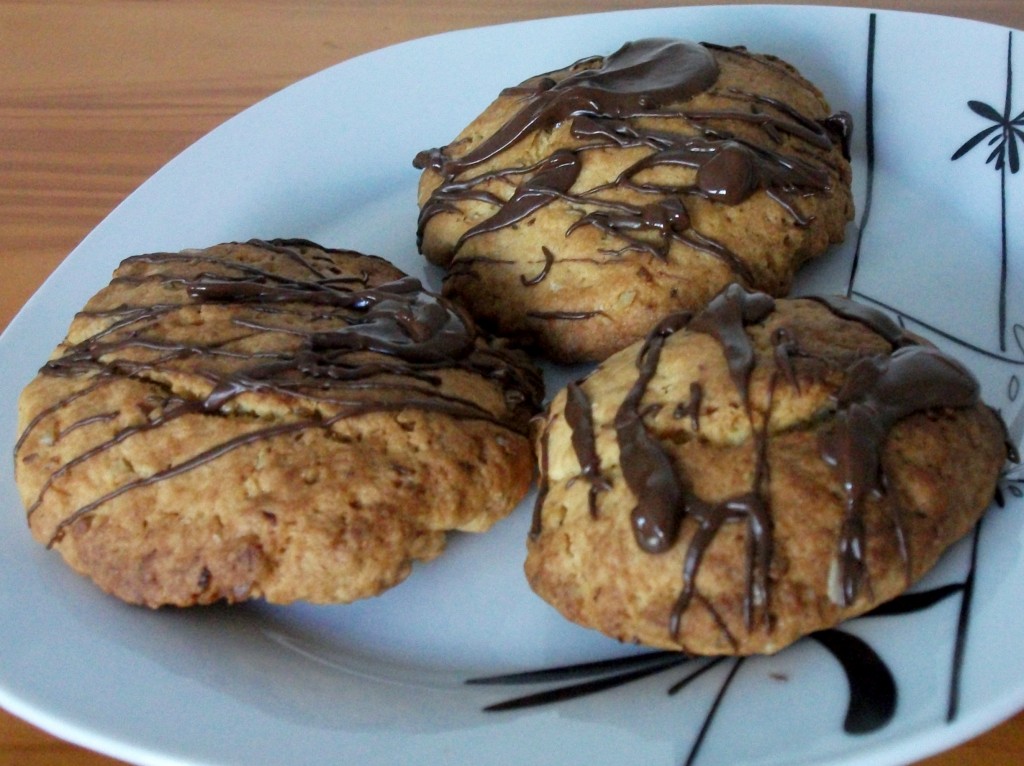 Quick and Easy Lemon Cookies
Makes 8 decent sized cookies
Ingredients
1 cup of all purpose flour (I'm going to use Whole-Meal next time but AP was all I had!)
3 tbsp raw cane sugar
½ cup vegan margarine
1 tsp baking powder
1 ½ tsp vanilla essence
The zest of 1 lemon
2 tbsp sunflower seeds (finely chopped)
Small bar of dark chocolate (just enough to drizzle over cookies, I used 8 small squares)
Method
1. Pre heat oven to 175 Celcius
2. Cream the margarine and sugar together in a large bowl, add the vanilla and stir
3. Combine the flour, baking powder and lemon zest and add to the marg/sugar mix
4. Fold in the sunflower seeds
5. Roll the dough into 8 balls and press lightly to form cookie shape and place in an oven tray lined with baking parchment and bake for 15 – 20 minutes
6. Remove cookies from the oven when ready and allow to cool
7. Melt your chocolate in a bain-marie until smooth and runny and using a teaspoon drizzle the chocolate over the cookies (doesn't matter if it's messy, it's arty!!)
Each cookie is approximately 150 calories
Newt time I try these, I'll add in some sesame seeds and perhaps some raisins as well.