This was me making the most of my carob stock, which is ideal if, like me, you want a bit of a change to maple syrup, plus it's cheaper! I actually buy my carob syrup when I'm in cyprus, so it's easy for me, but remember if you can't get your paws on carob syrup then just use maple syrup instead.
Martin isn't a massive fan of coconut so I made these cookies while I was on my lonesome for a week, a cheeky little cookie for the afternoon and I do LOVE coconut, thinking about it now, I should really have made some ginger truffles too, mmmmmm ginger truffles……
Just bought a new rucksack for our trip away tomorrow, 1 week in Bath & Bristol then another week in Edinburgh, that's right, I am going away for 2 whole weeks and I'm ONLY taking a rucksack as my luggage. Should be ok!!! I can't wait to get snapping away with the camera, there are some beautiful sights to be seen in Bath, so it's exciting! Then of course we have Rich Hall and Reginald D Hunter to look forward to at the Edinburgh festival and I've signed my niece up to come with me on a Ghost Walk through Edinburgh… spooky!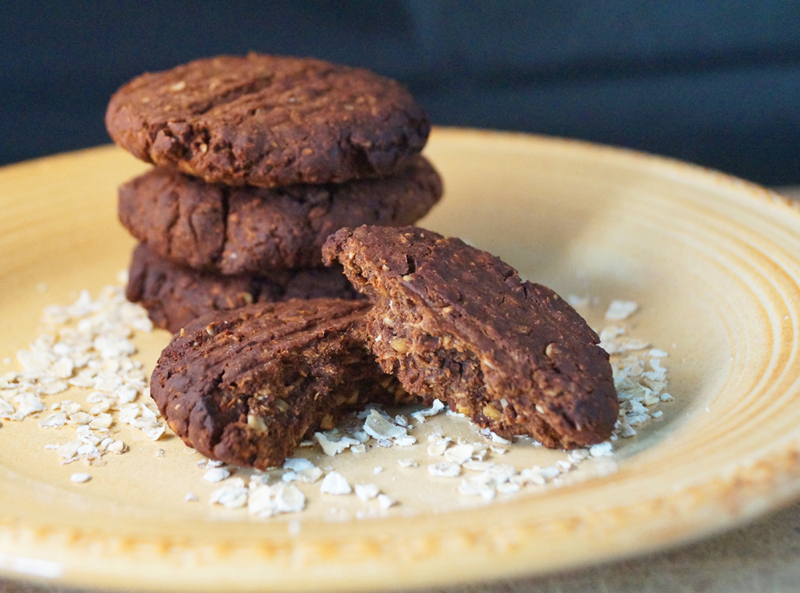 Quick and Easy Carob Coconut & Oat Cookies (vegan & gluten free)
MyInspiration Feel The Difference Range
Makes 6 – 8 cookies (depending on size you like) – ready in less than 30 minutes
1 tbsp vegan margarine (or you can use peanut butter… I'd ran out)
2 tbsp carob syrup (or use maple syrup)
3/4 cup buckwheat flour
1 tsp cinnamon
1/2 cup oats (make sure GF)
3 tbsp shredded coconut
3 tbsp cocoa powder
Method
1. Preheat oven to 180 degrees celcius (356 degrees fahrenheit) and prepare a baking tray, either line with parchment or lightly grease the baking tray with vegan margarine.
2. In a mixing bowl stir together the margarine, carob syrup, cocoa powder and cinnamon until well combined, then add in the flour, oats and coconut and really mix this well until it comes together into a stiff dough.
3. Roll the dough into 6 or 8 separate balls (I made 6) and place on the baking tray, then take a fork and gently press down to flatten the balls out.
4. Bake for 12 – 15 minutes (keep an eye on them so they don't burn), cool and enjoy!
Option – you could melt some vegan dark chocolate in a bain marie and drizzle on top of these cookies for some added sweetness, but, as always, that's completely up to you!
(Note for Carob Syrup: If, like me, you don't use honey, then I would double check your ingredients list to make sure that the type you get is just carob and not mixed through with honey, there seems to be some brands that mix the two).