These, I think, are by far my favourite burgers I've ever made!! It may well be the addition of the beautiful sun dried tomatoes I bought the other day, they gave an incredible depth of flavour to the burgers, so much so I was distressed when we'd eaten them all, I need some more… NOW. I'm definitely going to be making these again, they would even go lovely the next again day with some pasta and home made marinara sauce!
The photos don't do the burgers justice, but believe me, these are a "must make", they are slightly soft on the inside (which I quite like), but they do hold up well and can be popped in a burger bun no problem.
I have spent a lot of today emailing a childhood friend that I haven't seen or spoke to in 26 years!!! How can that be possible, 26 whole years, I'm so chuffed to have gotten in touch again! Been reminiscing about past events that I'd completely forgotten about, it's been great catching up!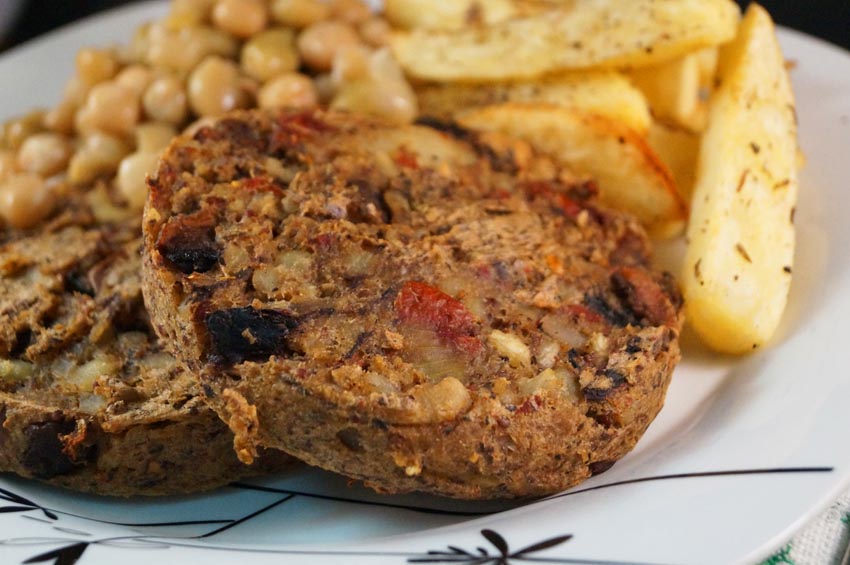 Portobello Mushroom & Sun Dried Tomato Burgers (Vegan and Gluten Free)
MyInspiration Feel The Difference Range
Makes 6 Burgers ready in 35 minutes
1 small onion finely chopped

2 cloves garlic finely chopped

6 sun dried tomatoes roughly chopped

½ tbsp dried thyme

4 medium Portobello mushrooms roughly chopped

¾ cup gram flour (chickpea flour)

1 tbsp ground flax mixed with 1 tbsp water

1 tbsp wholegrain mustard

1 large potato, peeled boiled for 8 minutes and mashed

Black pepper to season
Method
Preheat oven to 180 degrees celcius (356 degrees Fahrenheit) and line 2 baking trays

In a sauté pan heat 2 tbsp water over a medium heat and add the onion, garlic and thyme and cook for 2 minutes before adding in the mushrooms, sun dried tomatoes and mustard, cook for a further 2 minutes just to soften.

Add the mushroom mixture to a food processor (or use a hand blender) and pulse until the mixture has broken down, it's fine if there's a few chunks of mushrooms, it adds to the texture!

Now add this to the mashed potato, pour over the ground flax mixture and the gram flour and make sure everything is well combined. Shape into 6 burgers, pop them on the baking tray and bake in the oven for 25 minutes, turning half way through.