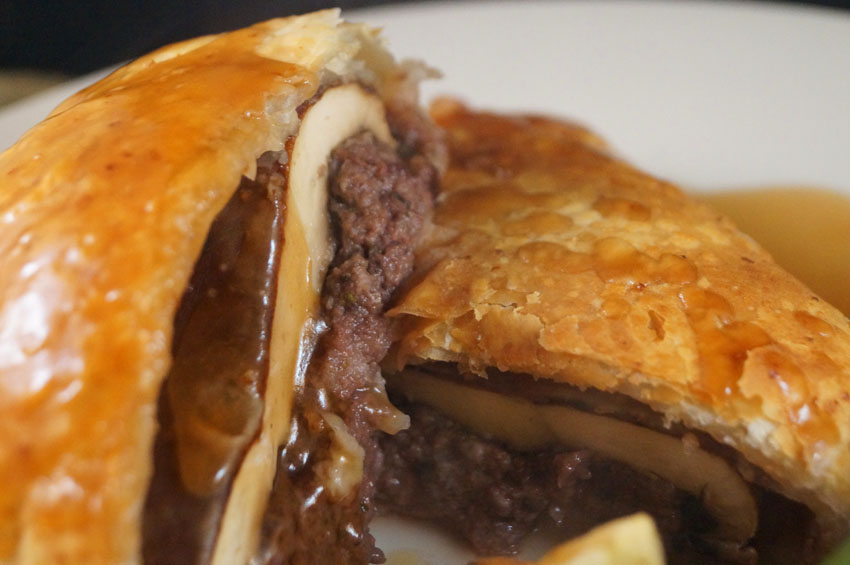 Yum, yum and yum again, if I could have this dish in front of me again right now I would demolish it in no time at all, the flavours in that tapenade are quite seriously delicious. I loved the whole meal and have contemplated it for Christmas Day, I think if I do it again I might layer on some wilted spinach before laying the stuffed mushroom on top and sealing, that's probably the only change I would make there.
Going to head out this afternoon and see if I can get my mitts on a Christmas Pudding mould as I need to practice this week to make sure I get it right for Christmas Day. No brandy sauce for me though, I thought I might go for an almond custard (so swap the brandy for almond extract). Cake covered in a marzipan tasting custard hits all the right taste buttons for me!
Oh and I mentioned the other day that I've made some Christmas Mince Muffins, well here they are, just go to WholeYum. You will love these, the flavour the fruit mince meat gives the muffins is heavenly and you could quite easily serve the muffin warmed up in a bowl with some custard over the top or even a scoop or two of some home made ice cream as a cheeky festive dessert. I've got in my head a little plan for a mint chocolate cheesecake, I hope it works out how I think it should, hopefully share that with you later this week once I've got time to make it.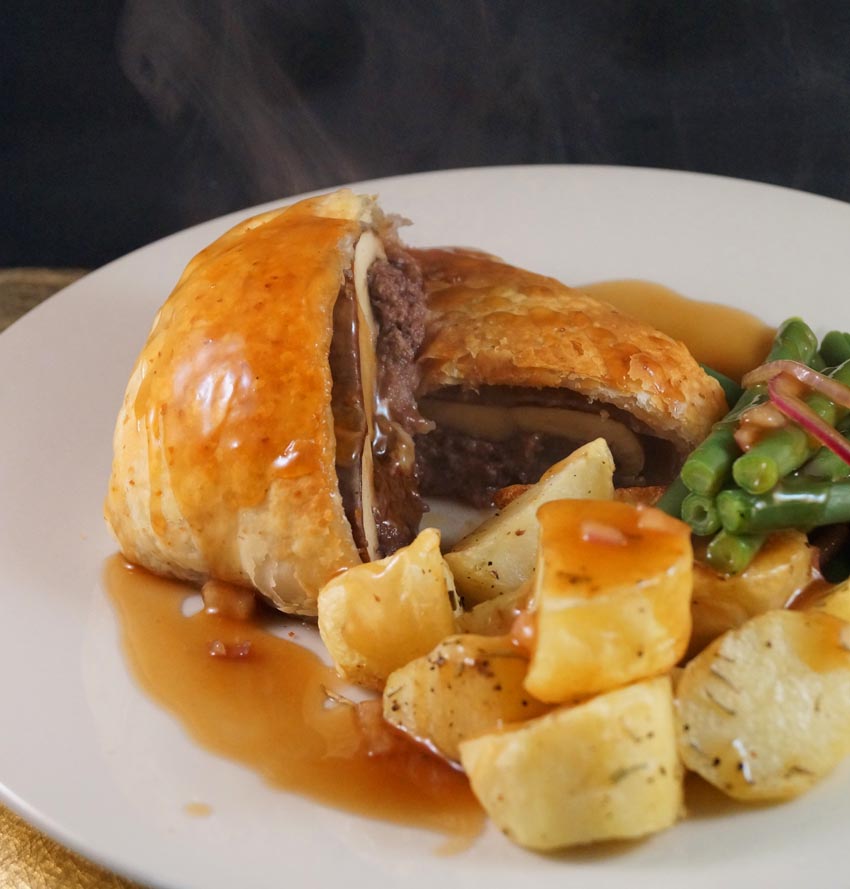 Portobello Mushroom Parcels stuffed with a Herbed Black Olive & Red Onion Tapenade (vegan)
MyInspiration Feel The Difference Range
Serves 4 – Ready in under an hour
For the parcels
4 large Portobello mushrooms, stems removed and gills scraped

300g vegan puff pastry (I used Jus Rol) cut into 4 blocks
For the Tapenade
¾ cup sliced black olives 

2 cloves Garlic chopped

2 tsp dried Basil

1 Red onion chopped

5 button Mushrooms chopped

1 tsp Lemon Juice
For the Roast Potatoes
8 white potatoes, peeled and chopped

2 tsp Rosemary

Black pepper to season
Green Beans, topped and tailed
For the Gravy
1 red onion chopped

2 cups of gravy using your favourite gravy granules
Method
Preheat oven to 180 degrees celcius (356 degrees Fahrenheit)

Peel and chop your potatoes and pop in a pan of boiling water for 8 minutes, drain and drizzle with 1 tsp olive oil, sprinkle rosemary and black pepper, toss together and pop in the oven to roast for 40 minutes, give the tray a shake every 10 minutes to avoid sticking.

De-stem and scrape the gills from your Portobello mushrooms and clean, pop on a baking tray and bake in the oven for 10 minutes, remove, drain any liquid that's accumulated and set aside.

Add all the ingredients for the tapenade in a food processor, or use a stick blander like me) and pulse until smooth, taste here to see if you want to add any more lemon juice of basil.

On a floured surface roll out your 4 pastry squares until they are 1 ½ times the size of your mushrooms and approximately 2mm thick.

Spoon the tapenade into your Portobello mushrooms, pressing down gently to make sure it's compacted down then place the mushroom (stuffed side up) in the middle of the pastry square and take each of the corners of the pasty and wrap up like a parcel and pinch to seal together, turn over with a spatula and pop on a baking tray, take a sharp knife and gently score the top of the pastry, (Don't worry if a little liquid runs out the bottom when you turn the parcel over, it seals completely when it bakes). Brush the top of the pastry with some non dairy milk and pop in the oven for 20 – 25 minutes until the pastry is golden.

While this is in the oven, pop your green beans in a pan of boiling water and cook for 10 minutes. (You could use broccoli or carrots here or whichever veg you want to serve on the side)

For the gravy, I had gravy granules that I mixed with water and I added a chopped red onion, stir until the gravy thickens and serve. Enough to make about 2 cups of gravy.