I felt like being a big kid again and making my own version of a rice crispy treat, but this time using popped quinoa. I love it, the taste is just delicious and it's just a nice quick way of making a little snack to keep in the fridge and nibble on when you want some. I had mine in individual mini cupcake cases, but you could just as easily press it into a long bar and slice, but you really need to compact it down to make sure it doesn't just fall apart when you try to pick it up and let it cool completely, maybe even pop in the freezer for a while.
I'm still working on my handstand pose, you would think I would have progressed more in these last 2 weeks, but I just can't seem to get my arms in the right position and everytime I look at my arms, and then look at the rest of my body that they need to hold up all on their own, well, doubt certainly follows fast!
I'll keep at it though as my shoulders are certainly feeling stronger and I'm managing the first stage of using the wall to go from downward dog into getting my legs and arms at a 90 degree angle, I can even get one leg up at a time, but not even tried to get both legs at the same time, may need to just attempt it and see how I go. Namaste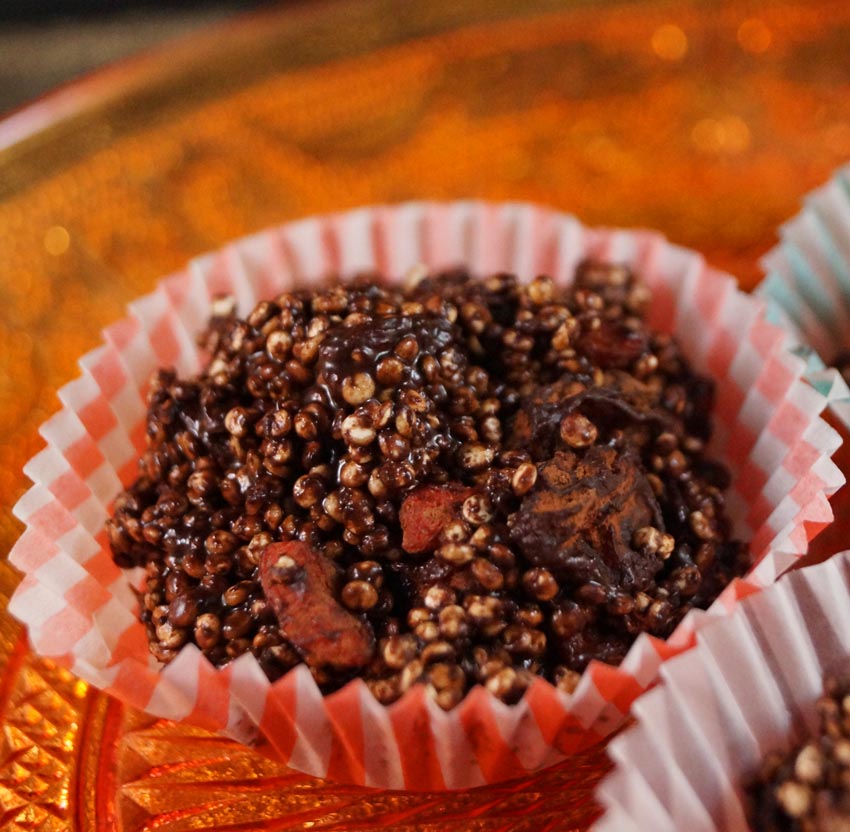 Popped Quinoa Chocolate & Goji Berry Treats (vegan & gluten free)
MyInspiration Feel The Difference Range
Makes 6 Treats – Ready in 30 minutes
¾ cup quinoa

2 tbsp goji berries

2 tbsp juicy raisins

1 tbsp cocoa powder

35g melted dark chocolate

Dust with cocoa powder
Method
Pop the quinoa by adding to a small sauce pan over a medium heat and when you start to hear them popping, turn off the heat.

Melt your chocolate and then mix through the popped quinoa and the remaining ingredients and pop in little paper cases, leave to cool and set and then dust with a little cocoa powder to finish.
This is just like making rice crispy treats, so you can add in whatever you like, just use raisins, or sprinkle in some chia or sesame seeds, it's a fun snack to have so pop in whatever dried fruits you like. I might even try some dry figs and apricots next time.
I've got so many recipes still to add on like Raw Energy Bars, Chickpea, Mushroom & Olive Bakes, Veggie Nut Roast, Afternoon Cookies, Chocolate Orange Muffins, Apricot Tagine and a few more, better get my skates on!