Well that title is a mouthful isn't it and so in fact is the dish itself, a healthy and delicious plate filled with fresh veggies and a beautiful sweet and sour sauce that I was quite impressed with. I was thinking that maybe I should have put the aubergine in a batter and baked it first, but felt it was unnecessary. We've been having the egg plant chinese style from our local takeaway which has been lovely and it's not done in any batter so  I felt confident it would work out ok.
If you can't get any aubergine you could try substituting it with courgette (zucchini) or broccoli florets would be excellent too, the nice thing about making a sweet and sour is you can add whatever you fancy that night or just use up what you have in the fridge. I was tempted to add in some portobello mushrooms but my pan was already overflowing with food so thought it might be a bridge too far, but if I'd realised earlier that I had the mushrooms I would have used less aubergine and done a nice mixture of the two. Ah well C'est La Vie and all that!
I popped out this morning to buy a postcard to send to the beautiful little girl we sponsor in Somaliland, her name is Zowda and she's 8 years old. I wanted to get her a nice picture to show her a little of where we live but postcards these days are pretty poor and for the most part just inappropriate. But I settled on the one postcard that didn't have a bikini clad woman or photo of a hotel and I'll write it up tonight and send it to her. I hope that they can read my horrific scrawl, years of using a computer doesn't lend itself well to good penmanship!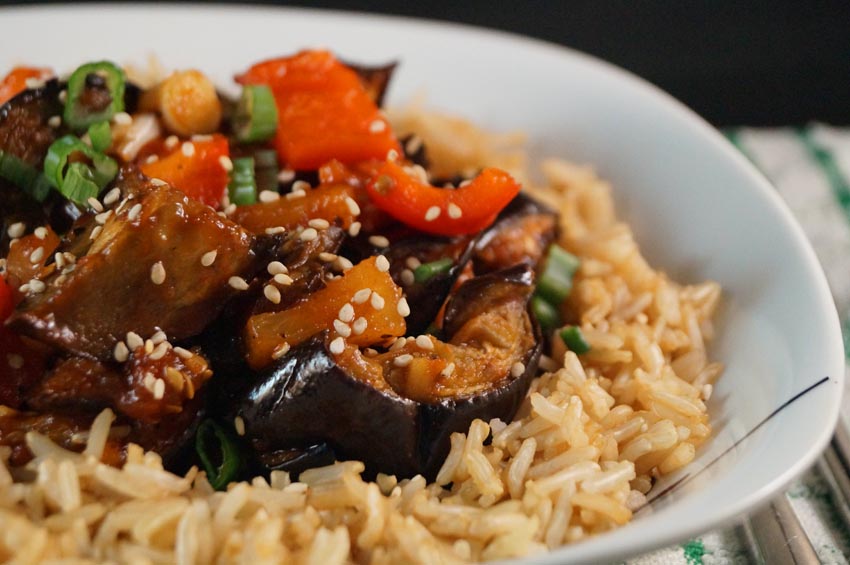 Pepper Roasted Aubergine Slices in a Cantonese Sweet and Sour Sauce served with Basmati Rice and Sesame Seeds (vegan & gluten free)
MyInspiration Feel The Difference Range
Serves 2 – Ready in 45 minutes
2 Aubergines (eggplant) cut into rounds then sliced into strips

Lots of Black pepper to season

1 large Red Pepper (capsicum) chopped into chunks

2 Spring onions (scallions) finely chopped

½ cup Pineapple chunks
1 cup basmati rice

½ tbsp soy sauce
Sweet & Sour Sauce
3 tbsp Pineapple juice

3 tbsp Tomato paste

2 Garlic cloves finely sliced

1" cube Ginger finely sliced

1 tsp Paprika

½ tbsp Rice Wine Vinegar

½ tbsp Mirin

½ tbsp Soy sauce

¾ cup vegan stock
To Garnish
1 tbsp sesame seeds

Chopped spring onion
Method
Preheat oven to 180 degrees celcius (356 degrees Fahrenheit) and lightly oil a large baking tray.

You need to start with the aubergine by adding all the aubergine slices to the baking tray then sprinkle over a couple of teaspoons of black pepper and toss to coat everything and pop in the oven to roast for 30 minutes, shaking occasionally to avoid them sticking.

Get the rice cooking now – the wholegrain basmati I used needs to be added to a pan of boiling water, cooked for about 25 minutes, drained and left to fluff for a few minutes. Sprinkle over ½ tbsp soy sauce and toss the rice together.

Make the sauce by adding all the ingredients (except the vegan stock) to a food processor (or use a stick blender) and pulse until smooth, then transfer to a large sauté pan over a medium heat and add the vegan stock, throw in the grilled aubergine, red pepper, spring onion and pineapple chunks, stir this all together and cook for 10 minutes, adding a splash more water if you need more sauce.
To serve, add half the rice to a serving bowl and spoon in the aubergine mixture, sprinkle over some sesame seeds (or even some chopped cashews if you have them) throw on some chopped spring onions and you're done!