We've been staying with my in-laws for the past month and I've not done any cooking or baking, which is tough for me as I'm used to cooking everyday and getting everything in fresh and only eating meals that I have made from scratch!
So……… the in laws are off on holiday for 4 days starting tomorrow, I have a huge kitchen all to myself and I've already got a whole menu planned for the next week, we've scoped out the local shops for all our ingredients and we'll be getting up early tomorrow to go stock up!
I have just been perusing a new site I've come across, rawfoodlove, and Em has a fantastic recipe for some pretty healthy Pecan Bars that I think has to be the sweet treat I'll make for this week.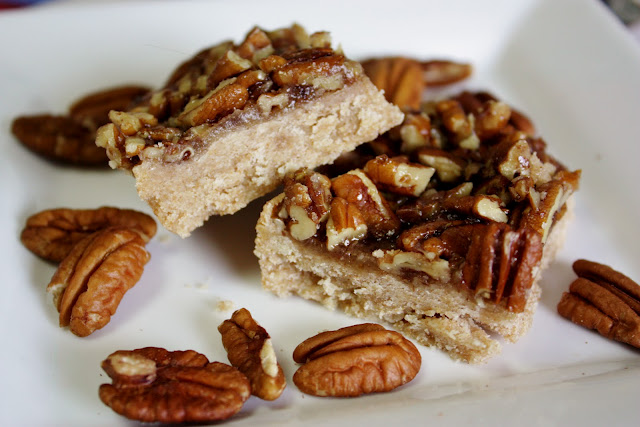 Pecan Bars: makes 9-16 bars
2 cups whole wheat flour
3 Tb raw sugar (or sweetener like agave or maple syrup)
1/4 cup melted coconut oil/olive oil or both
Pinch of salt
Water, as needed
1/4 – 1/3 raw sugar (or again agave or maple syrup)
1/4 cup coconut oil/olive oil
1-2 t vanilla extract
2 Tb ground flax seeds
1 t arrowroot powder
3 Tb nut milk
1 1/2 – 2 cups roughly chopped pecans
1, Preheat oven to 350F. Mix all ingredients from first list until it's like shortbread dough. Press into bottom of 9X9 baking pan and bake for 15-20 minutes, until it's brown around edges.
2. While it's cooling, heat sugar and oil together over medium heat for 5 minutes or so, stirring often. Let it cool down a bit.
3. In another bowl, mix flaxseed, vanilla, arrowroot powder and nut milk together. Add to sugar/oil mixture. Stir together and add chopped pecans. Pour this onto the bottom shortbread layer and refrigerate for an hour or so, til the caramel hardens a bit.
4. Cut into squares and enjoy!
Original Recipe from Em here