I watched Inception again yesterday, I'd already seen it when it first came out and loved it, but didn't realise I'd forgotten pretty much everything that happened in the movie, so it was nice to watch it all over again. I've been watching a few films with Joseph Gordon-Levitt starring, he's pretty good, I saw him in The Dark Knight Rises and also 500 days of summer. I may have a look and see what else he's in and have a Gordon-Levitt movie fest.
Today the sun was shining again (woohoo) so we had scenic route walk to the fruit market to stock up and I got a stack of carrots as I'm contemplating creating a healthy afternoon snack tomorrow, so I'll let you know how I get on. It's been a while since I made carrot cake muffins, so might go with something along those lines (no frosting though).
I forgot to share my pasta dish from last week, so here it is, healthy and ready in half an hour, so perfect for gym night.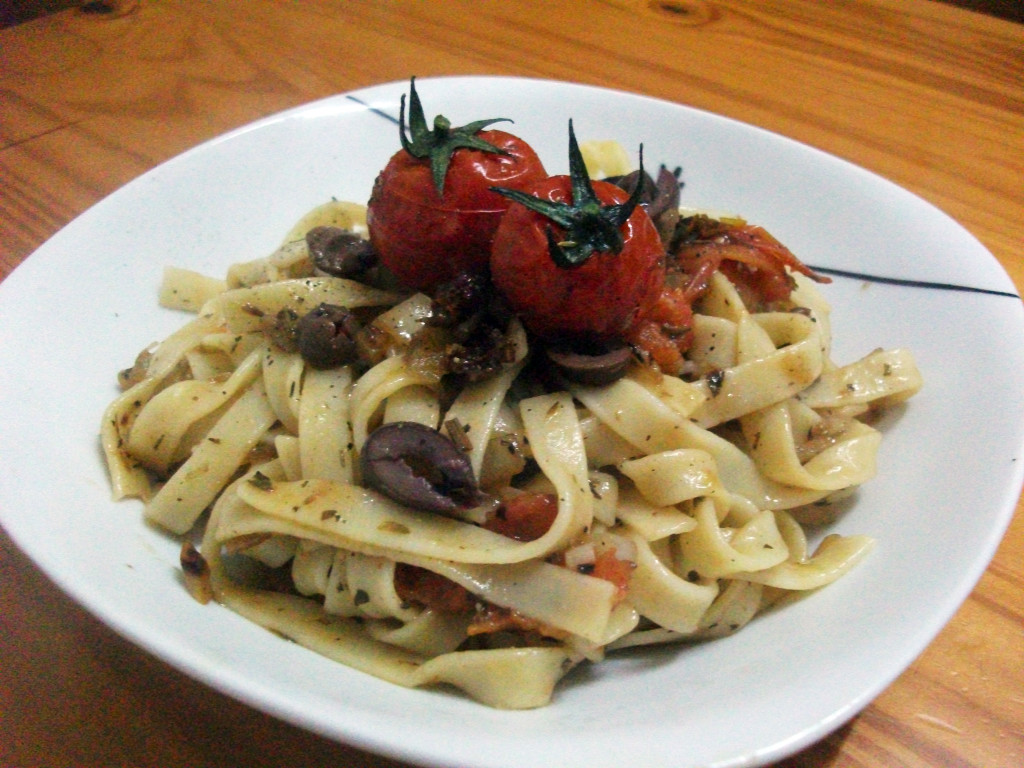 Pasta Bellissimo
MyInspiration Feel The Difference Range
Serves 2 as a main dish
200g Tagliatelle Pasta
10 – 12 Cherry tomatoes ( I roasted 4 tomatoes, for presentation to sit on top of the pasta)
1 onion finely chopped
2 cloves garlic finely chopped
2 teaspoons capers
1/3 cup pitted and chopped black olives
4 sun dried tomatoes chopped
1 tbs basil
½ tbs thyme
1 teaspoon red chili flakes
1 tbsp Balsamic Vinegar
½ tbsp olive oil
Black pepper to season
Method
1. Prepare the tagliatelle in accordance with instructions on package
2. Heat the oil in a non stick pan over a medium heat and sauté the onion and garlic for 2 minutes, then add in the chili, basil and thyme and mix thoroughly.
3. Chop the cherry tomatoes in half and add to the onions (also add ¼ cup of the pasta water and add to the onion/tomato mixture), add in the balsamic vinegar and cook for a few minutes
4. Add the capers, sun dried tomatoes and olives, stirring them through the mixture.
5. Drain the tagliatelle and add to the sauce and toss until everything is coated and serve immediately with a dash of black pepper and a couple of roasted cherry tomatoes on top.