I've been making these delicious no bake energy balls for our afternoon snacks (or early morning pre -gym snack), and don't get me wrong they are truly delicious (recipe to follow) but I'm on the look out for some different healthy treats that I might add to my new clean vegan repertoire.
I've been searching through a whole list of sites and found so many things that I'd love to try, my main interest being to get some colour into my treats as at the moment they're all much the same, healthy, but beige-y.
It's a bit of a juggle trying to get the balance between vegan and clean eating and looking out the alternatives for things that I don't want in any of my food, mainly SUGAR. I've just been researching this and found that I could swap to maple syrup (with no added nonsense) as a substitute for sugar and honey (I always used to halve the sugar content in any recipe anyway, so I will play around with the quantities to make sure I keep things healthy). Actually really pleased that I have found a honey alternative.. strange how such little things can make such a difference to your sense of well being.
So this afternoon I'm going to bake some Lemon Poppy Seed Muffins and once I've fiddled a bit with the recipe and seen the outcome, I shall let you know how I get on and share.
But back to my thread title.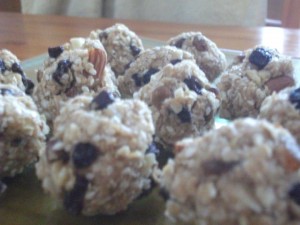 No bake energy balls – yields around 16 balls
1/2 cup of peanut butter
2tbs maple syrup
1 cup of rolled oats
1/2 cup unsweetened shredded coconut
2 tsp vanilla
1/2 cup raisins or currants
1/4 cup of chopped walnuts
1/4 cup of chopped almonds
1 tsp cinnamon
1/2 tsp all spice
2 tbs sesame seeds
Method
Mix together your peanut butter, vanilla and maple syrup until smooth (make sure everything is room temperature so it's easy to mix)
Add everything else into the pan ans stir together, it will be quite stiff but should bind together nicely.  Then it's time to get your hands in their, scoop out some dough into your hands and squeeze together first then form into a ball shape, the size is completely up to you and how big you like them, like I said, this recipe usually makes 16 balls.
I then pop them on a plate and put them in the freezer for about half and hour and then you can transfer them to a Tupperware container and they keep in the fridge nicely for up to 4 days no problem, could be longer but they've always been eaten before then!
(You can double up the recipe and make a large batch and keep half in the freezer until you're ready for more, but they are so quick and easy to make, I just do it as and when I run out!)
Original recipe from Food Doodles many thanks to them!