It's been too long since I made some quick no bake snacks to keep in the freezer, not sure why I haven't made more, they are so easy to make and it's nice to have a go-to snack for after the gym or a big long walk. I might just allocate a day to making a big batch that will see us through the week.
I've been loving the new range of dried fruits we've got at the supermarket and I have been filling my boots! I got some papaya yesterday and I bet that's going to taste fabulous in some energy bars and also perhaps in some cookies I think I'll be baking this weekend. Speaking of baking, I'm not sure if it's the change of season but I have an insatiable hankering form Ginger cake, don't ask me why, i just really want a big slice of rich ginger cake with some custard. There, I've said it. Now I have to make it!
Another thing I want to try again, is Seitan. My initial attempt wasn't the best I'll admit, so I might do a bit more research and see if I can find a recipe that works for me, it'd be nice to give it another go, I see us having some seitan kebabs, lots of chili sauce, yummy!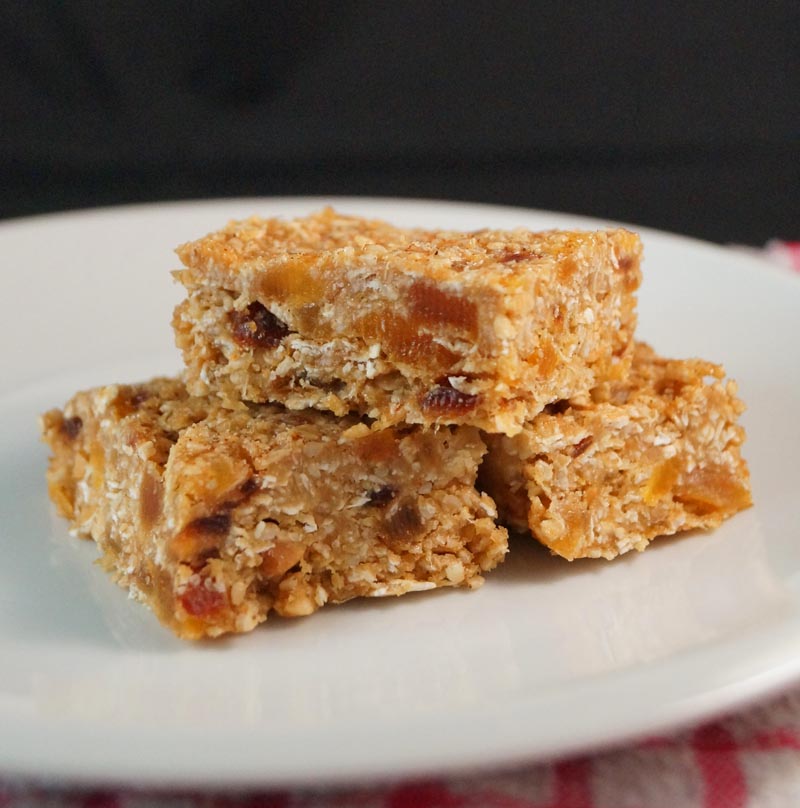 No Bake Apricot, Date & Coconut Energy Bars (Vegan, Raw & Gluten Free)
MyInspiration Feel The Difference Range
Makes 6 bars – ready in under an hour (needs a little time to set in the freezer)
6 dried apricots roughly chopped

6 dates roughly chopped

1 tbsp canned coconut milk (optional)

2 tbsp peanut butter

¼ cup shredded coconut

½ cup oats (add 1/4 cup more if mixture is too wet)

1 ½ tsp vanilla extract

1 ½ tbsp sesame seeds

1 ½ tbsp maple syrup
Method
In a food processor (or use a hand blender) pulse together the dates, apricots and coconut milk until it starts to clump together, transfer to a mixing bowl and add all the remaining ingredients and beat this together until it's all well combined.

Spoon mixture into a lined freezer proof dish and flatten out to about ½ inch thickness, really pack it down tight, then pop in the freezer for at least 30 minutes (I leave mine in there all the time and just cut off a slice when I want it).
Options: You could add in raisins, sultanas, walnuts, almonds, have a look through your cupboards and see what you like the look of. It should work well with most dried fruits and nuts.