More visitors due next week, so back into recipe preparation to make sure we wow them with a fabulous range of vegan meals. First on the menu is the Mushroom Stifado.
I've chosen this because we used to all go out and have a mezze, which had a little bit of everything from the Greek menu and this dish is a real winner in my book.  The mushrooms really soak up the sauce and I know my in-laws will love it! Tonight I'm having a go at veganising the infamous Moussaka.
I shall of course have a medley of sweet treats on the go, mainly the chocolate cupcakes with coffee frosting and I'm going to attempt a festive mint icecream this afternoon (I shall let you know how I get on!) and some Christmas Florentines which I might do tomorrow. Need to keep them sweet….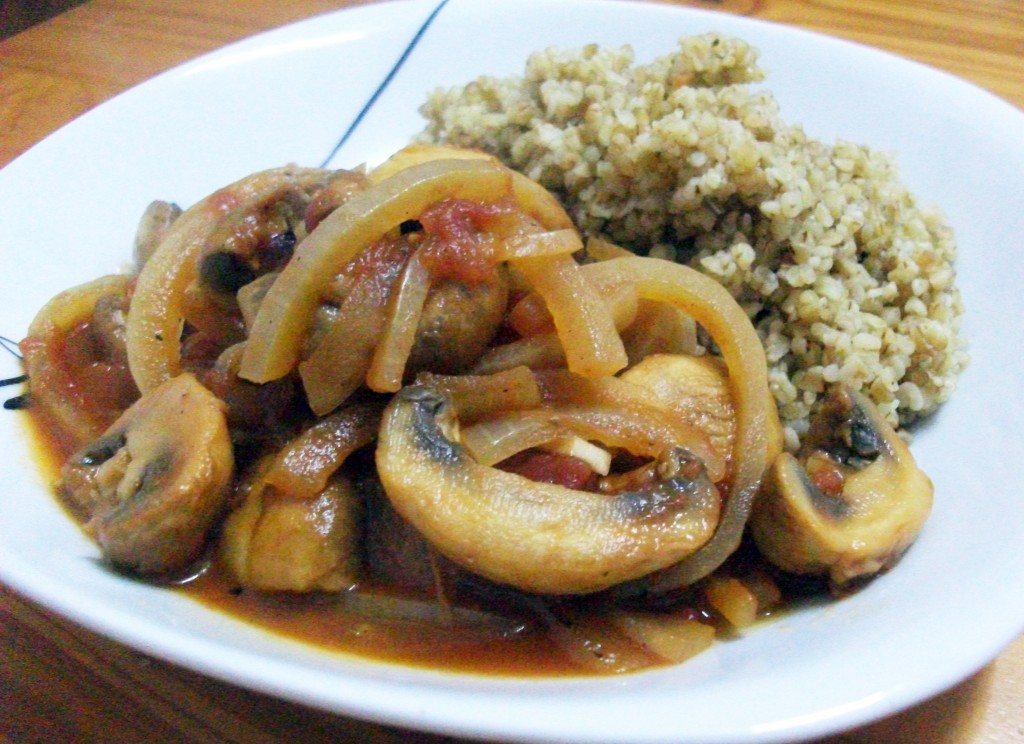 Mushroom Stifado and Herb Bulgur
MyInspiration Feel The Difference Range
Serves 2
1 onion (sliced into crescents)
12 button mushrooms cut in half
2 cloves garlic minced
1 can chopped tomato (or 1/5 cups passata)
½ cup red wine vinegar
1 cinnamon stick
3 bay leaves
Black pepper
½ tbsp olive oil
1 cup bulgur
2 cups of vegetable stock
2 teaspoons oregano
Pinch of cinnamon
Method
1. Heat the oil in a deep skillet and add the onions and sauté for 7 minutes, add the garlic and mushrooms and cook for another 5 minutes.
2. Add the tomatoes, vinegar, cinnamon, bay leaves & black pepper to season and stir to combine. Reduce the heat, cover and let it simmer for half an hour.
3. In the meantime, prepare the bulgur by adding 2 cups of vegetable stock to one cup of bulgur, stir together, add the oregano and cinnamon and mix through. Keep on a low heat, cover and let it cook for 15 – 20 minutes, stirring occasionally.