This will be our very first Vegan Christmas and I'm really excited about all the new recipes I can try out, as you can see I've already started on the sweet stuff, brandy balls, mince pies etc but now we're currently thinking ahead to the type of festive main meal we want to have (it's not all about the sweet treats….).
We've been looking out for something that will go nicely with our roast parsnips and cranberry sauce (there has also been some dangerous talk of brussel sprouts…yuck!) and I think we could be onto a definite contender with this mushroom and split pea loaf.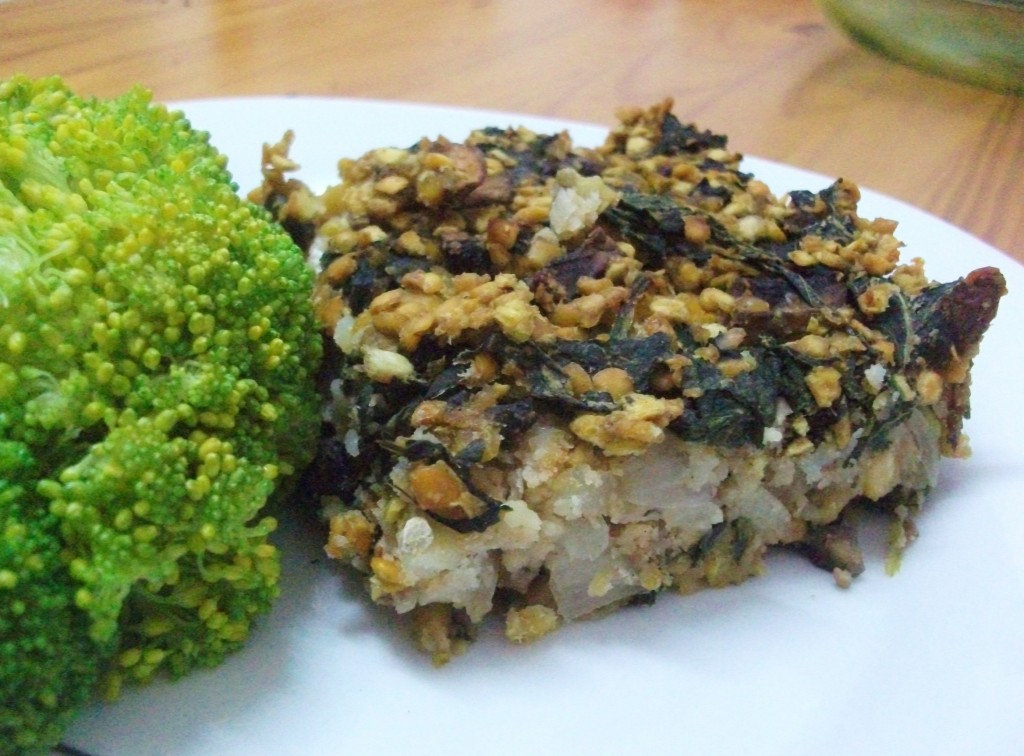 Mushroom & Split Pea Loaf served with blanched broccoli
Serves 2 – 4 people (4 for a small entrée, 2 for a hearty main meal)
Ingredients
1 cup raw split peas
1 tablespoon Olive Oil
2 cloves Garlic finely chopped
6 button mushrooms chopped
1 bunch of spinach (rinsed and torn)
1.5 tablespoon Soy Sauce
2 tablespoons whole wheat flour
Black pepper and a pinch of Nutmeg
Loaf Filling
1 onion finely chopped
1/4 cup dry Bread crumbs
1 medium sized potato, boiled then crushed
1 tablespoon dried thyme
Black pepper to season
Method
1. Rinse the split peas and add to a pan of 4 cups of hot water and bring to the boil, cover and simmer for 20 minutes or until the peas are cooked through, drain and set aside. While you're doing this, in a small pan boil the potato for 15 minutes, remove from heat, add some black pepper and roughly mash or crush with a fork.
2.  Preheat the oven to 180 degrees celcius.
3. In a large frying pan, heat the oil and sauté the mushrooms and garlic. Once the mushrooms are cooked add the spinach, the split peas, whole wheat flour, soy, pepper & nutmeg and combine together until the spinach has wilted.
4. In an oiled square loaf pan ( I used an 8" x 8" pan)  spoon in ¾ of the lentil mixture and evenly spread it around the pan. (reserve the other ¼ for the topping)
5. In the same pan you cooked the mushrooms in, sauté the onion until golden then add the breadcrumbs, potato, thyme and black pepper plus half a cup of water and stir to combine.
6. Spoon the onion and potato filling on top of the layer of mushroom & split pea base, again smoothing it out evenly, then top that off with the remaining ¼ mushroom mixture, pop this in the oven for half an hour, serve hot!
For the Blanched Broccoli
Bring a pan of water to the boil, then take a medium sized broccoli split into florets and pop in the boiling water for 2 minutes, drain and pop in a pan of cold water, again drain and serve.
Original lentil recipe from Heathen Vegan