Oh I do love Friday night "burger night" the more I do burgers the quicker I seem to get at preparing them. I remember when I first started, it would take me about 90 minutes to put this meal together, I'm not sure why, maybe I'm just more comfortable in the kitchen now and know what I need to do and saving time on not having to rectify silly mistakes!
I was getting a little tired with my usual spicy wedges, so thought I'm mix it up a bit with these spicy potato cubes, I love my madras curry powder and it's been a while since I used it on my potatoes. This worked really well with the burgers and I added the side of peas for a nice splash of colour and they work well with the dish as a whole.
Sitting doing all my admin tasks for my trip on Monday, totally forgot about travel insurance, so my printer has been taking a hammering printing off the police… it's like an epic novel!  I thought I'd be travelling in ridiculously hot weather, so planned in my head what I was going to pack, but now the weather has decided to do a 180 and now it's storms and rain, so I need to rethink my wardrobe and find an umbrella! Might take a few movies with me too if 'm stuck indoors, what do 2 year old boys watch these days?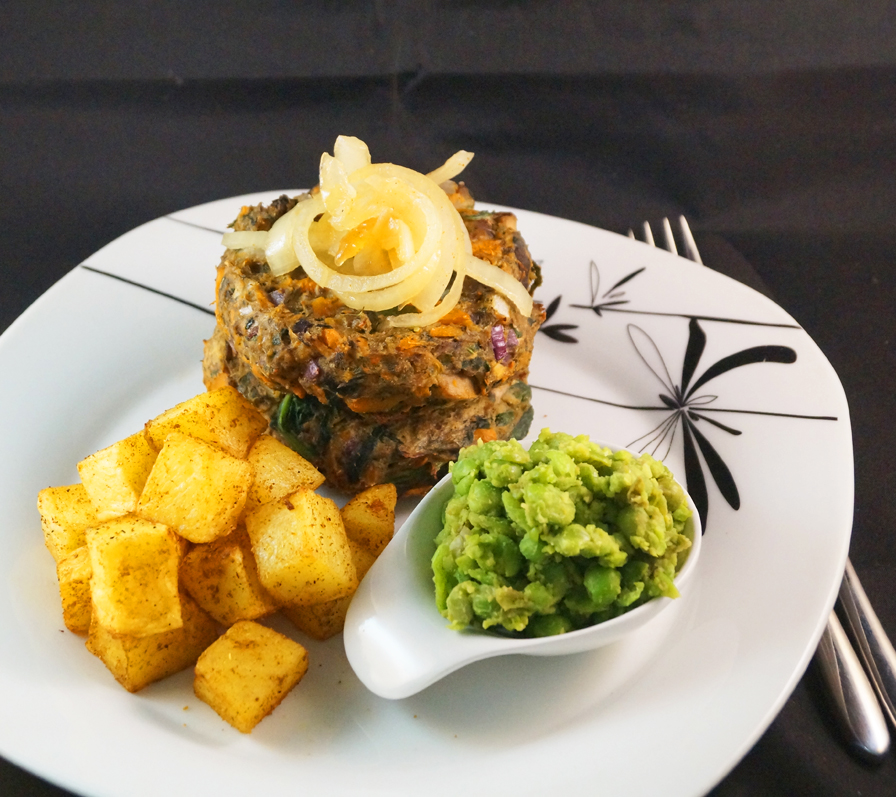 Mushroom & Spinach Veggie Burgers with Spicy Potato Cubes, Mango Caramelised Onions and Crushed Peas (Vegan & Gluten Free)
MyInspiration Feel The Difference Range
Makes 8 burgers – Ready in under and hour
For the Burgers
2 large portobello mushrooms destemmed, scraped and chopped

4 large button mushrooms, destemmed and chopped

2 cloves garlic finely sliced

3 cups spinach, washed

1 large sweet potato, peeled, boiled in hot water for 12 minutes, drained and mashed

1 tsp Paprika

1/2 tbsp thyme

Black pepper to season

1/2 cup vegan stock

1 red onion finely chopped

3/4 cup buckwheat flour
For the potato Cubes
2 large white potatoes, peeled and chopped into cubes

1/2 tbsp oil (I used sunflower)

1/2 tbsp Madras Curry Powder

1 tsp Cumin
For the Mango Caramelised Onion
1 large white onion, sliced thinly

1 tbsp mango chutney (I used Pataks)
For the Peas
1.5 cups green peas

1/2 tbsp balsamic vinegar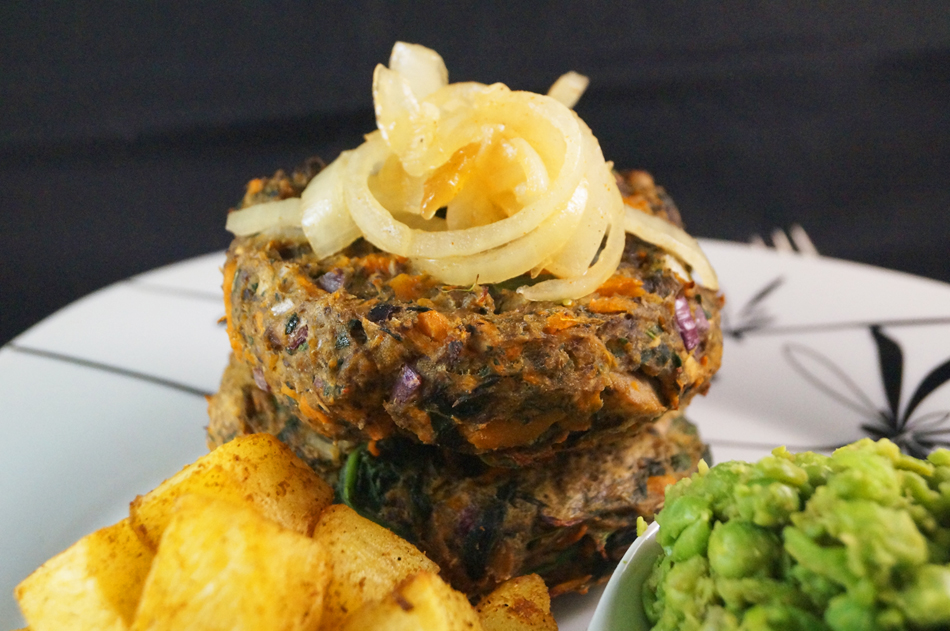 Method
First things first, make the potato cubes. Preheat the oven to 180 degrees celcius. Peel the potatoes and chop into cubes then pop in a large pan of boiling water for 5 minutes, drain, drizzle over the oil (I do this over a colander so that excess oil is drained away) sprinkle over the madras powder and cumin and give it a good shake and transfer to a baking tray and pop in the oven for about 35 – 40 minutes, giving it a shake every 10 minutes.

Now make the burgers. Boil the peeled sweet potatoes for 12 minutes, drain and mash (I did this the same time as I boiled my potato cubes – but in a separate pan). While the potatoes are boiling, you want to heat 2 tbsp water in a large saute pan, add the garlic and the mushrooms and cook for 8 minutes before adding in the spinach and stock and letting the spinach wilt, let this cook for 7 minutes, drain off the excess liquid from the pan and transfer the mixture to a mixing bowl, to this add the red onion, black pepper, thyme and paprika and using a stick blender (or pop it all in a food processor) pulse until the mixture starts to break down, add the mashed sweet potato and buckwheat flour and stir to combine everything. This is quite a wet mixture but don't worry as the burgers firm up whilst cooking so don't be tempted to fling in more flour to stiffen up the mixture as the burgers will be too dense. Using your hands (wet them first) form 8 patties from the mixture and pop on a lined baking tray and pop in the oven for 25 minutes turning them after 15 minutes.

To make the onions, add 1 tbsp water to a saute pan over a medium heat, add the sliced onions and cook for 2 minutes before adding the mango chutney, turn the heat down to low and let this cook for 8 minutes, stirring occasionally.

For the peas, just add these to a pan of boiling water and cook for 12 – 15 minutes until cooked through, drain and using a potato masher, crush the peas then stir through the balsamic vinegar.
The burgers and potato cubes should be ready about the same time.