I only started using polenta about 2 years ago, up until then I'd never heard of it, tasted it or even had the notion to buy it, but when we changed our eating habits suddenly I was introduced to this world of polenta loveliness! I love it, there is just something about it which I can't quite put into words, it's comforting, it's hearty and I just know I'm going to melt when I eat it!
This is where my loaf tin came in handy again, see I told you it was a kitchen lifesaver! It's an ideal way of serving your polenta and you can really be as creative as you like with what you fill it with, I went with the lentils and spinach but as I was shopping for the ingredients I was also tempted by some crushed butterbeans and slices of aubergine (eggplant), maybe next time I'll give that a go. I served it with the tomato and basil sauce, but this could easily be served with something as simple as a side of baked beans, it's incredibly versatile. I'm so hungry just typing this up.
Going to bake some cookies this afternoon, I know, shock horror, I'm not using my loaf tin today, but I really want some nutty cookies and that's what I'm going to make. Also need to decide what to make for dinner tonight, way too many things to think about, I need a lie down!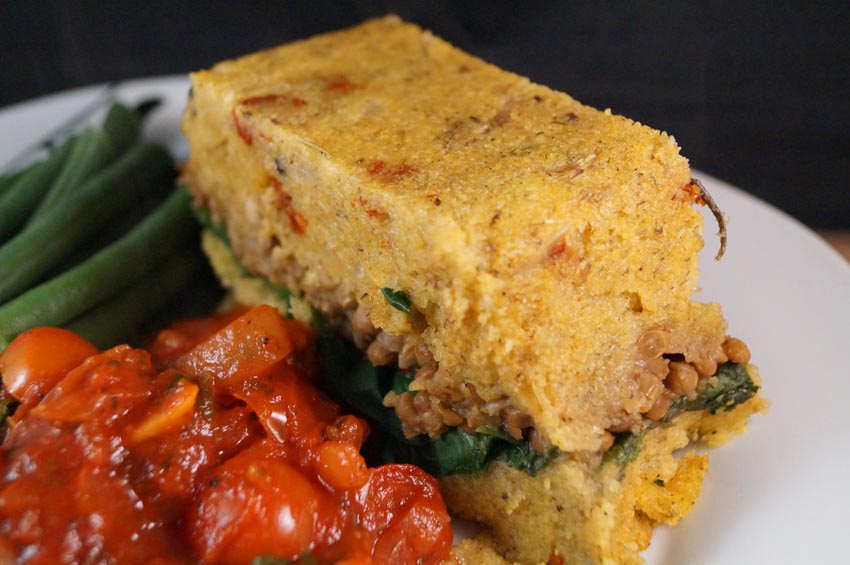 Mushroom, Spinach & Lentil Polenta Loaf served with a Tangy Tomato and Basil Sauce (vegan & gluten free)
MyInspiration Feel The Difference Range
Serves 4 – Ready in 45 minutes
For the polenta loaf
½ onion finely chopped

4 sun dried tomatoes chopped

5 large button mushrooms chopped

½ tbsp dried rosemary

Black pepper to season

2 cups polenta

4 cups vegan stock
1 can lentils (about 1 ¾ cups worth) drained and rinsed

Fresh Spinach (2 packed cups full)
For the Sauce
1 onion finely sliced

3 cloves garlic finely sliced

2 tbsp tomato paste

1 ½ tbsp balsamic vinegar

1 tbsp dried basil

Black pepper to season

12 cherry tomatoes halved

2 ½ cups passatta (pureed tomatoes)

1 cup packed fresh spinach
Method
Preheat oven to 180 degrees celcius (356 degrees Fahrenheit) and lightly oil a 5" x 8.5" loaf tin.

Make the polenta loaf: Add 2 tbsp water to a large sauté pan over a medium heat and throw in the onion, mushrooms, sun dried tomatoes and rosemary and cook for 5 minutes to soften, transfer to a food processor (or use a stick blender) add a sprinkling of black pepper and pulse the mixture until it's almost smooth.

In a sauce pan over a medium heat, add the veg stock and bring to the boil, then add the polenta and quickly stir the mixture together, just as it starts to thicken pour in the mushroom mixture from step 2 and mix this all together, cook for a minute more and turn off the heat.

Spoon half the polenta mixture into the loaf tin, pressing it down tightly to compact it, then pour over the lentils and make sure it's spread evenly, then layer on the spinach (it will wilt while cooking) and finally spoon over the remaining polenta and again press this all down nice and tightly and pop in the oven for 25 minutes. Once it's done, run a sharp knife around the edge of the loaf tin and tip onto a flat plate (I used a cookie sheet) and slice into 4 big slices.

To make the sauce, add 1 tbsp water to a sauce pan over a medium heat and add the onion, garlic and tomato paste and cook for 2 minutes before adding in the basil, balsamic vinegar, passatta and cherry tomatoes, stir all together, add a pinch of black pepper, turn the heat down to low and cook for 12 – 15 minutes, then add in the fresh spinach and stir through the sauce.
I popped a nice big slice of polenta loaf on a plate, spooned a ladle full of sauce over the side and served this with some green beans.