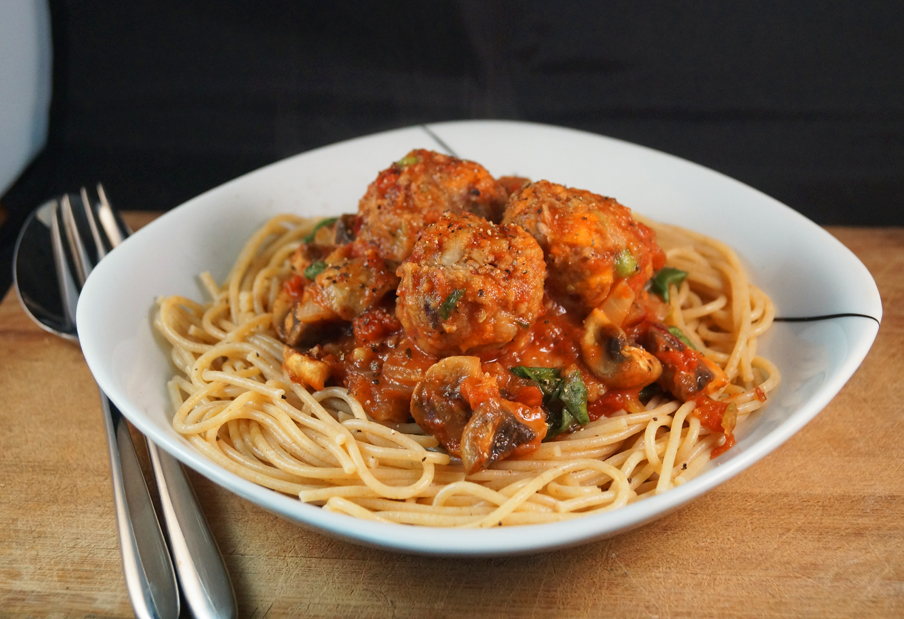 Here is part 2 of the Potato and Bean Burger recipes. So we've had them as plain old burgers and now we've got some left over and want to mix it up a bit, so we split the burgers into 3, roll into a ball and now they have become, as if by magic, veggie meatballs!!! Ta-Dah. I can't say which I liked best as they were both lush, but this is a great recipe to have in mind as it's cheap and you can make a big batch that will cater for a few different dishes throughout the week.
We had a lovely long walk through the park today in Martin's home town, the sun was shining, magpies flying around over head, the smell of freshly cut grass, just bliss. A bit of shopping in Asda's (going to make some Blueberry Muffins in a bit), had a nosey for some accessories as heading out tomorrow night to see our boys at the local pub and now back home, posting a little recipe while watching the trees swaying in the wind and listening to next doors wind chime, so very soothing…. I think I might need a nap!
Finished my latest book, The Unlikely Pilgrimage of Harold Fry, by Rachel Joyce. It was fantastic, but be warned, if you're a big softy like me, this will have you blubbing all over the place! It was very well written and the story itself was just brilliant. Highly recommend it.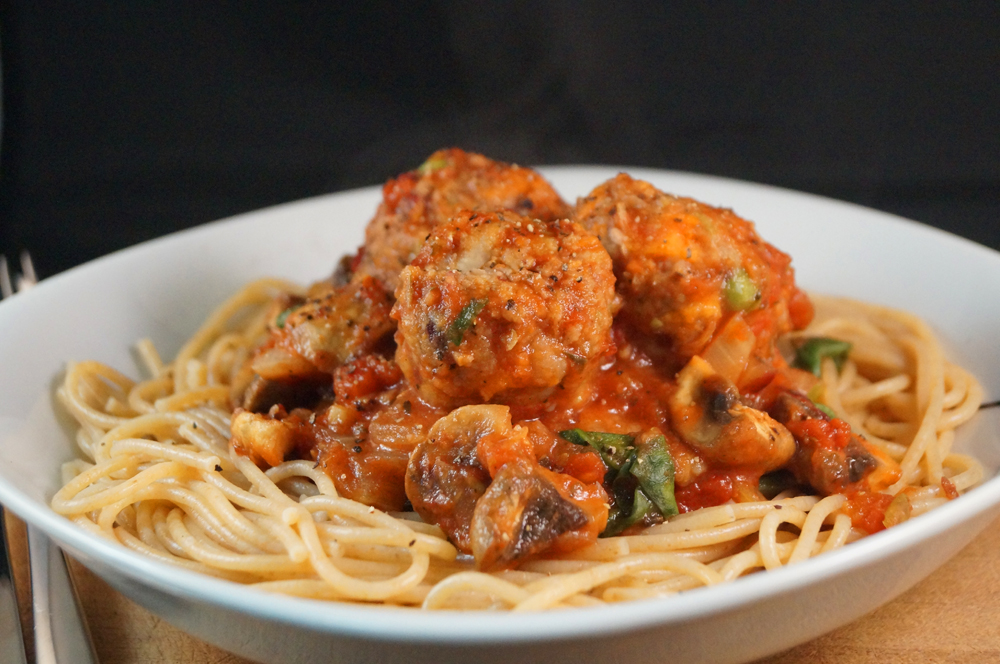 Mushroom Spaghetti Marinara with Veggie Meatballs (vegan & gluten free option)
MyInspiration Feel The Difference Range
Serves 2 – ready in under 30 minutes
175g wholewheat spaghetti (for GF use your favourite Gluten Free pasta)
1 can chopped tomatoes
2 tbsp tomato paste
8 button mushrooms chopped
1 onion finely sliced
2 cloves garlic finely sliced
1 tbsp dried basil
1 tsp Thyme
1/2 tsp black pepper
1 tbsp Balsamic Vinegar
4 potato and bean burgers (see recipe here) split into 3 and rolled into balls
2 cups spinach – wilted by pouring a kettle of hot water over the spinach in a colander
Method
1. Start by cooking the pasta – add the spaghetti to a pan of boiling water and cook for 12 – 15 minutes, then drain.
2. For the sauce, heat 2 tbsp water in a large saute pan over a medium heat and cook the onion and garlic for 3 minutes to soften then add the chopped mushrooms and cook for 2 minutes.
3. Add the chopped tomatoes, tomato paste, 1/2 cup water, balsamic vinegar, basil, thyme and black pepper, stir together then add the veggie meatballs and spinach and gently stir everything together so the veggie balls are coated in the sauce, cook for 5 – 6 minutes to heat the veggie balls through.
4. To serve, just add the spaghetti to a nice big bowl and spoon the marinara and meatballs into the center, sprinkle over some fresh black pepper and it's good to go!