I was feeling all creative yesterday and wanted to branch out a little into some Gourmet style food (remember I'm still working on my presentation skills!!) so I wanted to veg up some of the old restaurant classics and first up on my list is Mushroom Bourguignon, which was pretty easy to make in all fairness and dare I say it… healthy! Oh yes, you can have delicious meals packed with flavour but without any of the fat inducing ingredients that we really don't want!
The Bourguignon turned out a treat, it was incredible tasty and the Portobello mushrooms gave it a great consistency. I think this might be on the menu when the in-laws come over again!
I've just bought some bananas so will be baking something this afternoon, I've seen some fabulous "raw" recipes for banana but I just can't do it, I need to cook them so I can actually eat them! So I might mash them and pop them in some muffins/brownies or I might opt for a tart of some kind… decisions, decisions!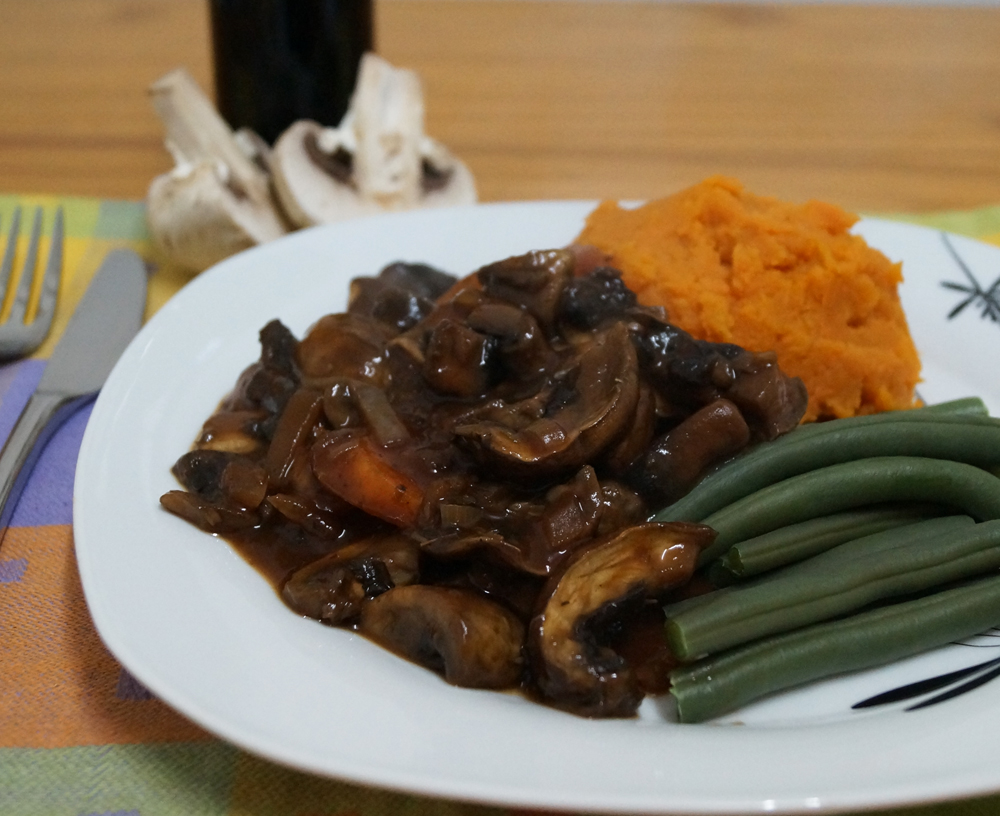 Mushroom Bourguignon with Sweet Potato Mash and Green Beans (vegan & Gluten free)
MyInspiration Feel The Difference Range
Serves 2 – ready in under an hour
3 Portobello Mushrooms, stalks removed, halved then thickly sliced

4 medium button mushrooms, stalks removed, halved then thickly sliced

2 carrots, peeled then chopped

1 white onion finely chopped

2 cloves garlic, minced

1/3 cup of red wine

1 cup vegan stock

1 tbsp balsamic vinegar

1 tbsp tomato puree

1 bay leaf

1 tsp dried thyme

Black pepper to season

1 tsp cornstarch mixed with 1 tbsp water
Method
In a deep sauce pan, heat 1 tbsp water over a medium heat, add the mushrooms and cook for 4 minutes just to start the cooking process, remove from the pan and set aside in a bowl.

To the same sauce pan add a further 1 tbsp water then pop in the onion, garlic and carrot, sprinkle over the thyme and pepper and stir to coat everything. Add 1/4 cup of water here and let this mixture cook for 8 minutes until the carrots start to soften.

Add the red wine and bay leaf and keep the heat on medium and cook until the liquid is reduced by half before adding in the tomato paste, stock, vinegar and the mushrooms, stir everything together and cover with a lid, turn the heat down to low and simmer for 20 minutes, stirring occasionally.

Lastly, add the cornstarch mixture to the pan and continue to stir until the sauce thickens slightly, then it's ready. Remove from the heat and serve with your accompaniments. I just took 2 medium sweet potatoes, peeled and chopped them, added them to a pan of boiling water and cooked for 12 minutes until the potatoes had softened slightly, drained and mashed adding some black pepper. the sweet potatoes are fantastic on their own you don't need to add any cream/butter/salt.