I am missing my kitchen so much, we've been in "holiday mode" while the in-laws are here, which means eating out and I'm so torn, on the one had I do like getting dressed up to go out but on the other hand….. what about my poor blog…. no recipes, no creations, niente!
So I shall share my successful dinner option that I served the family the other day (they are serious carnivores by the way) I made my mushroom bourguignon, but made it pie style, something similar to what they would eat themselves (minus the meat). The great thing about this dish is that the mushrooms have such a great meaty consistency, that you would be hard pushed to fault it. This is especially good for a Sunday Roast Dinner, or any day of the week come to think about it!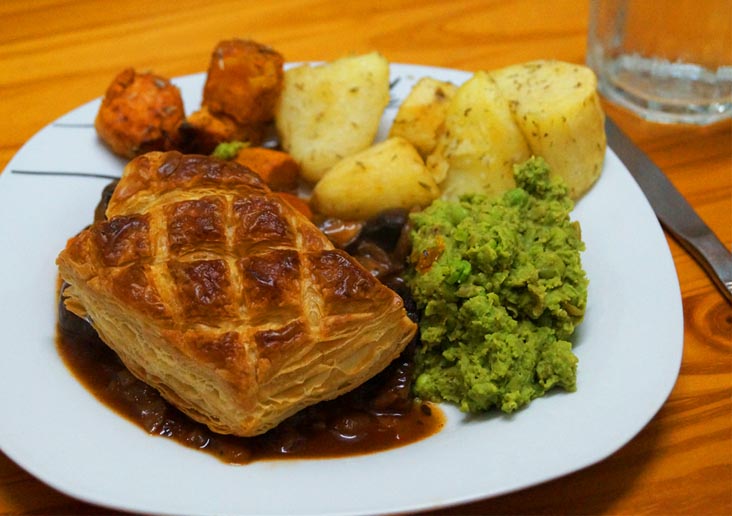 Mushroom Bourguignon Pie with Roast Potatoes, Roast Sweet Potatoes and Balsamic Mushy Peas (Vegan – for GF just miss out the puff pastry)
MyInspiration Feel The Difference Range
Serves 4 ready in an hour
For the Bourguignon
8 Portobello Mushrooms stalks removed, scraped and thickly sliced

10 Button mushrooms stalks removed and quartered

1 large oyster mushroom roughly chopped

1 onion finely chopped

2 cloves garlic finely chopped

2 carrots peeled and chopped

150ml (3/4 cup) red wine

2.5 cups vegan stock

2 tbsp balsamic vinegar

2 tbsp tomato puree

2 bay leaves

2 tbsp dried thyme

1/2 tsp black pepper

2.5 tsp corn starch mixed with 1 tbsp water

250g Puff Pastry (I used Jus-Rol Vegan puff Pastry)
For the roast potatoes
4 medium sized sweet potatoes, peeled and cut into large chunks

3 large white potatoes, peeled and cut into large chunks

2 tbsp oil (I used sunflower)

1 tbsp dried rosemary
For the Peas
4 cups frozen peas

1.5 tbsp balsamic vinegar
Method
Preheat the oven to 180 degrees celcius (356 degrees fahrenheit)

Start with the roast potatoes – In a large pot of boiling water, add the chopped potatoes and par boil for 5 minutes, drain and then drizzle over the oil and sprinkle the rosemary and then transfer to a large baking tray and pop in the oven to 35 – 40 minutes, giving them a shake every now and again to make sure they are evenly cooked.

For the pastry – Roll out the pastry into a long rectangle about 5mm thick and cut into 4 small rectangles, gently score with a knife in a criss-cross pattern and place on a lined baking tray and pop in the oven for 25 minutes.

For the bourguignon –  In a deep sauce pan, heat 3 tbsp water over a medium heat, add the mushrooms and cook for 4 minutes just to start the cooking process, remove from the pan and set aside in a bowl.

To the same sauce pan add a further 3 tbsp water then pop in the onion, garlic and carrot, sprinkle over the thyme and pepper and stir to coat everything. Add 1/4 cup of water here and let this mixture cook for 8 minutes until the carrots start to soften.

Add the red wine and bay leaf and keep the heat on medium and cook until the liquid is reduced by half before adding in the tomato paste, stock, vinegar and the mushrooms, stir everything together and cover with a lid, turn the heat down to low and simmer for 30 minutes, stirring occasionally.

Lastly, add the cornstarch mixture to the pan and continue to stir until the sauce thickens slightly, then it's ready. Remove from the heat and serve with your accompaniments.

For the peas – Just add the peas to a pan of boiling water and cook for 12 – 15 minutes, drain, add to a food processor (or use a stick blender) pour in the balsamic and pulse until the mixture smooths out.

Serve and enjoy!