I can't believe that I forgot to add this recipe back when I made it last year. Perhaps because it's FREEZING here I'm indulging myself in some of the more warming looking foods. Today I have 3 layers on, 2 pairs of socks and I'm still cold, I'm such a temperature wimp… but it is super cold (for me!).
This was another dish I made while on holiday in Rome, I couldn't resist trying some of the pasta that is hard to find in my neck of the woods and this was the first time I'd seen Castellane pasta, so felt I had to give it a go. It just lent itself well to a hearty, warming dish (you can see in the background that cheeky Mediterranean salad I posted earlier).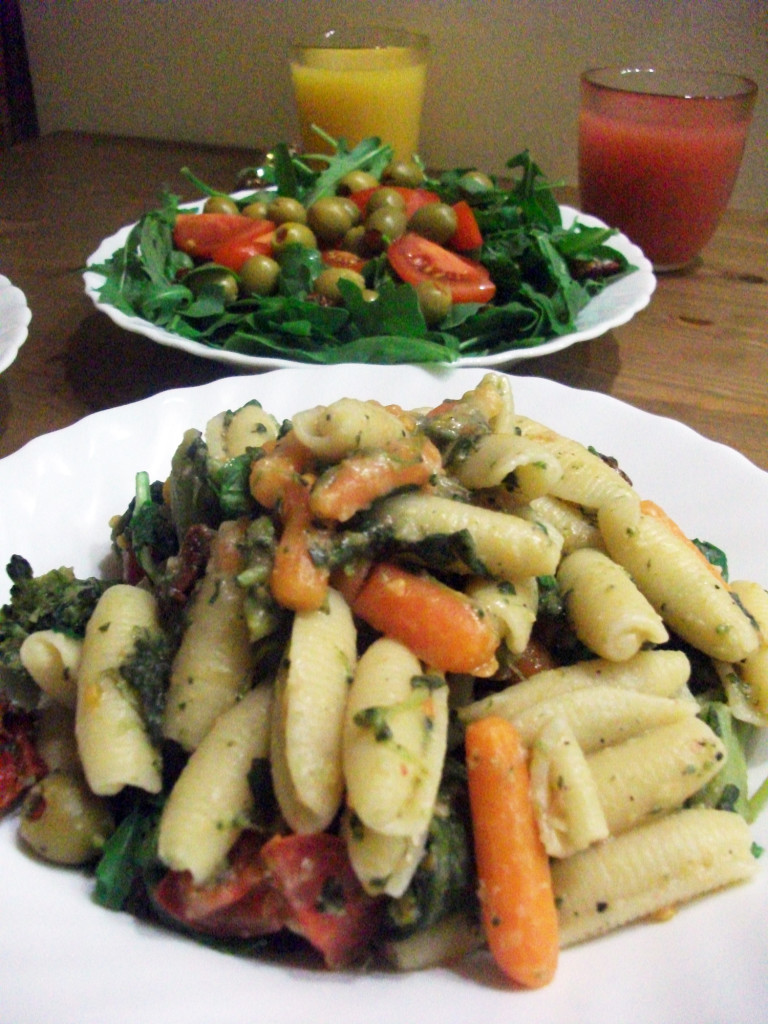 Mixed Vegetable Castellane
MyInspiration Feel The Difference Range
Serves 2 as a main
200g Castellane Pasta
1 garlic clove finely chopped
16 baby carrots washed and peeled
Small head of broccoli cut into florets
2 cups spinach, wilted
6 sun-dried tomatoes chopped
Small handful of pimento stuffed lives
2 tomatoes roughly chopped
1 tsp basil
Black pepper to season
Method
1. Prepare Pasta as per instructions, I popped in a pan of boiling water, covered, turned the heat down to medium and allowed to cook for 12 – 15 minutes (depending on how you like your pasta).
2. Heat 1 tbsp of water in a large frying pan over a medium heat then add the chopped garlic and tomatoes, cook for 2 minutes before adding in the carrots and broccoli, stir to coat everything (here I added ½ a tablespoon of the oil from the sun-dried tomatoes but that's up to you), allow the veg to cook for 6 minutes.
3. Take ½ cup of the pasta water and add this to the frying pan before adding the spinach, sun-dried tomatoes, olives and basil (by this time the pasta will be ready, drain and add to the vegetable mixture) toss everything together, season with black pepper and serve.